The Indianapolis Motor Speedway Road Course not only plays host to the Verizon IndyCar Series this weekend, but also to all three series in the Mazda Road to Indy Presented by Cooper Tires.
The Indy Lights Presented by Cooper Tires, Pro Mazda Championship Presented by Cooper Tires, and the Cooper Tires USF2000 Championship Powered by Mazda will all enjoy a packed weekend, beginning with all-day testing and practices on Thursday before all three series take on the 2.439-mile road course for races on Friday and Saturday.

Indianapolis also represents the third race weekend for Indy Lights and Pro Mazda, while USF2000 returns for its second event of the year following a two-month break after opening the season on the streets of St. Petersburg.
A look at big stories across all three series is below.
Indy Lights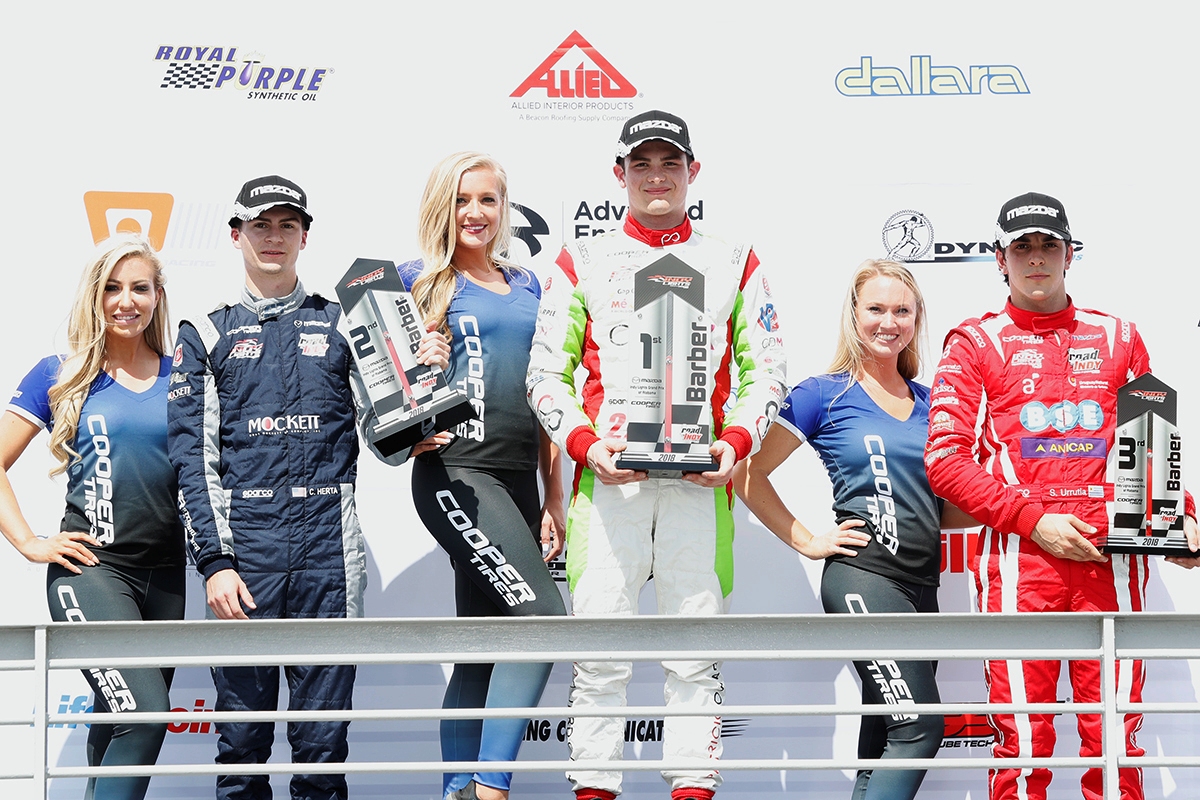 Pato O'Ward has dominated the start of the Indy Lights season, winning three of the first four races, and leads Santi Urrutia by 16 points entering the IMS Road Course. But, he is by no means counting his chickens before they hatch in regards to the championship fight.
"Coming into Indy as the championship leader obviously is not a negative, but there is a long way to go, so I will approach this weekend the same way as I've been doing," O'Ward detailed. "If I know I have a winning machine, I will go for the win, but if I'm struggling for pace, which I hope I won't be, then I'll be smart and settle for as many points as I can get."
Indeed, although he has been the strongest Indy Lights driver to start the year, O'Ward will have plenty of competition looking to upend his early-season form.
Santi Urrutia, the only other driver to win in 2018 so far, has had the best start he has ever had to an Indy Lights season, and is well-positioned to mount a challenge for an Indy Lights title.
Colton Herta, third in the standings, has three podium finishes in the first four races and is beginning to show the needed consistency that can complement the immense speed he possesses.
Victor Franzoni is getting his hands around the IL-15 and gets better with every race. He had three straight finishes of fourth to start the year and got his first podium in Race 2 at Barber when he finished second. A race win could be beckoning for last year's Pro Mazda champion.
Aaron Telitz, also a race winner from last year, is motivated to right the ship after getting his first finish of the season (fourth in Race 2 at Barber) after a DNS and two DNFs to start his season.
Add in Dalton Kellett, Ryan Norman, and Alfonso Celis Jr., and the Indy Lights field, while small, is packed with hungry drivers, all looking to end the run of dominance from O'Ward.
Pro Mazda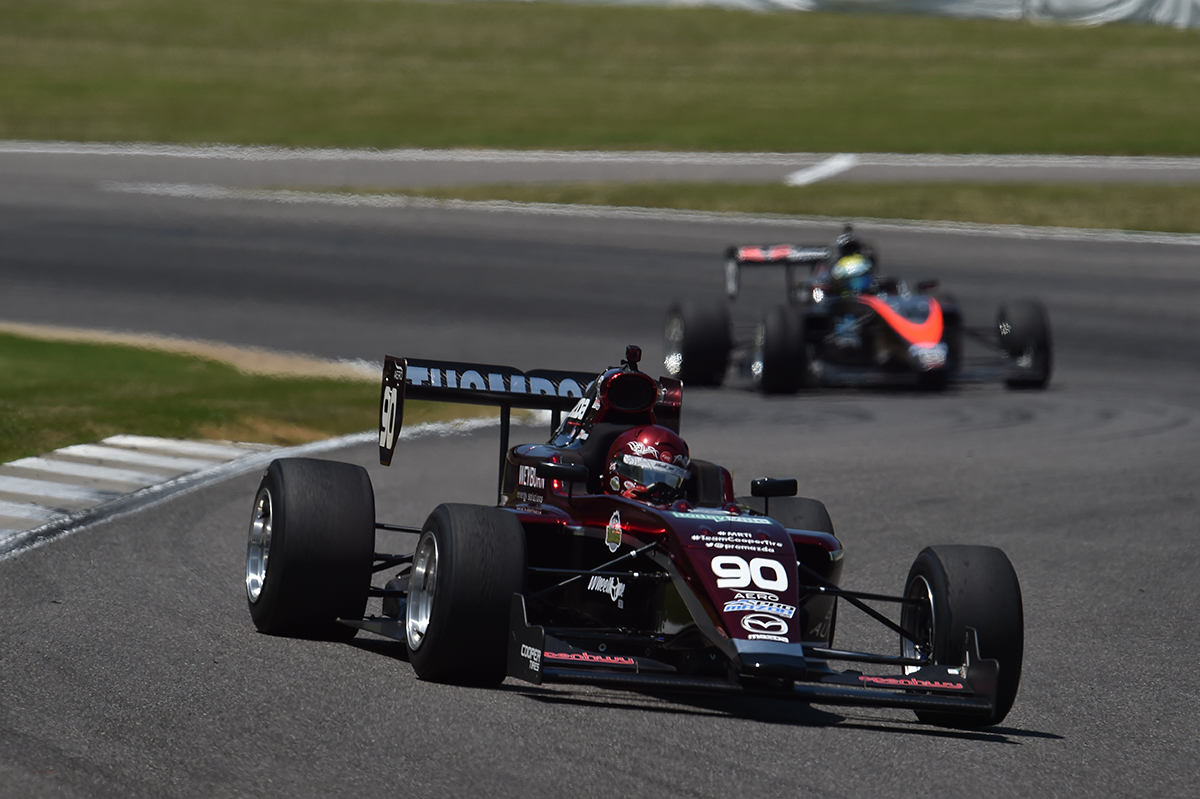 The self-proclaimed "Eh Team," referring to Parker Thompson and Exclusive Autosport (driver and team are based in Canada) leads the way in Pro Mazda on the strength of two second-place finishes and a victory in Race 1 at Barber.
However, despite leading the standings, Thompson's thoughts are nowhere near a championship this early in the season.
"In complete honesty, leading the championship right now at this stage doesn't mean much to me or the team," he asserted. "We're focused on racing for wins, and the points will come secondary. What satisfies me the most is that a team on the Mazda Road to Indy gave me a shot in Pro Mazda, and I returned the favor with a solid performance in Barber. That's a special feeling when someone puts their faith in your abilities, and you go out and prove that they made the right decision. I'll be looking to carry that confidence through the rest of the season."
Indeed, it is likely too early to go into championship preservation mode in a Pro Mazda field that is stacked with talent, and a number of drivers are positioned to challenge Thompson for the points lead.
Rinus VeeKay swept the races at St. Petersburg, but struggled somewhat at Barber, finishing fifth and fourth in the two races. The 17-year-old Dutchman trails Thompson by four points, but he certainly has the pace to find his way back to Victory Lane this weekend.
David Malukas has put together a solid opening four races, with a pair of podium finishes (second in St. Pete Race 2 and third in Barber Race 1) the highlights of his opening four races. A first-career Pro Mazda victory would vault him into title contention, and Malukas is not a driver to be overlooked.
Harrison Scott is coming off his first career win in Race 2 at Barber, and will be motivated to prove he can be just as strong in the dry as he is in the wet. And Carlos Cunha, fifth in the championship with a pair of third-place finishes to his name, will look to break out of the shadow of his Juncos Racing teammate VeeKay.
One driver who will be highly motivated entering IMS is Oliver Askew. The Cape Motorsports driver, and defending USF2000 champion, has not finished on the podium in 2018 and struggled mightily at Barber, finishing seventh and 12th in the two races.
Askew's title hopes are quickly dwindling, and he and Cape will be desperate to get back to their winning ways.
USF2000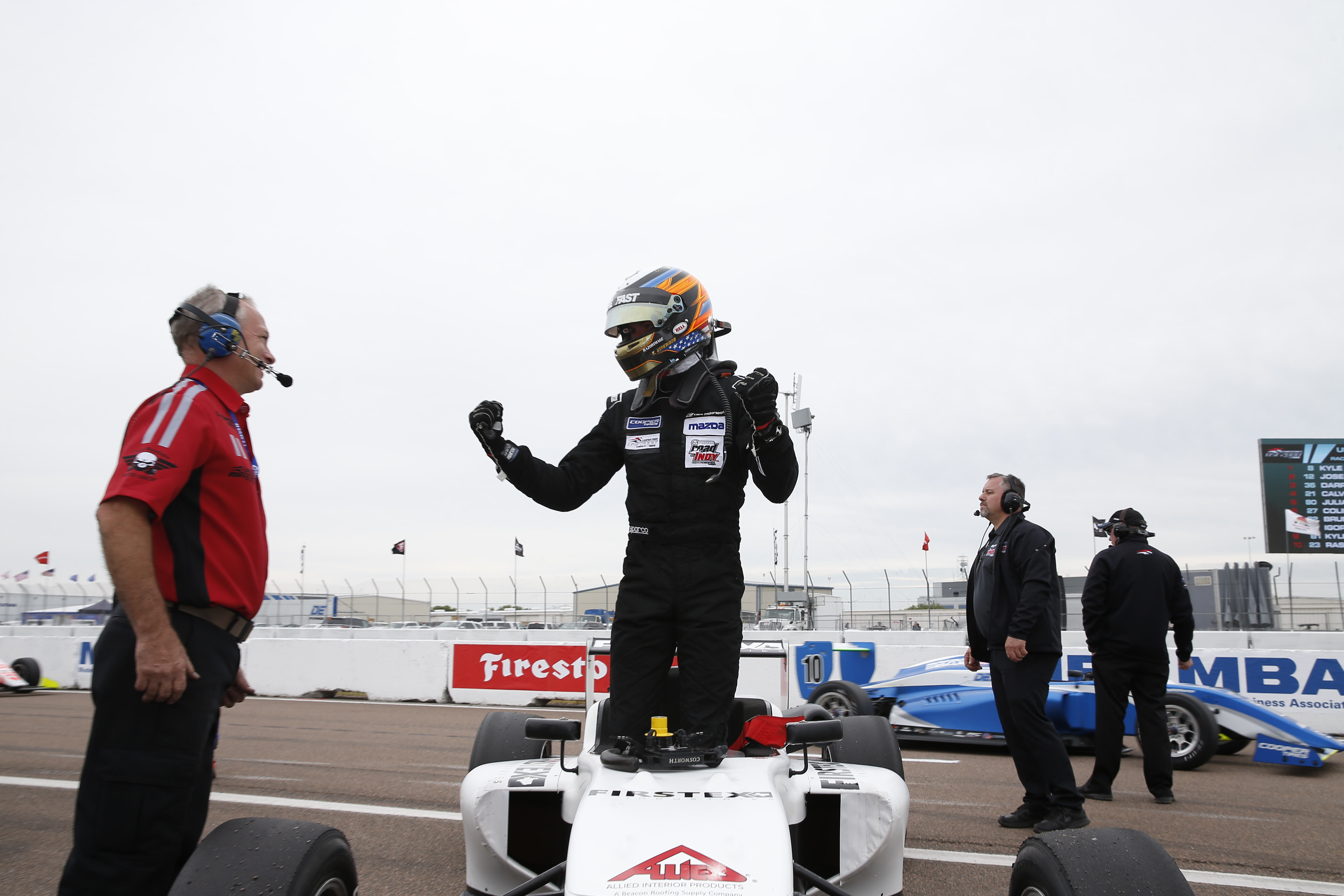 The USF2000 championship is back in action this weekend, and despite struggling in Pro Mazda, Cape Motorsports is once again atop the USF2000 standings, this time with newcomer Kyle Kirkwood.
Kirkwood, a 19-year-old native of Florida and former Team USA Scholarship recipient, won Race 1 in St. Petersburg and finished fifth in Race 2 to give himself a seven point lead over DEForce Racing's Jose Sierra, and leading the championship after his debut weekend is something Kirkwood holds in high regard.
"To be the championship leader after my debut weekend, to me, is quite an amazing feeling," revealed Kirkwood. "We're very strong at the moment so it's definitely a relief knowing that Cape Motorsports and I are carrying over our momentum from last year."
Still, the USF2000 title remains up for grabs. Sierra, as previously described, is seven points back in second, while Exclusive Autosport's Igor Fraga sits third, only 10 points behind Kirkwood.
Swan-RJB Motorsports' Alex Baron, Race 2 winner from St. Pete, sits fourth, 13 markers behind Kirkwood, while Pabst Racing Services' Calvin Ming rounds out the Top 5, 16 points behind.
Two drivers looking to rebound from tough outings in St. Petersburg are Pabst's Kaylen Frederick, who finished 11th and ninth and currently sits ninth in the championship, and Arms Up Motorsports' Keith Donegan, the Mazda $200K Shootout Scholarship recipient, who struggled all weekend in St. Pete and recorded finishes of 14th and 13th to rank 15th in the championship.
A full weekend schedule can be viewed here.