The month of May tends to mean one thing for the Verizon IndyCar Series: Indianapolis Motor Speedway. Testing on the 2.5-mile oval came early last week, and the 102nd running of the Indianapolis 500 Presented by Penngrade Motor Oil will come later this month, May 27, with practice beginning next week.
But before the Indy 500 can be at the forefront, there is another race to be run: the INDYCAR Grand Prix on the IMS Road Course.
Now in its fifth year, the Grand Prix has served as kickoff of sorts to on-track activity in the month of May. And given that more than three races worth of points are up for grabs this month – the "500" is a double-points race and points will be awarded for qualifying – the impact that IMS can have on the championship can be immense.
Talking points ahead of the INDYCAR Grand Prix are below.
Welcome back Helio!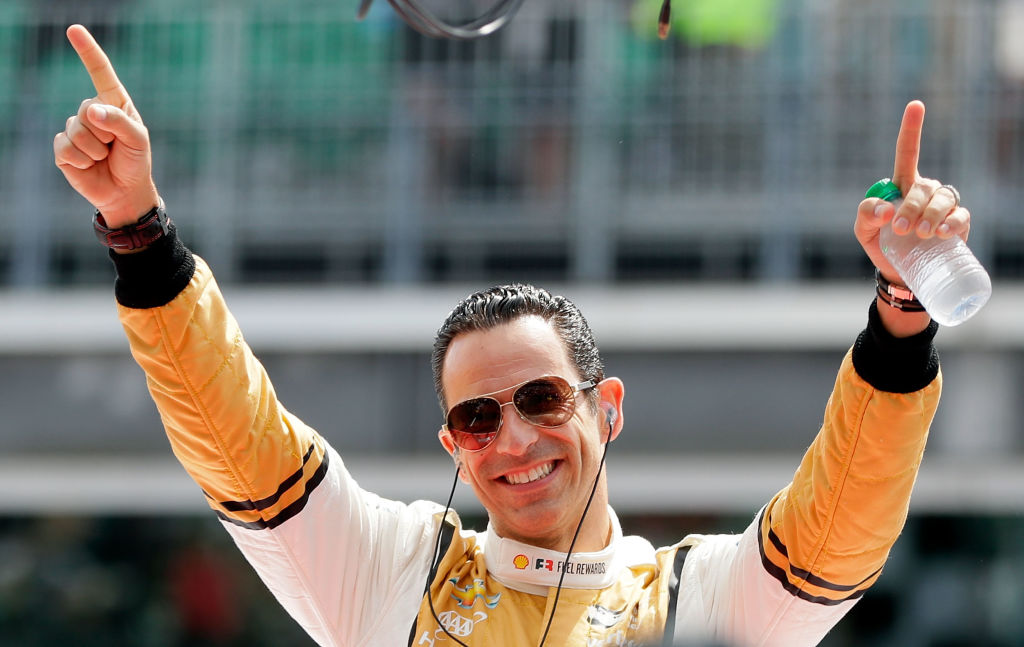 For the first time in 2018, Helio Castroneves will grace the IndyCar grid. The three-time Indianapolis 500 winner will pilot his usual No. 3 Team Penske Chevrolet, with Verizon branding featured on the livery – Penske will actually have three Verizon liveried cars this weekend, with Josef Newgarden's No. 1 and Will Power's No. 12 also sporting Verizon colors.
This is the first IndyCar race for Castroneves since last year's GoPro Grand Prix of Sonoma, but the affable Brazilian has not sat idle, and is coming off a landmark debut victory for the Acura Team Penske squad at the Acura Sports Car Challenge from the Mid-Ohio Sports Car Course last weekend.
With momentum on his side, Castroneves heads to Indianapolis looking for two more victories, at the INDYCAR Grand Prix and the Indianapolis 500.
Can Anyone Join Power and Pagenaud in the Winner's Circle?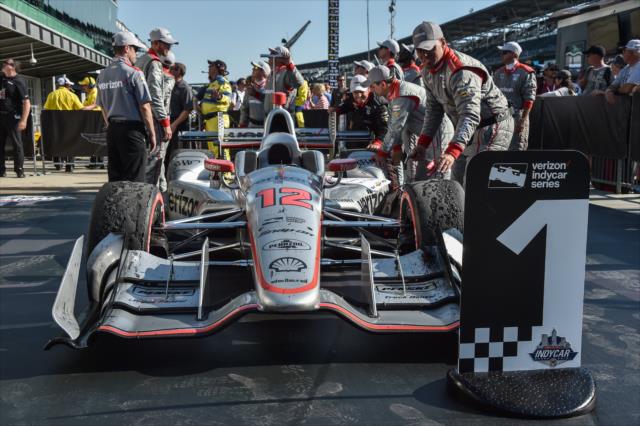 There have been four runnings of the INDYCAR Grand Prix to date, and only two drivers have emerged victorious across all four runnings: Will Power, in 2015 and 2017, and Simon Pagenaud, in 2014 and 2016.
Since it's an even- numbered year, the law of averages says it's Pagenaud's turn to grace Victory Lane. And given that he has had a slow start to the year – Pagenaud is 15th in the championship, with a best finish of ninth at Barber Motorsports Park – a win would be a welcome shot in the arm for the 2016 IndyCar champion.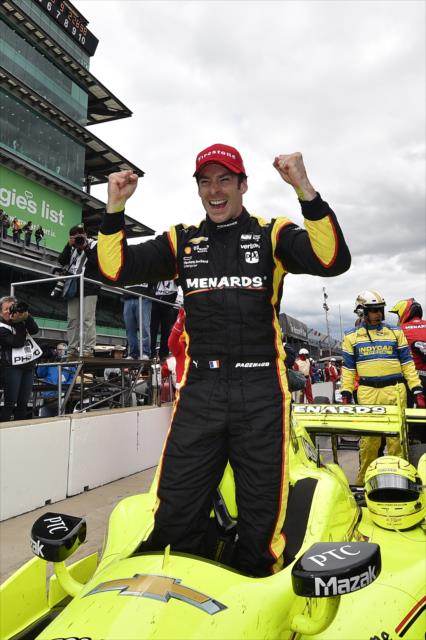 "The INDYCAR GP is always a lot of fun and it's a race myself and the No. 22 Menards Chevrolet team are really comfortable with," said Pagenaud ahead of the event. "We won that race a few years ago and are ready to do it again. My team has been working hard to prepare great cars for the month and we saw a lot of really great speed at the recent test at Indianapolis. I really just can't wait to get back on track in Indiana."
Power, too, could use a momentum boost, as he sits tenth in the standings after suffering wall contact in three of the opening four races.
"After a couple weeks off, I'm ready to get back at it," Power asserted. "We had a rough go of it at Barber, but we're putting it behind us. The month of May is such a special time in Indianapolis and I'm really excited to go back there. Last year we won the INDYCAR GP in the No. 12 Verizon Chevy and I see no reason we can't do it again."
However, there are plenty of drivers who could easily add their names to the list of winners on the IMS Road Course.
Scott Dixon scored his first podium at the event last year. Like Power and Pagenaud, he has had a quiet start to 2018 – he sits seventh in the standings and does not yet have a podium – and a win would go a long way to turning his season in the right direction.
Sebastien Bourdais qualified a strong sixth last year, but an engine failure on Lap 3 ended his day before it ever got going. A winner on the streets of St. Petersburg earlier in the year, Bourdais is most certainly on the list of contenders.
James Hinchcliffe finished on the podium at this race in 2016 and will look for at least a repeat performance in 2018.
Graham Rahal has finishes of second, fourth, and sixth in the last three runnings (he crashed out of the debut event in 2014), and had maybe the drive of the day last year, coming from 20th on the grid to finish sixth.
Alexander Rossi has maybe been the fastest and most consistent driver this year, and enters this weekend as one of the favorites. Teammate Ryan Hunter-Reay has finished on the podium here twice, in 2014 and 2017, and also looks to have a chance at battling for a win.
All told, it adds up to a lot of contenders heading into this weekend, and any one of them could supplant Power and Pagenaud in Victory Lane.
Misc.
A number of drivers head to the Indianapolis Motor Speedway looking for correct course after tough starts to their seasons. Several of those drivers are below.
Takuma Sato's 2018 season has not gone the way he may have hoped, with Barber being the only race in which he has finished in the Top 10 (eighth). His 2017 season was kickstarted after he triumphed at the Indy 500, and he'll hope a return trip to IMS kickstarts his 2018 campaign.
Charlie Kimball had three straight finishes of fifth at this event between 2014 and 2016 before an engine failure derailed that streak last year. He and teammate Max Chilton enter Indianapolis amid a tough start with the new Carlin team – Kimball is the only one with a Top 10 finish (10th at Long Beach) and both will look to turn their luck around this weekend.
Spencer Pigot had reasonably high expectations as Ed Carpenter Racing's full-season driver in the No. 21 Fuzzy's Vodka Chevrolet, but the year has not gone to plan, with finishes of 15th, 14th, 15th, and 15th to start the year. He'll look to right the ship this weekend.
Of note: Zachary Claman De Melo will replace for Pietro Fittipaldi, who broke his legs in a vicious crash in qualifying for the Six Hours of Spa last weekend, in the No. 19 Paysafe Honda for Dale Coyne Racing.
The Final Word…
From Helio Castroneves:
"I'm back! I'm so excited to be back with Team Penske at the Indianapolis Motor Speedway in INDYCAR. I've been really enjoying my time with the team's IMSA program, but I'm really excited to jump back into the No. 3 Verizon Chevrolet. We have a great team of guys put together for both the INDYCAR GP and the Indianapolis 500. I'm ready to kick off the month with a road course race and get some time in the car with the new aero kit. More importantly, I'm excited to go out there and put on a great show for the fans there."
Here's the IndyCar weekend schedule:
At-track schedule (all times local)
Friday, May 13
9:15-10 a.m. – Verizon IndyCar Series Practice 1, streaming on RaceControl.IndyCar.com (Live)
12:30-1:15 p.m. – Verizon IndyCar Series Practice 2, streaming on RaceControl.IndyCar.com (Live)
4:30 p.m. – Qualifying for the Verizon P1 Award (three rounds of Verizon IndyCar Series knockout qualifying), streaming on RaceControl.IndyCar.com (Live)
Saturday, May 14
11:15-11:45 a.m. – Verizon IndyCar Series warmup, streaming on RaceControl.IndyCar.com (Live)
3:30 p.m. – INDYCAR Grand Prix (85 laps/207.3 miles)
Here's last year's top 10:
1. Will Power
2. Scott Dixon
3. Ryan Hunter-Reay
4. Simon Pagenaud
5. Helio Castroneves
6. Graham Rahal
7. Max Chilton
8. Alexander Rossi
9. Spencer Pigot
10. Juan Pablo Montoya
Here's last year's Firestone Fast Six:
1. Will Power
2. Helio Castroneves
3. Josef Newgarden
4. Scott Dixon
5. Juan Pablo Montoya
6. Sebastien Bourdais