In a sense, Simon Pagenaud is the IndyCar version of Tony Stewart at Indianapolis Motor Speedway.
Stewart, who grew up in nearby Columbus, Indiana, would make a pilgrimage with his father every year to watch the Indianapolis 500 in-person.
Then, when he became a race car driver, Stewart always dreamed of winning the 500. He ultimately went on to make five starts in the Indy 500, with a best finish of fifth in 1997.
But the now-retired racer somewhat earned a semblance of fulfilling his dream to win at IMS by capturing NASCAR's Brickyard 400 twice there.
It's kind of the same with Pagenaud. The French driver has competed in the 500 six times, with a career-best finish of eighth in 2013 (he was 14th in last year's race).
But like Stewart, Pagenaud has two "other" wins at IMS: in the upstart warm-up race to the 500, the INDYCAR Grand Prix, which takes place for the fifth straight year Saturday.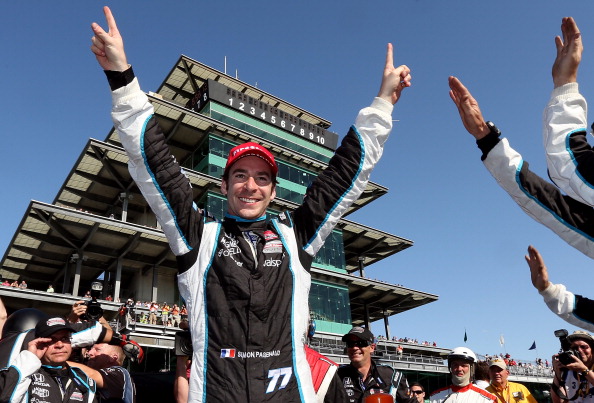 Pagenaud has won the GP in 2014 and 2016. If everything goes right, he says, he'll win for a third time Saturday – and then go on to finally capture the 500 in its 102nd running on May 27.
"My goal this year is to win both the Grand Prix and the Indy 500," Pagenaud told MotorSportsTalk. "What a month of May that would be, right? That would be the greatest month of May ever for me. In fact, it would be the greatest month ever in my career for me."
A third win in the Grand Prix Saturday would be a great early birthday present for Pagenaud, who turns 34 on May 18 (ironically, Stewart, turns 47 two days later on May 20).
"There's just been something about the Grand Prix at IMS that has suited my driving style and ability," said Pagenaud, whose Team Penske teammate, Will Power, has won the other two IndyCar GPs in 2015 and last year. "It's a unique road course alone and in itself, along with part of the Speedway.
"You basically get the best of both worlds of racing in the Grand Prix, most of it being on a road course but also on the Speedway.
"It's very European-style racing, pretty flat track with very technical corner and medium-speed corners in Turn 4. It's very similar to actually the track I grew up on in France, so I think that's probably why I like this kind of technique, corners technique."
Even if he wasn't racing at IMS, Pagenaud could definitely still use a win Saturday nonetheless. The 2016 Verizon IndyCar Series champion's best finish in the first four races of the 2018 season has been ninth at Barber Motorsports Park on April 23.
"It's unfortunate we haven't had a good start of the season," Pagenaud said Thursday. "Performance is there anyways, it's just we've got to turn things around a little bit.
"I don't want to go into details about what happened at every race, it's just what it is. It's racing. Sometimes it works, sometimes it doesn't.
"But certainly here has always been a good place for us, so we've got also some evolution coming that I should be more comfortable with, and I'm really hopeful that it would be the weekend where we can start showing our strength."
Last week's three-day test at IMS helped set a baseline for Pagenaud to build upon in Saturday's race.
"The test was really good," the Team Penske driver said. "We really found some things that I enjoyed with this car.
"We're going to test some more things to make me feel it even better (Friday), so practice one is going to be important for the weekend.
"From there, it's obviously a pretty quick weekend, a two-day weekend, so we try to put all we can into qualifying, and then from there it's usually a race where you want to qualify well."
After Saturday's race, Pagenaud's focus for the following two weeks will shift solely to the Greatest Spectacle In Racing.
"The Indy 500 is the biggest and most popular race in the world," Pagenaud told MotorSportsTalk. "If you win it, you take your own career to a whole other level.
"If you win, you'll always be known from that point on as an Indy 500 champion. That's one of the biggest honors in all forms of motorsport. It's something I've dreamed about my whole life. I'm ready to make that dream come true."