Will Power completed a sweep of Friday's activities by taking the pole for Saturday's INDYCAR Grand Prix of Indianapolis at Indianapolis Motor Speedway.
After being fastest in the two practice sessions earlier in the day, Power went out for a second qualifying lap and that proved to be the difference for him, running 125.761 mph at 1 minute, 9.8182 seconds.
"We had to dig deep, that was all I had," Power said. "I'm really stoked, man. We just have to execute because it's been a rough start to the season."
It's Power's 51st pole in 192 career IndyCar starts in the series, giving him sole possession of third place in series history for most poles. He had been tied with Helio Castroneves, one of Power's three teammates who drives for Roger Penske's Chevrolet-powered team.
It also was his third pole for the INDYCAR GP — he won the two other times he started the race from the pole (in 2015 and last year's race). His Team Penske teammate Simon Pagenaud has claimed the other two Grand Prix in 2014 and 2016.
Canadian driver and IndyCar rookie Robert Wickens looked like he would capture the pole before Power's last-minute effort on the 2.439-mile, 14-turn road course.
Even so, Wickens will start on the front row, doing so with a speed of 125.604 mph at 1:09.9052.
"We got both of our cars into the top six there," Wickens said of his performance and teammate James Hinchcliffe, who qualified fourth. "It's great to get P2, but when you lead the whole qual, you want to finish the job," Wickens said. "You have to do a perfect job to get the pole here. … We've been doing a good job all year and we've been keeping it going. Tomorrow's a whole new can of warms so let's go play."
Third through sixth were St. Petersburg winner Sebastien Bourdais (125.533 mph at 1:09.9449), James Hinchcliffe (125.281 mph at 1:10:0858), rookie Jordan King (125.197 mph at 1:10.1326) and defending Verizon IndyCar Series champ Josef Newgarden (124.144 mph at 1:10.7276).
It was a big bounce-back for Hinchcliffe, who struggled during the day's two practice sessions before finding the right key in qualifying.
"It was a bad day to have a bad day," Hinchcliffe said. "We had a really bad practice 2, had a massive braking problem and couldn't develop the car at all.
Two-time Indy GP winner Simon Pagenaud qualified seventh (125.366 mph at 1:10.0382).
"I have struggled with this car a lot, the feeling of it," Pagenaud said. "I'm slowly getting my driving back to the level you used to know. … It's just a matter of putting things together. I'm very positive for the future, the rest of the season, we found what I need and it gives me a smile."
2016 Indianapolis 500 winner Alexander Rossi, who was second in the first practice and third in the second practice, slipped to the eighth starting spot for Saturday's GP.
"We missed it for qualifying, which was disappointing, especially after we were top-3 in both practice sessions," said Rossi (125.244 mph at 1:10.1062).
Spencer Pigot was ninth (125.148 mph at 1:10.1601.
Making his first start of the season, three-time Indy 500 winner Helio Castroneves didn't appear to have much rust to shake off, qualifying 10th (125.104 mph at 1:10.1847).
"It's been great," Castroneves said of his return to driving an IndyCar (he's racing full-time in the IMSA Weatherech Championship Series this season for Acura Team Penske. "Definitely a different car, but we're looking strong. We did a lot of adjustments in one session to try and capitalize. We had nothing to lose.
"Starting tenth isn't bad. We started before from ninth and got the podium. We were right up there, we just have to keep our nose clean tomorrow and have a strong finish."
There were two major surprises during qualifying.
First was Graham Rahal, who qualified 17th (124.792 mph at 1:10.3605).
"Clearly I'm disappointed," Rahal said. "It was frustrating to go out there and to lock up the right front like that. I've never had it where I went into Turn 1 and I couldn't read the brake markers because the car was vibrating that badly. It's disappointing because I think that we probably had a car that was quick enough to maybe advance.
"Was it a top-six car? No. But should it have advanced? Yes. We're just going to have to work hard tomorrow and stay out of trouble. Turn 1 is going to be hectic tomorrow. Luckily I've got Scott (Dixon) by me. Hopefully he and I can take care of each other and go race."
Which leads to the second surprise, that of Dixon, who will go off on tomorrow's grid in the 18th position (124.860 mph at 1:10.3221).
"This morning in cooler conditions, the car wasn't too bad," Dixon said. "We took a hefty swing at it for qualifying. … We threw something pretty heavy for it and tried to go back a bit with the red tires, but we're not where we need to be.
"We'll get back to something we know that's fairly decent and feed through there. Today, it just seems the heat made it worse for us against others."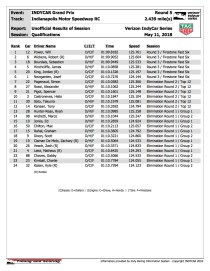 The fifth annual INDYCAR Grand Prix of Indianapolis will take the green flag Saturday afternoon at 3:40 p.m. ET.
We'll have more info and driver quotes shortly. Please check back soon.