A busy Friday kicked off the weekend for the Mazda Road to Indy Presented by Cooper Tires, and things culminated in the opening races of the weekend for what is dubbed the Royal Purple Synthetic Oil Grand Prix of Indianapolis supporting the Lupus Foundation of America, at the Indianapolis Motor Speedway Road Course.
The Indy Lights Presented by Cooper Tires saw a new race winner in its 2018 season on Friday, while the Pro Mazda Championship Presented by Cooper Tires and the Cooper Tires USF2000 Championship Powered by Mazda saw drivers score their seconds wins of 2018 on Friday.
Recaps of all three races are below.
Indy Lights: Herta Gets His First Win of 2018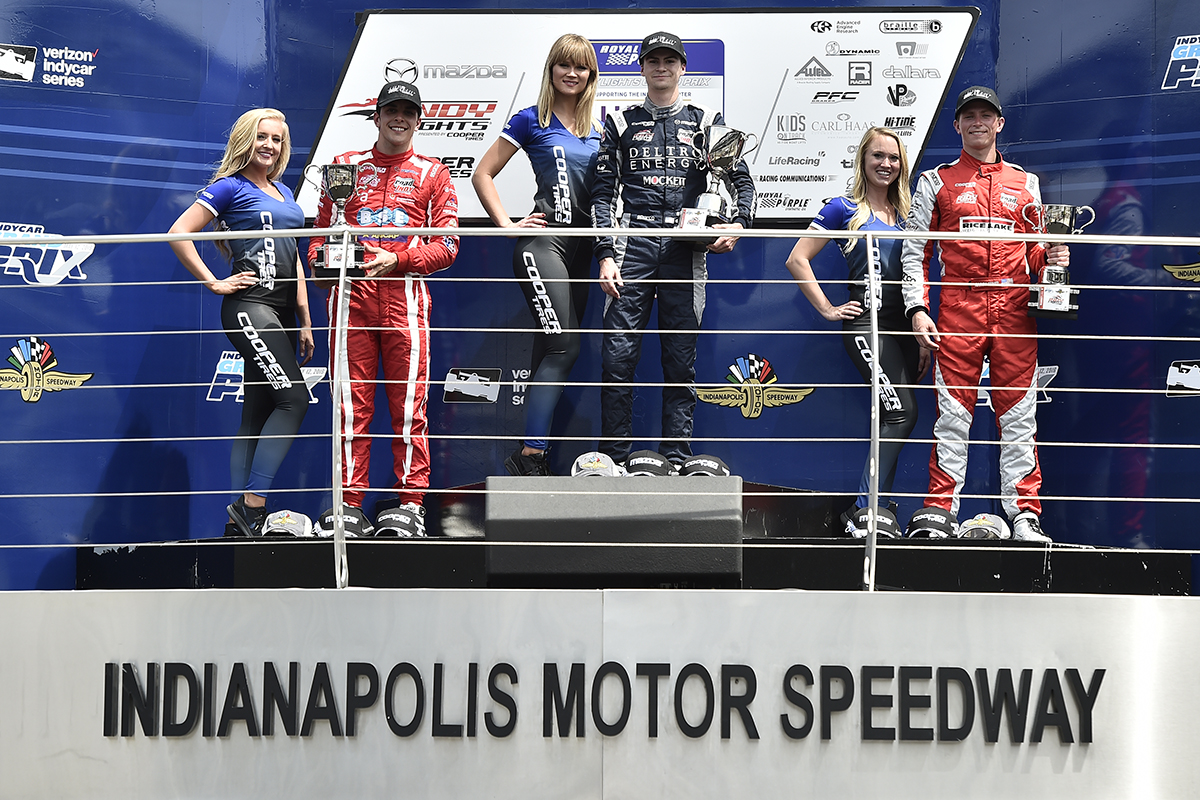 Andretti-Steinbrenner Racing's Colton Herta took his first victory of the 2018 Indy Lights season on Friday in Race 1 on the IMS Road Course.
Herta, who started second, was shuffled back to sixth on the start – polesitter Pato O'Ward ran wide after a bump from VIctor Franzoni, which pushed Herta out wide in the process – but quickly started working his way back forward. He had moved up to second near the halfway point of the 30-lap race and was right on the gearbox of Belardi Auto Racing's Santi Urrutia, who had been leading from the drop of the green flag.
Herta was able to slipstream Urrutia down the front straightaway, and made an outside pass entering Turn 1 right at the halfway point. Herta pulled away from there to win by over five seconds.
Afterward, Herta explained the challenge of rebounding after falling to sixth on the start.
"It was pretty crazy at the start when Victor got into Pato and knocked us both wide and I wasn't happy about that. I knew I had a good race car and that I could carve my way back up the field and get a podium but honestly, I didn't think a win was possible," Herta revealed.
He added, "Santi (Urrutia) and Aaron (Telitz) are good at defending and we were so far behind. I locked up a few times getting around Pato – we have respect for each other and we give each other room, so it's fun to race close like that. It would have been a good battle for the win. I actually thought I touched Santi but I was glad to get around."
Urrutia held on for second, while teammate Aaron Telitz rounded out the podium in third. Andretti Autosport's Pato O'Ward, who started on the pole, ran wide in the first corner after a slight bump from Juncos Racing's Victor Franzoni.
O'Ward couldn't regain the lead from that point, but did hang on to finish fourth.
Andretti's Ryan Norman finished fifth, with the aforementioned Franzoni sixth, and Andretti's Ryan Norman in seventh.
Full race 1 results are below. Race 2 rolls off at 1:15 p.m. ET on Saturday.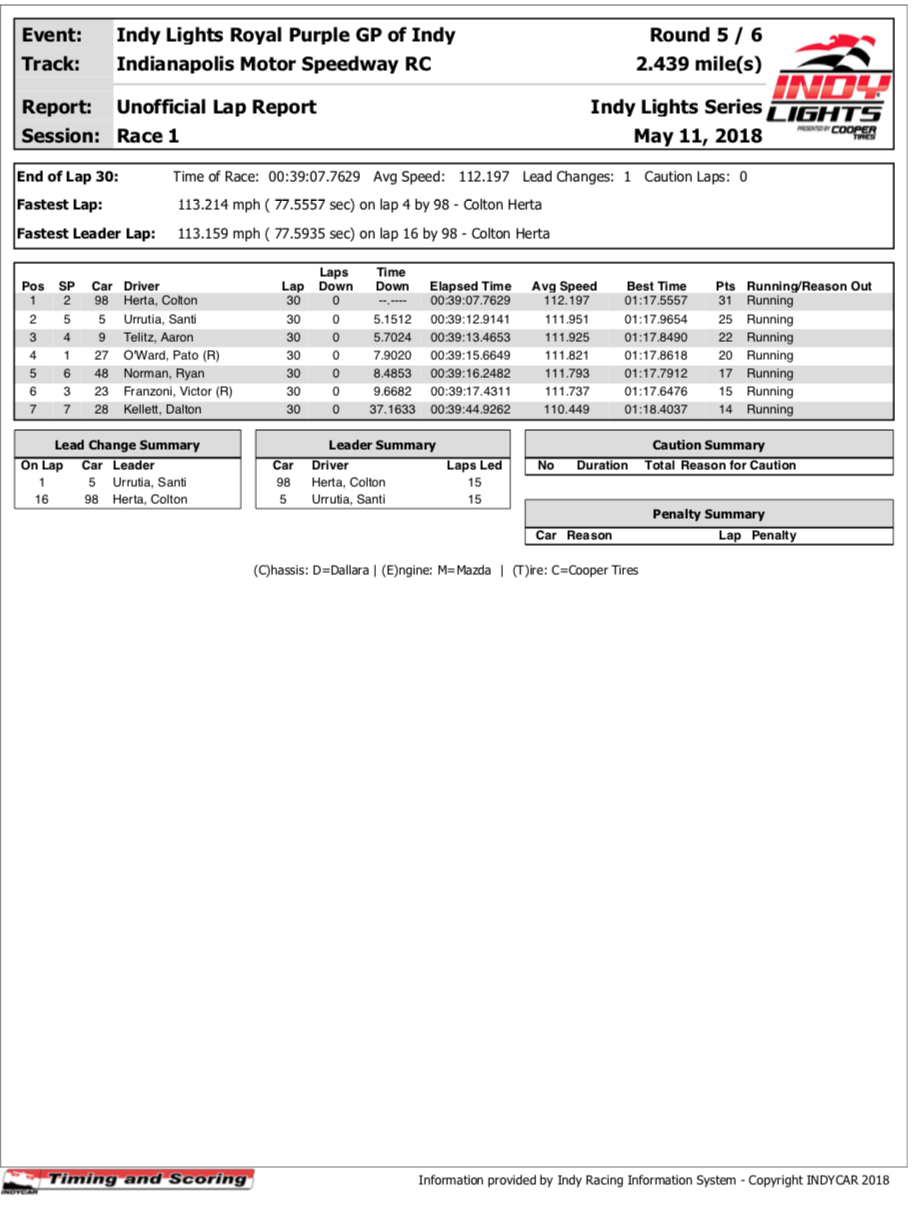 Pro Mazda: Scott Holds Off Askew for Second Win of 2018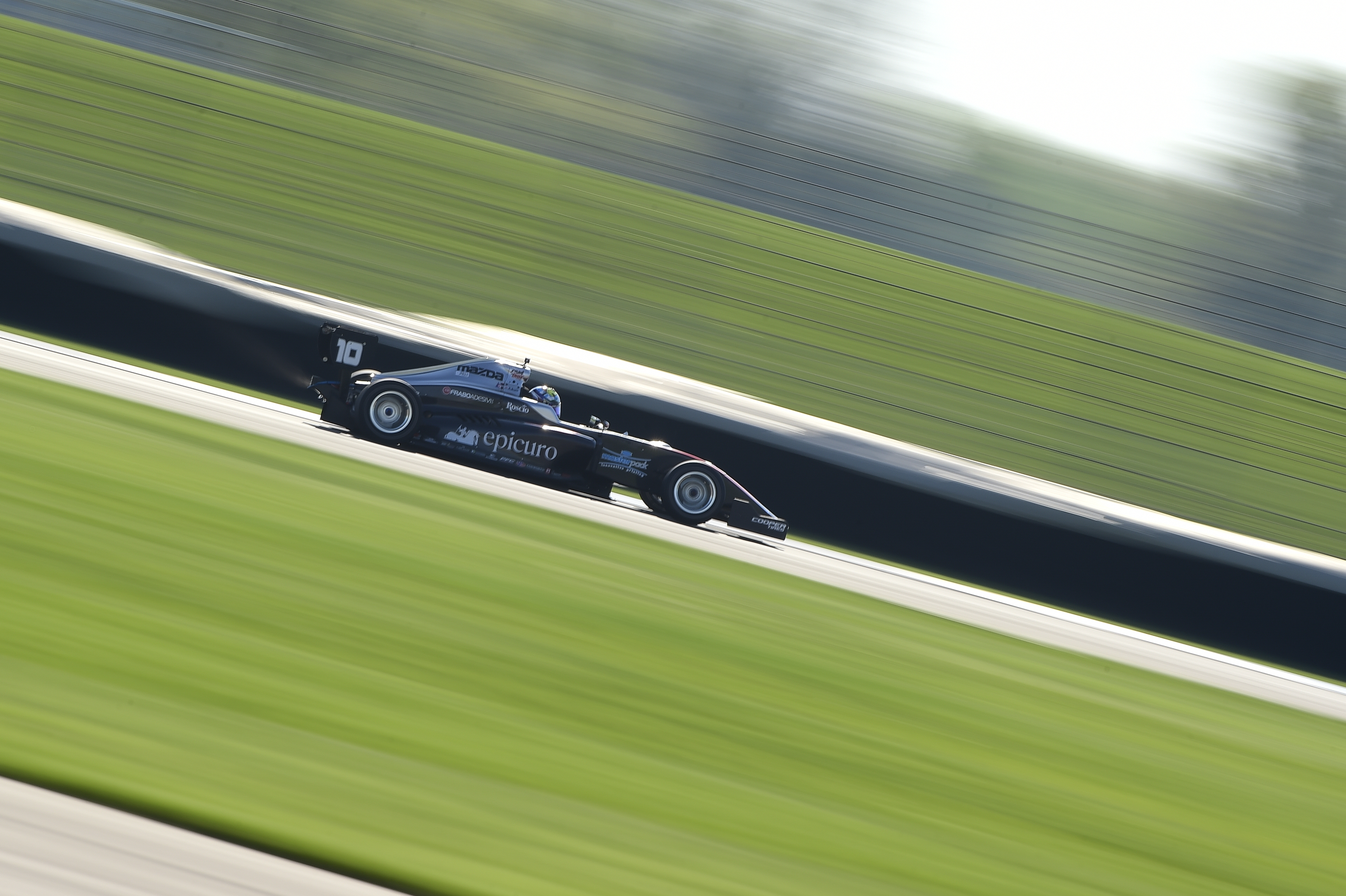 A wild Pro Mazda Race 1 saw several lead changes as a number of different drivers battled at the front of the field throughout the race.
In the end, it was RP Motorsport's Harrison Scott taking his second win of the 2018 season, as he held off challenges from Juncos Racing's Rinus VeeKay and Cape Motorsports' Oliver Askew, who started on the pole.
VeeKay found himself in the lead in the second half of the race, but a train of cars were stalking him, with all of them looking to get by. BN Racing's David Malukas had been running second and tried an aggressive move on VeeKay to take the lead, but ran wide of the racing surface on Hulman Boulevard – the back straightaway – and was given a drive-through penalty for exceeding the track limits.
Only a few laps later, Harrison Scott, who was elevated to second after Malukas' penalty, moved into position to challenge VeeKay for the lead, and made an outside pass entering Turn 1 just as a caution was flown for Team Pelfrey's Andres Gutierrez, who stopped on the front straightaway with a mechanical problem.
Scott held serve on the restart with a few minutes remaining, while Askew got by VeeKay for second. Carlos Cunha, VeeKay's Juncos teammate, also moved up, passing Exclusive Autosport's Parker Thompson for fourth, with Thompson losing the engine cover off his Taatus PM-18.
Up front, though, Scott held off Askew to the win, with VeeKay rounding out the podium ahead of Cunha and Thompson, who hung on for fifth despite the engine cover issue. Malukas, meanwhile, rebounded to finish seventh.
An emotional Scott relayed how important this win was to him afterward.
"It's amazing – I was going crazy on the radio and the team was just screaming," he revealed. "They have worked so hard, because we're so far behind the other teams, in knowledge and everything. Every time we've gotten on track we've improved. To get back-to-back wins is incredible, especially this early in the season. It shows the hard work we're doing. I got the benefit of the slipstream on the front straight and even though we were on the limit, we made the corner and made the pass stick. I focused on not making any mistakes so Askew couldn't get by me."
Race 1 results are below. Race 2 rolls off 10:10 a.m. on Saturday, with Askew again on the pole.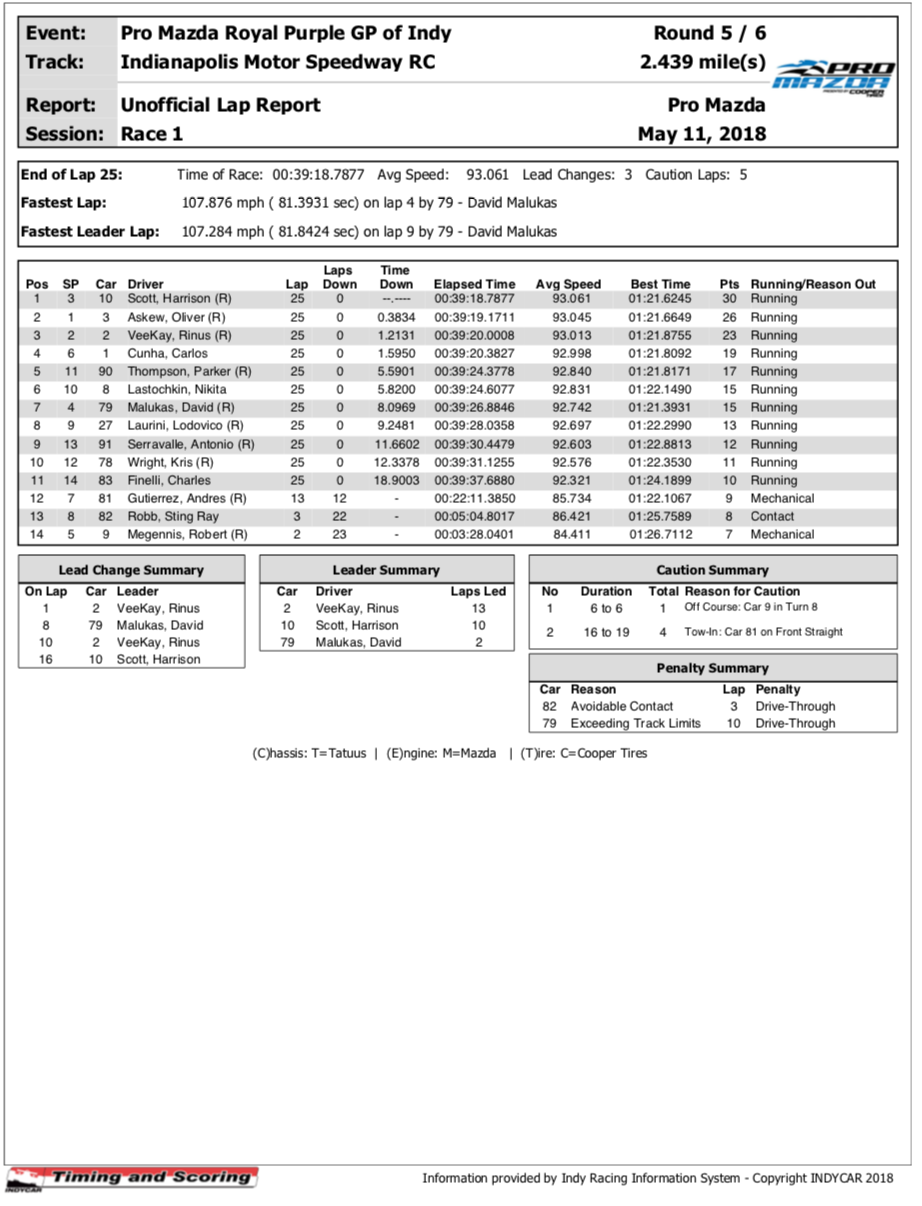 USF2000: Baron Outduels Kirkwood to Take the Win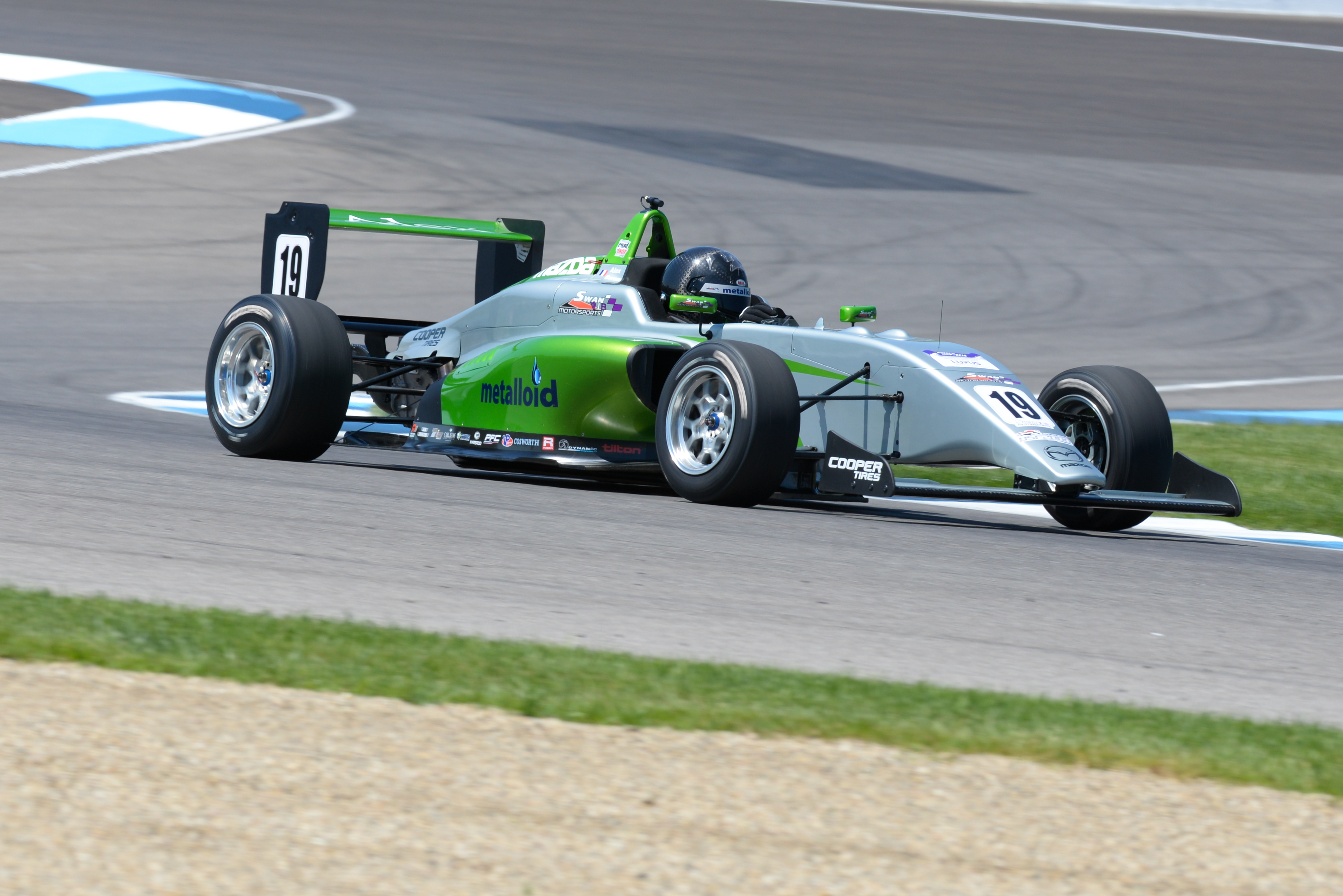 While Cape Motorsports' Kyle Kirkwood captured the pole and led early, it was Swan-RJB Motorsports' Alex Baron who ended the day in Victory Lane for USF2000 in Race 1 on the IMS Road Course.
After an intense battle that involved multiple lead changes between the two, Baron was eventually able to clear Kirkwood, hanging on to win by less than a second. The victory is Baron's second of 2018 – he won Race 2 on the streets of St. Petersburg, Florida back in March.
"Winning over here is quite a privilege, and it's an honor to win at such a legendary racetrack," Baron explained afterward. When I started racing here four years ago, I realized pretty quickly how important this whole month is. Everyone knows about Indianapolis, so to succeed here is quite an accomplishment. It was an adventurous race. I made a good move to get around Rasmus and Kyle in Turn One and then had an intense battle with Kyle all race long. I'm glad to get the win, and the points. We all want to win the championship and it's up to us – the whole Swan-RJB team – to figure out how to make that happen."
Kirkwood, the USF2000 points leader, ended up second, with DEForce Racing's Jose Sierra rounding out the podium. BN's Jamie Caroline finished fourth, with DEForce's Kory Enders completing the Top 5.
Race 1 results are below. Race 2 goes green at 9:15 a.m. to kick off Saturday on the IMS Road Course.