Chip Ganassi Racing's Scott Dixon and Schmidt Peterson Motorsports' Robert Wickens finished second and third on Saturday's INDYCAR Grand Prix. But, both had very different outlooks given where their weekends started and where they finished.
For Dixon, finishing second might feel like a win of sorts. The four-time IndyCar champion was mired back in 18th on the starting grid after struggling in qualifying.
The Ganassi team elected to pit him early – on Lap 15 – in hopes of putting him in clean track so he could make better lap times.
To say the strategy paid off is putting it lightly. Dixon was sixth when the cycle of pit stops concluded, and he stayed in the Top 10 all day until the final set of pit stops on Lap 58, completed under caution after Team Penske's Josef Newgarden spun in Turn 12.
Straight from the "Where did he come from?" files, Dixon emerged from the final pit stops in third behind leaders Will Power and Robert Wickens, and Dixon made his way around Wickens to take second on Lap 64.
He tried to keep Power close the rest of the way, but ultimately had to accept second, a strong result after the struggles in qualifying, and his first podium of the 2018 Verizon IndyCar Series season.
"Well, you know, the goal was to finish better than 18th, that's for sure," Dixon quipped in the post-race press conference.
Dixon added that, while he and the Ganassi team certainly played the strategy correctly, they also caught the right breaks along the way.
"You kind of have an understanding that you can definitely move up maybe five, six, seven spots, but it also depends on how the race plays," he explained. "You can have a strategy call or a yellow that flips the race and you can go all the way back to what happened to us in Long Beach. You're confident (you can get to the front). We actually won from last at Mid-Ohio a couple years back, from 22nd to 1st. That was the goal today. We stuck to our strategy that we had in the pre-race meeting with pitting early on the blacks, getting rid of them and then running as hard as possible for the reds for the three stints after. Today it worked out well. Maybe next race it won't."
Robert Wickens, meanwhile, might be somewhat disappointed in finishing third.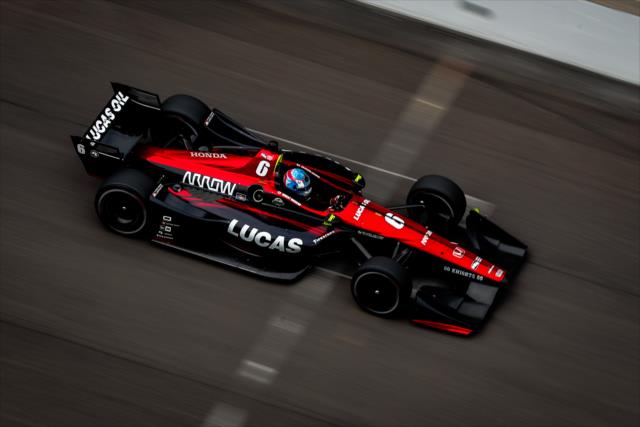 Wickens, who started second, stalked Power the entire first stint before both pitted together on Lap 21.
Both drivers started the race on the alternate compound – "red" – softer Firestone tires, and critically, SPM elected to keep Wickens on the reds. Team Penske, meanwhile, put Power on the primary "blacks," choosing to get them out of the way early in the race, while SPM and Wickens would do so later on.
Wickens was able to pass Power on the outside entering Turn 7 on Lap 24, and assumed the lead when the cycle of stops concluded on Lap 27.
From there, the Canadian needed to lay down as many quick laps as possible to build a big gap over Power, knowing that the scripts would be flipped in the next stint – Wickens would have to go to the blacks, while Power could go back to the reds.
Indeed, Wickens was turning in some very quick laps and built the gap to over five seconds at one point before he pitted again on Lap 41. Power pitted one lap later, and they again emerged 1-2 when the cycle concluded.
But, Power, now on reds, quickly reeled Wickens back in and was all over his gearbox as they got into the second half of the race.
On Lap 51, Power made his move around the outside of Wickens in Turn 1, and while Wickens tried to battle back, it was to no avail.
Power pulled away from there, and while the aforementioned caution allowed them all to pit together and take on reds for the rest of the way, Wickens ultimately had nothing for Power or Dixon.
With Wickens in fuel-save mode for the final stint, he could do no better than third on a day when a victory looked to be beckoning again.
He explained afterward that saving fuel was especially problematic, as it's something he's never really experienced before.
"That was the first race where I kind of felt like a true rookie there in that final stint because I've never had to save fuel before," he detailed. "We've kind of practiced it a little bit in warmup where you do like one lap of fuel save. But the amount of fuel that we were having to save to make that work was something that I didn't even think was possible."
Wickens added, "It was tough, and obviously running in P2, I was told the (fuel) number I needed to achieve, and then I was just like 'Okay, well, Scott is on Push-to-Pass, so I don't know if I should use it to keep him behind or if I should hit my number,' and we were actually having an issue with my Push-to-Pass all day, so it wasn't quite working to the best that it could. No, it was a tough day, an exhausting afternoon, but really happy to finish on the podium."
With their results, Dixon now sits fourth in the IndyCar standings, 31 points behind Newgarden, while Wickens sits eighth, 11 points behind teammate James Hinchcliffe in fifth.