While the first day of racing at the Royal Purple Synthetic Motor Oil Grand Prix of Indianapolis supporting the Lupus Foundation of America was somewhat routine, Day 2 was the exact opposite, as chaos was the name of the game for the Mazda Road to Indy Presented by Cooper Tires.
The Indy Lights Presented by Cooper Tires saw a thrilling, if not somewhat controversial, duel for the win between a pair of series veterans that culminated in contact between the two, with the race winner completing a weekend sweep.
The Pro Mazda Championship Presented by Cooper Tires and the Cooper Tires USF2000 Championship Powered by Mazda both saw the championship leaders entering the weekend survive all the carnage and attrition to take victories.
Reports on the events from all three series are below.
Indy Lights: Herta Outlasts Aggressive Urrutia to Win Race 2 and Complete a Weekend Sweep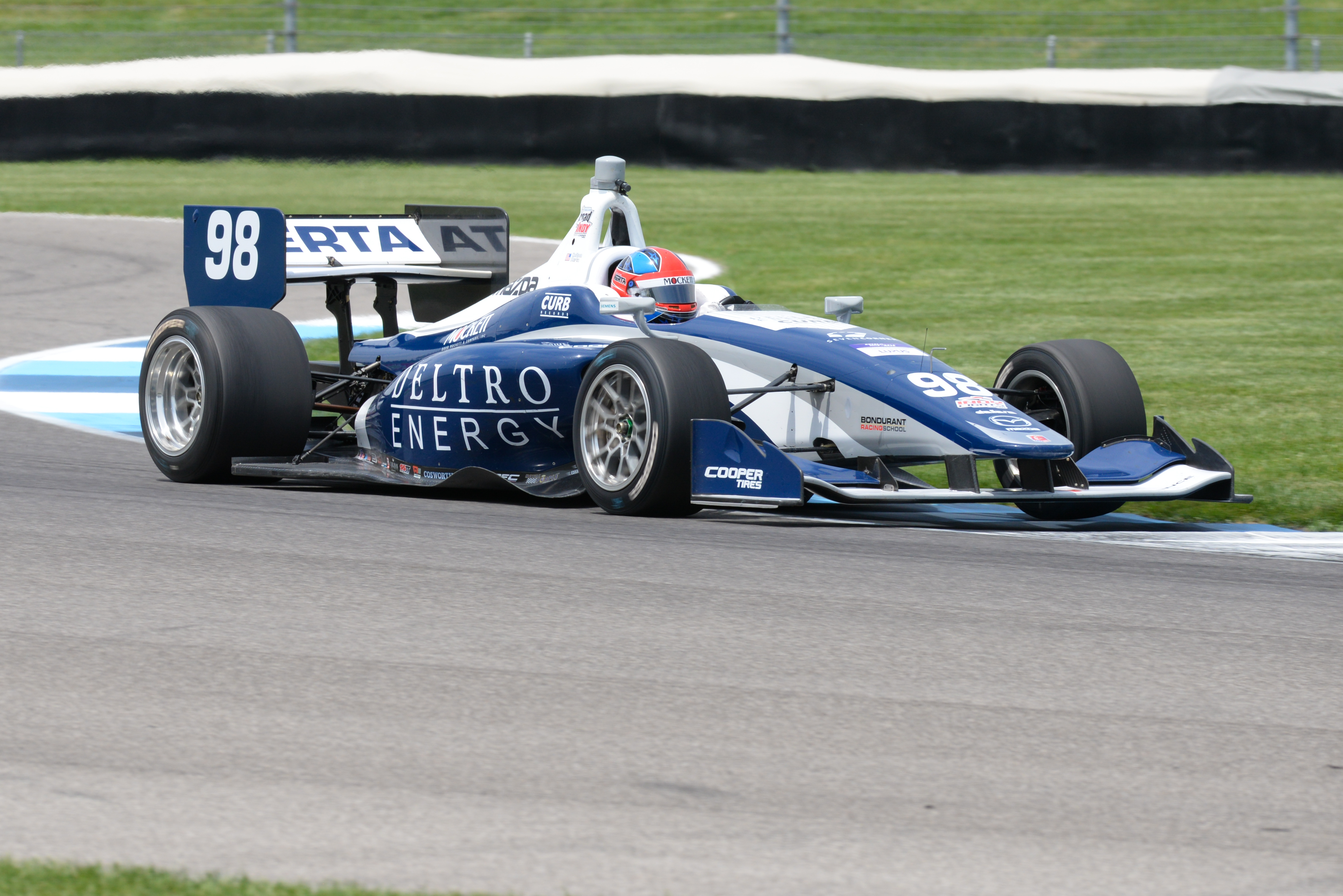 Andretti Steinbrenner Racing's Colton Herta and Belardi Auto Racing's Santi Urrutia staged a duel for the ages in Indy Lights Race 2 on Saturday, and it ended up being Herta who came out on top while Urrutia was left seething in defeat.
Urrutia led most of the race after passing Andretti Autosport's Pato O'Ward, who started on the pole, on Lap 2, while Herta ran slightly deeper in the field, and actually made contact with Urrutia's teammate Aaron Teltiz as they battled for third in the opening laps – Herta tried diving inside of Telitz in Turn 1 on Lap 2, but both tried to take the racing line into the corner and ran wide after slight contact.
Still, both continued, with Urrutia leading O'Ward and Herta, while Telitz quickly regrouped to run in fourth for much of the race.
Lap 20 was when things started to get interesting at the front, as Herta got around O'Ward for second and set his sights on Urrutia, while O'Ward eventually limped into the pits in the final laps with a tire that was going down.
Up front, Herta and Urrutia pressed each other very hard, with Urrutia aggressively taking the inside line into Turn 1 and pushing Herta out wide on corner exit whenever he tried a pass.
Their battle hit its peak as they approached the 3-lap-to-go mark, with Herta trying a pass through Turns 8,9, and 10, while Urrutia desperately tried to defend. As they approached Turn 1 with three laps left, Urrutia again dove inside to take the line away, with Herta again trying an outside move.
This time, Herta hung on around the outside to stay wheel to wheel with Urrutia, and when the Belardi driver tried to pinch Herta off track entering Turn 2, they made contact that sent Urrutia into a spin.
Herta's car suffered no damage and he cruised home to take the win and complete the weekend sweep, while Telitz ended up in second due to the troubles of Urrutia and O'Ward. Juncos Racing's Victor Franzoni rounded out the podium, while a frustrated Urrutia ended up fourth.
An elated Herta could  barely contain himself in Victory Lane.
"I can't believe it. I have not swept a weekend on the Mazda Road to Indy, and we needed it to get back into the championship," he revealed. "To get two wins at Indy is just spectacular – now I want to win the Freedom 100 and sweep the month!"
Andretti's Ryan Norman and Dalton Kellett finished fifth and sixth, while O'Ward languished in seventh at the checkered flag.
Full results are below. O'Ward remains in the championship lead, but only by one point over Herta. Urrutia is not far behind either, sitting six points out of the lead in third.
Pro Mazda: Thompson Outduels Cunha for Win in Attrition-Filled Race 2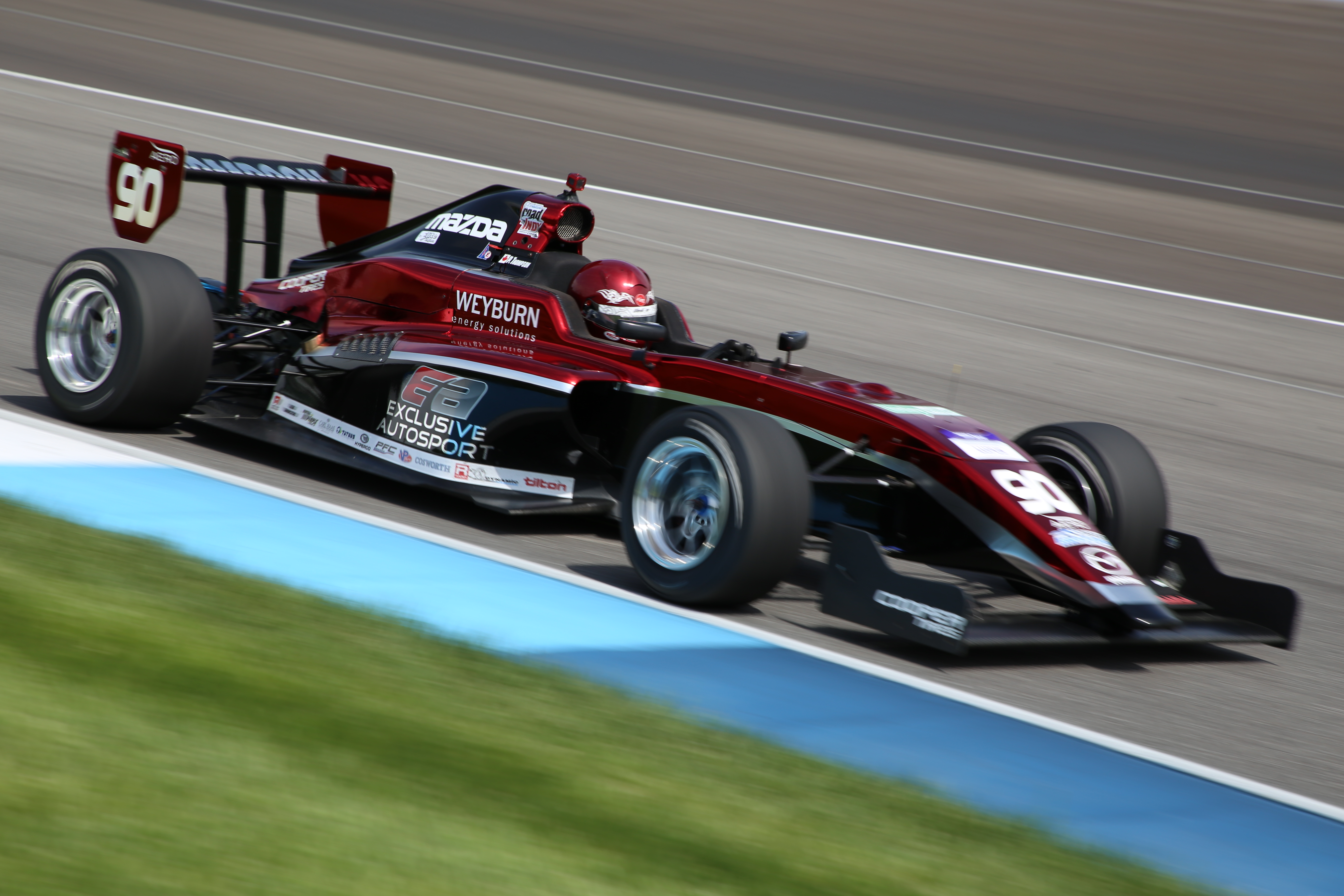 Pro Mazda Race 2 was chaotic from the outset, as Juncos Racing teammates Robert Meggenis and Rinus VeeKay, who started fourth and fifth, got together on the front straightaway as they took the green flag. Both suffered damage, but while Meggenis was able to continue, VeeKay – the points leader entering Race 2 after finishing second in Race 1 – dropped out after his Tatuus PM-18 suffered too much damage.
The VeeKay/Megennis contact resulted in a full-course caution, and a Lap 5 restart saw Juncos driver Carlos Cunha pounce on Cape Motorsports' Oliver Askew, who led from the pole in the early laps.
Cunha got around Askew on the outside entering Turn 1, with Exclusive Autosport's Parker Thompson following suit in Turn 7. Askew's day took a dramatic turn in the next few laps, as he began dropping back somewhat and defended his position aggressively, resulting in a drive-through penalty when he made contact with a another car.
Up front, Cunha held the lead, while RP Motorsport Racing's Harrison Scott – the Race 1 winner – got around Thompson for second, with the Top 3 all running nose to tail.
Scott's day, however, came to an abrupt end only a few laps later, when his car slowed on the front straightaway with a mechanical problem. Simultaneously, teammate Lodovico Laurini stopped on track, causing another full-course caution in a disastrous day for the RP Motorsport team.
Cunha continued to lead on the Lap 12 restart, but Thompson was now all over his gearbox, and Thompson was able to slipstream Cunha on the run up to Turn 1 at the beginning of Lap 17 and dove inside entering Turn 1.
Thompson pulled away from there to take the win, with Cunha hanging on for second.
Thompson revealed that the win was an emotional one, with he and team battling back from engine issues at the beginning of the weekend to win a place he loves.
"I was tearing up at the checkered flag and my engineer, Tim Lewis, was just screaming on the radio. It was so awesome to get a win here – it doesn't get much better than winning at the Racing Capital of the World!" Thompson detailed "It was tough out there today. We made a gamble on a low-downforce setup and it played out. I avoided the melees at the start and kept everything intact. We set fastest lap after fastest lap and that makes weekends like this so special, starting from back in sixth and taking the victory."
Team Pelfrey's Sting Ray Robb rounded out the podium following a tense battle with teammate Andres Gutierrez and the aforementioned Askew, who got back into the Top 5 after his penalty. Robb emerged in third, with Askew finishing fourth. Gutierrez completed the Top 5.
FUll race results are below. Thompson now leads VeeKay by 22 points in the Pro Mazda championship, with Cunha in third, 30 points out of the lead.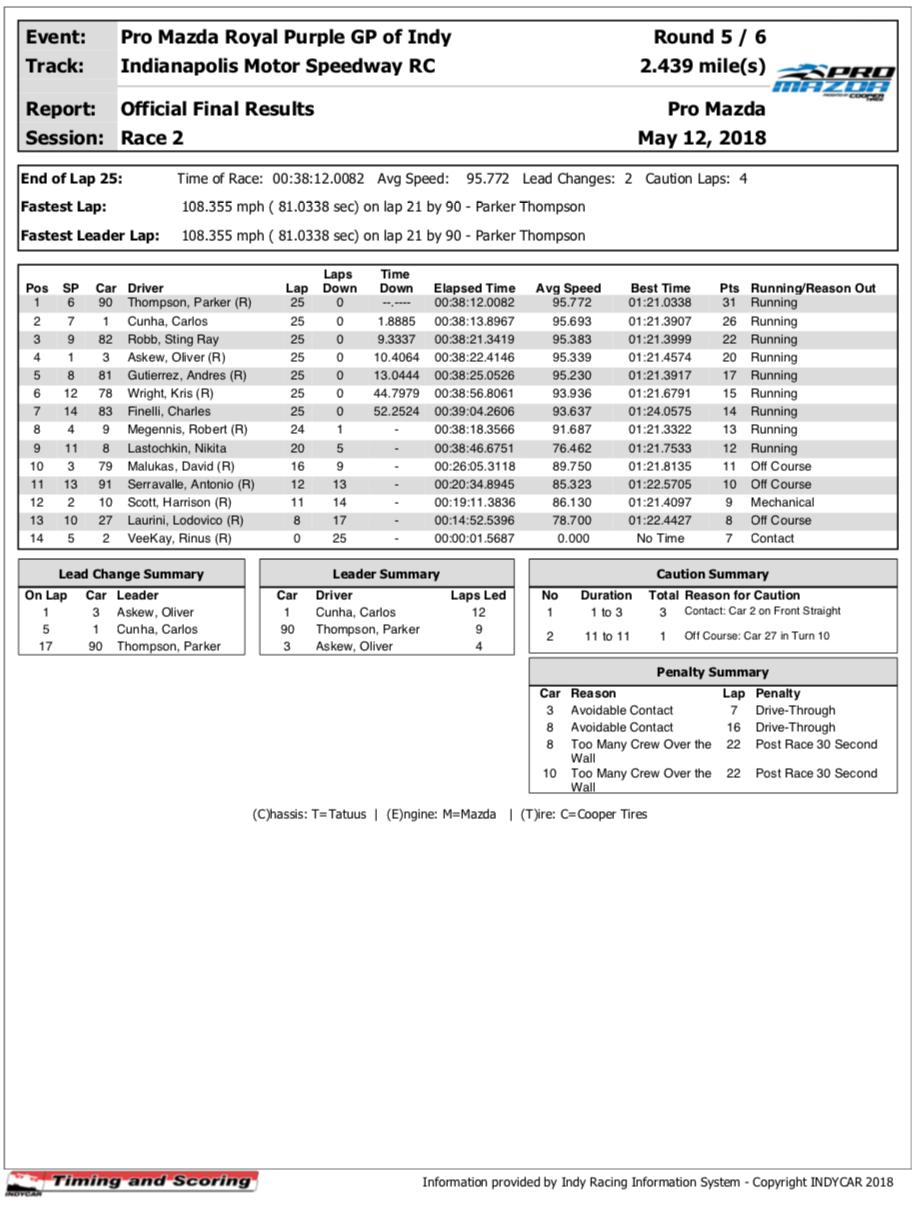 USF2000: Kirkwood Survives Late Cautions and Restarts to Take the Win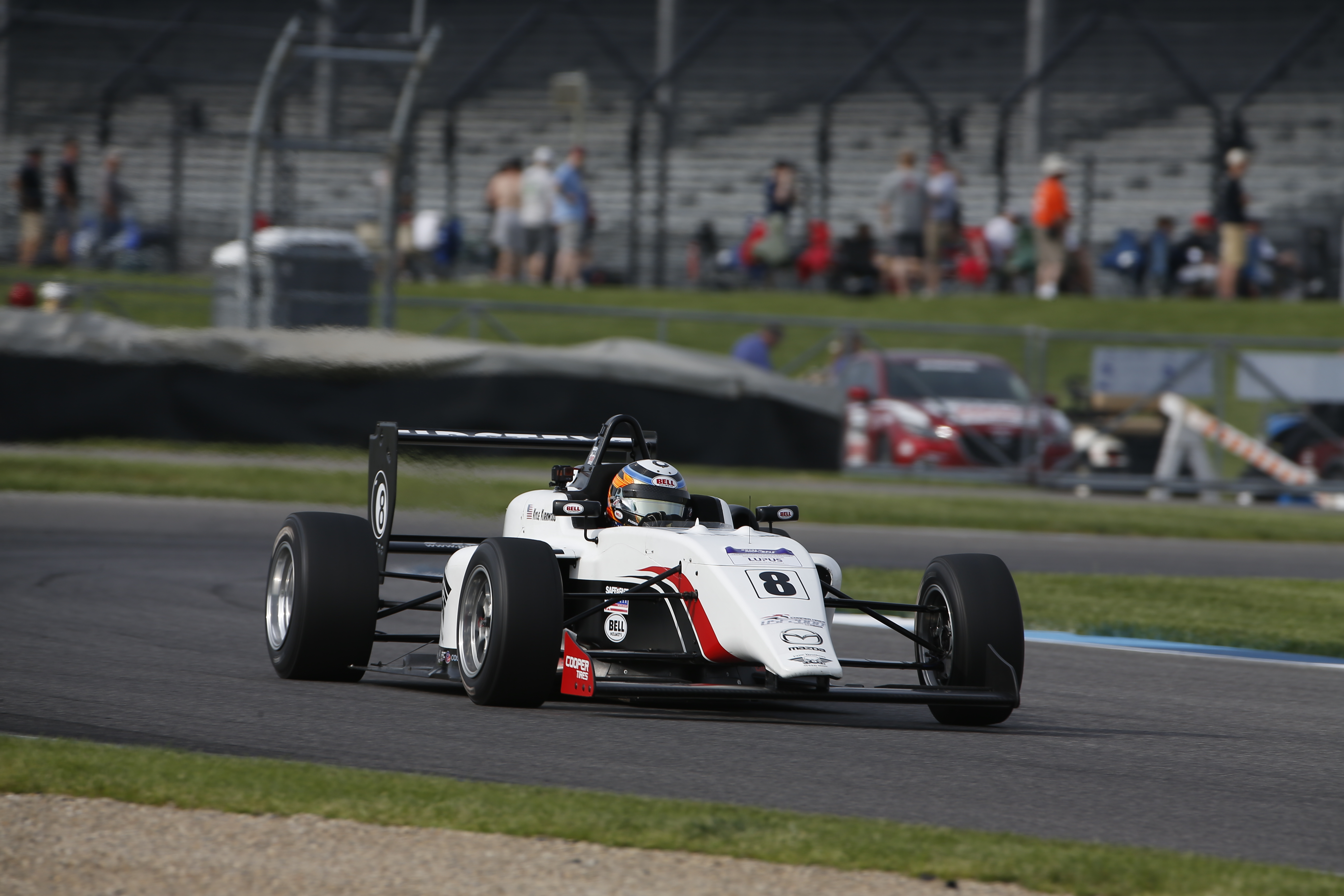 The facts and figures of USF2000 Race 2 may lead you to believe that Kyle Kirkwood had it somewhat easy, as he led every lap from the pole to score the win.
But, the numbers only tell a small portion of the story. While Kirkwood led from the pole, chaos reigned behind him. Swan-RJB Motorsports' Alex Baron and BN Racing's Jamie Caroline made contact on the opening lap, knocking Baron to back of the field.
Later, a hard-fought battle for second ended in tears for Caroline and Pabst Racing Services' Kaylen Frederick, who made contact in Turn 4. Frederick spun into the gravel trap, but did continue after getting restarted, while Caroline retired due to damage.
Their incident created a full-course caution, putting drivers like Pabst's Rasmus Lindh and Newman Wachs Racing's Darren Keane right behind Kirkwood. Baron, meanwhile, had charged all the way back up to seventh, and was in position to challenge for a podium, and maybe even a win.
Racing resumed on Lap 14, with Kirkwood holding the lead from Lindh, while Baron continued his charge and found himself in third on Lap 17 when Newman Wachs' David Osborne spun off course, resulting in another full-course caution.
Racing resumed on Lap 19, giving the field one green-flag lap before the finish. Baron got around Lindh for second, but was unable to challenge Kirkwood for the win as Pelfrey's Bruna Tomaselli spun and made contact with another car in Turn 11 while approaching the restart.
That incident created another caution, sealing the win for Kirkwood, with Baron, Lindh, Keane, and James Roe Jr., on his debut with Swan-RJB, rounding out the Top 5.
"To come here and win in the USF2000 series is unbelievable," Kirkwood said afterward. Oliver (Askew) swept the weekend last year, so I'm disappointed I didn't do that, but it's amazing to win here."
Baron, too, was pleased at race's end.
"I can't be totally disappointed with what happened today because only a few days ago, I wasn't sure I'd even make it here," he revealed. "The victory yesterday was a great reward for all the hard work to get me here, and the second-place today is a bit bittersweet because I thought it could be better. I had an unfortunate incident at the start, but I took advantage of the two safety car periods to show what I'm made of, and what the team is made of."
Full race results are below. Kirkwood now leads Baron by 13 points in the championship. DEForce Racing's Jose Sierra, who suffered mechanical problems right after the race started, sits third, 42 points behind Kirkwood.