Will Power held off low fuel, a few late rain drops and a hard charging Scott Dixon to win his second consecutive INDYCAR Grand Prix and third overall Saturday at Indianapolis Motor Speedway.
Power led 55 of the race's 85 laps to earn his first win of the 2018 Verizon IndyCar Series season and his 33rd career IndyCar win. It was also the third time he won the Grand Prix from the pole in the race's five-year history.
"I definitely am going to relax for a couple days because I'm exhausted, I'm tired," Power said.
Now, Power turns his attention to the Indianapolis 500, perhaps the biggest void to his career as he's never won the Greatest Spectacle In Racing.
"I've been thinking about it a lot, I can't wait," Power said.
Power's win was also Team Penske's 200th career IndyCar win.
"It's amazing, it shows the dedication that Roger has to winning, the quality of the team and it's just a real honor to drive for him," Power said of team owner Roger Penske. "I'm real privileged to drive for him."
Dixon finished second, 2.2443 seconds behind Power, followed by Robert Wickens.
"We really chased our tails this weekend," Dixon said. "We made a kind of bad change in qualifying (on Friday) and changed just about everything but the kitchen sink. And I guess we needed to change the kitchen sink, too.
"We made some big gains this morning and got the car fairly well-balanced and just played strategy."
Wickens admitted he needs to become more proficient at fuel saving, as he was in save mode for most of the second half of the race.
"I guess I'm not as efficient at fuel saving, but we made it," Wickens said. "(Dixon) got past me on push-to-pass … but at the end, I got on the podium.
"It's the first time I had to save fuel like that, would have liked a higher finish, but I can't complain."
St. Petersburg winner Sebastien Bourdais and Alexander Rossi rounded out the top five.
"I was loose most of the race and when I'd gain on someone, I'd lose just enough grip that I couldn't really quite close the gap," Bourdais said. "
Sixth through 10th were Helio Castroneves, James Hinchcliffe, two-time Grand Prix winner Simon Pagenaud, Graham Rahal and defending Indianapolis 500 winner Takuma Sato.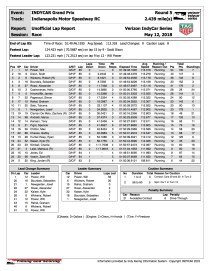 Action was hot and heavy right from the green flag.
On the opening lap, Simon Pagenaud touched wheels with Takuma Sato and was then tapped from behind by Jordan King coming out of Turn 2, spinning Pagenaud. While Pagenaud was able to continue on, King was stuck in the gravel and had to be towed out.
Then, just a couple turns later, Spencer Pigot soared over the rumble strip and went airborne, clipping Sato, who was able to continue. Pigot was penalized for avoidable contact and had to do a pass-through on pit lane.
Pole sitter Will Power held the lead through the first 24 laps before outside pole sitter Robert Wickens was able to get by Power for the lead.
On Lap 51, Power edged past Wickens to regain the lead and began to pull away – until an incident involving Power's Team Penske teammate.
On Lap 55, defending Verizon IndyCar Series champion Josef Newgarden came into Turn 12 too hot while trying to pass Sebastien Bourdais, looped it around and landed in the grass, unable to exit under his own power.
Power broke out to another big lead shortly after the restart on Lap 62, while Wickens and Scott Dixon traded places (second and third) on Lap 64.
Dixon, who started an uncharacteristic 18th, methodically worked his way through the pack and continued to close in on Power in the final 20 laps.
Wickens fell more than 5.5 seconds off the pace between laps 65 and 75, while Alexander Rossi tried to keep pace in fourth. Both drivers – as well as second-running Dixon – needed a late caution, but they would not get it, and Power would roll to his second straight win in the GP and third overall (also won in 2015).
Newgarden finished 11th but maintains a two-point lead in the series' standings over Rossi.
Now, the series begins two weeks of preparation, practices and qualifying (May 19-20) before the 102nd running of the Indianapolis 500 on May 27.