The INDYCAR Grand Prix weekend not only serves to help kick things off for the Month of May for the Verizon IndyCar Series, but it has also quickly become a showcase for the Mazda Road to Indy Presented by Cooper Tires.
The Indy Lights Presented by Cooper Tires, Pro Mazda Championship Presented by Cooper Tires, and Cooper Tires USF2000 Championship Powered by Mazda have all seen double headers in each of the five Grand Prix weekends – Pro Mazda even had a triple header in 2015 – and the ability to race at perhaps the most famous racing facility on the planet has proven to be an invaluable asset to all three series.
And for the second year in a row, Royal Purple Synthetic Oil partnered with the Lupus Foundation of America to again raise awareness of the disease and funds for research and treatment, with all MRTI races contested under the banner of the Royal Purple Synthetic Motor Oil Grand Prix of Indianapolis supporting the Lupus Foundation of America.
Both Friday and Saturday were full days for all three series, and they more than lived up to the billing. Whether it was Colton Herta carving through the Indy Lights field on both days to sweep the weekend, Harrison Scott and Parker Thompson emerging as race winners after a thrilling pair of Pro Mazda races, or Kyle Kirkwood and Alex Baron putting on driving clinics in USF2000, the MRTI did itself very proud on the IMS Road Course.
A recap of major stories to emerge from all three series is below.
Indy Lights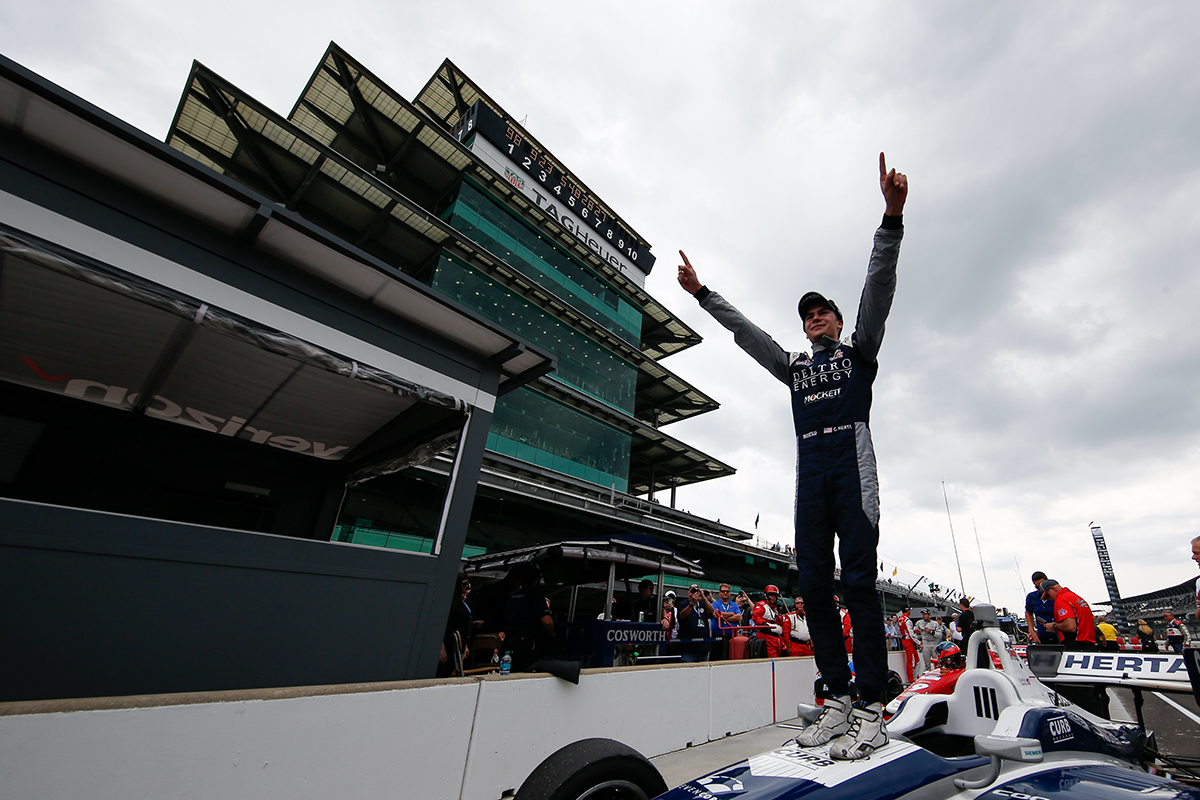 Colton Herta has always been fast, but he lacked a consistency and maturity needed to be a genuine championship contender in 2017. The 2018 version of the young Herta, however, looks to be championship material. He is still a little rough around the edges – his pass and contact with Aaron Telitz early in Race 2 is evidence of that – but he is certainly a long way ahead of where he was in 2017. While his battle with Santi Urrutia for the win in Race 2 was intense, Herta did nothing wrong and the contact was on Urrutia for trying to push him wide exiting Turn 1. But, Herta was fully alongside and held his ground, as was his right. If Herta can can keep his maturity and pace in check, he will most certainly battle for an Indy Lights crown this year.
Urrutia, meanwhile, did not do himself any favors in Race 2, and he frankly made an error in fighting Herta as hard as he did. Herta was very clearly faster than Urrutia in the final laps, and it seemed inevitable that Herta would find his way passed. In trying to push Herta wide exiting Turn 2, and ultimately spinning himself out, Urrutia cost himself two spots – he was in line to finish no worse than second, but ended up in fourth. Given the small Indy Lights field, those few points he lost in Race 2 could loom large later in the year.
Despite taking the pole in both races, Pato O'Ward had somewhat of an off weekend, though it was not entirely his fault. Race 1 saw him get bumped by Victor Franzoni as the field jetted into Turn 1 off the start. That pushed him back to fourth, and stayed there the rest of the race. In Race 2, he was in line for a podium before a cut tire forced him into the pits, and he finished seventh. He did stay in the championship lead, but only by one point over Herta. He'll look for a big rebound at the Freedom 100.
Aaron Telitz's luck may finally be turning around, as he has finishes of fourth, third, and second in the last three races. He finished second in the Freedom 100 last year, and a victory would put him solidly back in title contention for 2018.
Pro Mazda
Other drivers have been more dominant in their early-season races, but Parker Thompson is doing the most important thing a championship contender can do: he isn't making mistakes. His Race 2 victory was his second of the year, and he has two second-place finishes and two fifth-place finishes to his name in 2018 as well. In other words, his worst finish is fifth, and it all sees Thompson in the championship lead after six races. It's still very early, but Thompson is possibly emerging as the man to beat in Pro Mazda.
Rinus VeeKay had a second tough weekend in a row. After finishing second in Race 1 to Harrison Scott, VeeKay dropped out on Lap 1 of Race 2 in a bizarre incident that involved himself, Harrison Scott, and David Malukas – Scott and Malukas bumped wheels trying to tuck in-line, which collect VeeKay and briefly sent him airborne before his car before it came to a rest on the front straightaway. Combined with his struggles at Barber Motorsports Park, it leaves VeeKay 22 points behind Thompson. But, he has plenty of speed in hand, and he is more than capable of getting back ahead of Thompson.
Oliver Askew finally looked like the Oliver Askew of last year. The pole sitter in both races, Askew looked properly quick for the first time all year. He finished second and fourth in the races, and Race 2 was quite impressive as he came back from a drive-through penalty for avoidable contact. At 48 points behind Thompson, Askew is a long way back, but if he can maintain this pace, he could claw himself back into championship contention.
Harrison Scott may be the fastest driver in the series right now, but he's developing a habit of "feast or famine" results. He has two wins and a second this year, but also has a pair of 12th place finishes. He has all the potential to be a title contender, so long as he can avoid the poor finishes.
David Malukas and Carlos Cunha were quick all weekend, and though neither of them got wins, victories may come sooner than later for both.
USF2000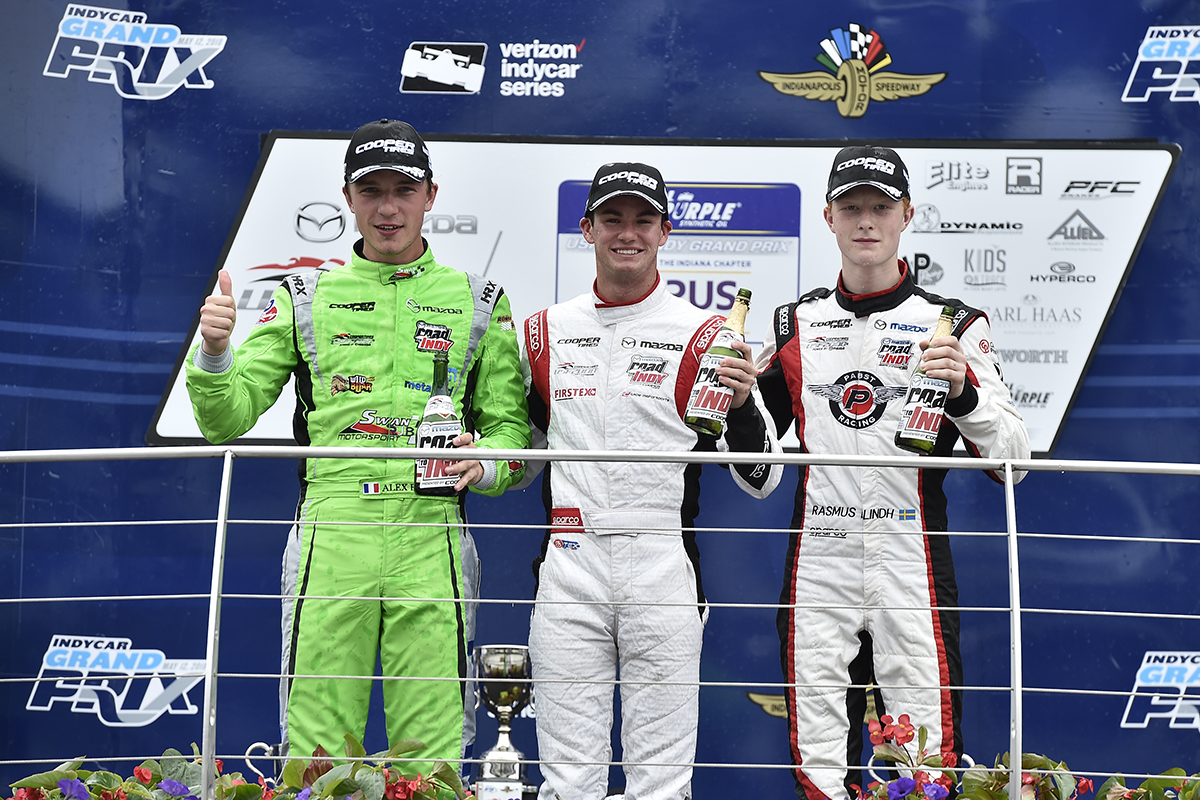 With two race wins and a worst finish of fifth, Kyle Kirkwood has helped put Cape Motorsports once again in position for a USF2000 crown – they have six driver's championships in a row. The former Team USA Scholarship recipient has gelled nicely with the team, and is having a very nice start to his MRTI career.
Despite leading the championship, Kirkwood may actually be overshadowed by Alex Baron. After finished 22nd in Race 1 at St. Petersburg, Baron has finishes of first, first, and second. And his drive in Race 2 may have been the most impressive of the weekend, as he overcame Lap 1 contact with Jamie Caroline that relegated him to the very back of the field to finish in second. Long-time MRTI fans may not be surprised by Baron's prowess – he was a race winner with Belardi Auto Racing in the 2014 Indy Lights season – and Baron most certainly possesses the speed to be a USF2000 title contender. Expect him and Kirkwood to duel more as the year goes on.
While Kirkwood and Baron have distanced themselves from the USF2000 field – Baron is 29 points up on third place – the battle for the third in the championship is quite close. Jose Sierra, Igor Fraga, and Julian van der Watt are 10 points apart in that battle, and sixth place Darren Keane is only 13 points out of third. And if Kirkwood and/or Baron stumble at all, any one of those four could be in position to capitalize.
All three series will next be in action on May 25, with Indy Lights' taking to the Indianapolis Motor Speedway for the Freedom 100, while Pro Mazda and USF2000 will take to Lucas Oil Raceway Park.