Tuesday marked Danica Patrick's first full day of practice for the Indianapolis 500 since 2011.
While Patrick may have appeared a bit rusty – she was 18th fastest out of 34 drivers that took to the 2.5-mile Indianapolis Motor Speedway oval in the afternoon practice – the key for her was it was a start.
And from here, as each passing practice day goes by, she hopes to become more consistent, knock off even more rust and most of all, to become faster and faster.
"First off, I'm glad the (open INDYCAR) test ended up getting moved to two weeks ago instead of six weeks ago (due to weather) just to be a little bit more fresh from that," Patrick said after Tuesday's session. "But it was good to have all that time by myself for the most part. I mean, I think I drove behind Ed (team owner Ed Carpenter) for a few laps at the end of the day when we were here two weeks ago.
"So, you know, today it's everybody, especially at the end of the day it's happy hour – or it could be unhappy hour if your car's not very comfortable because there's a lot of cars out on track.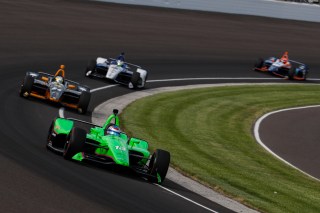 "I jumped into the back of a group, and then got into kind of the middle of the group, was able to pull away from the car behind, close up a little bit on the car ahead.
"I felt pretty good. I'm still not completely confident in traffic. They're trying to encourage me to use my tools and the bars, you know, the weight jacker and things. I'm like, I need to feel the traffic first. Like before we create another variable as to what's going on, I need to familiarize myself and get sharp again with the traffic and just the tendencies of the car.
So, yeah, I felt like it was a really solid day. I feel like the car has a lot of good natural speed in it. It was very smooth. We tried a handful of things and found some stuff that worked.
"It definitely feels like understeer and traffic is going to be the determining factor of where you go. You can get a decent lap, but once you get close up on a car in front, you're going to deal with the front getting really light on you.
"That's the job at hand, how do you fix that and make yourself feel comfortable alone, find that balance. That's what we're trying to do."
Getting back into the swing of things in an Indy car after being out of one for nearly the last seven years is a challenge. While some might think it's like riding a bicycle, once you get re-acclimated, the Indy car of 2011 is completely different than today's car, Patrick said. "Definitely relearning the feel, remembering kind of the pattern of lifting and sort of the timing of it, where you do it in the corner, where you downshift, when you up-shift, when you leave it, little things like that.
"I would say that just driving the car and being distracted with other things, like adjustments and traffic and looking in my mirrors and things like that, I'm getting a little bit more comfortable and almost reminding myself like, 'Hey, you're not thinking hard enough about that corner there, and you're doing 230, so … but that's what you need to get to.
"You need to get to the point where driving the car is very natural and instinctive on what's happening, be able to digest the other scenarios, the cars around you, the adjustments you're making, thinking ahead on the adjustments, timing passes.
"You need to create a lot of room for that kind of stuff out there as opposed to just driving the car. The race is very little of just driving the car and a lot of the other stuff."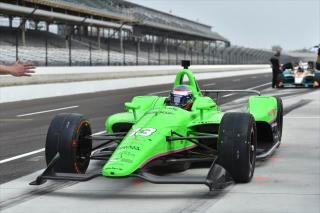 Patrick reflected back on the open INDYCAR test two weeks ago, where she got back into an Indy car for the first time and how quickly she picked things back up from her previous tenure in the sport.
"The very first day I was in the car, it felt way worse than what I thought it was going to feel," she said. "Day two was much better than I thought it was going to feel.
"I would say for day one of Indy 500 week, weeks, call it a fortnight, right, not a month any more unfortunately, but I would say today went really well. We accomplished what we wanted to. We ran alone. We tried things. We got the car to turn a little bit better. We got in traffic for a good few laps, quite a few.
"I'd say today was a really good day, really solid day. I kind of kept the mantra in mind like I had when I came to the test, that it's about building confidence, not breaking confidence.
"So, you know, I think the team is very solid and we have great cars. It's a great organization. I don't need to be silly. We can rely on teammates, you know, pace ourselves a little bit here and there."
When asked what she recalls of preparing for her first Indy 500 in 2005 and what it's like preparing for her eighth and final 500 this year, Patrick was very matter of fact.
"Do you remember what was going on 13 years ago?" she said. "It's pretty tough to remember exactly the way that the car felt compared to now. We're talking about 13 years, a heck of a lot of laps in different cars and situations.
"But, you know, I think the over-sweeping feeling every time I come to this track is that you have to be humble and respectful of it, and that you're going very fast, things happen very fast. You can go out from one run to the next and not change anything and the car can be different. You just need to keep your wits about you.
"I mean, for the very beginning of the month of May compared to my very first month of May, in general I'd say I'm humbled by the fact that the car has a lot of good, natural speed. It's really just a matter of making a good racecar then.
"Of course, back in those days, at this point in time, we weren't running in a pack at all, we were only working on speed. The whole first week was really just about getting ready for qualifying. Yeah, we're not in that scenario now."
The scenario Patrick is in now is preparing for the next chapter of her life. Not her racing career, as that will end when the checkered flag falls at the 500 on May 27 (unless she fails to qualify for the race this weekend, which appears unlikely).
Once the 500 concludes, Patrick will be moving forward even more with her new book, clothing line, and her own wine label, as well as other areas she intends to branch out her personal brand into.
"You know, Bobby Rahal gave me great advice before I was an IndyCar driver, when I was signed on to do Formula Atlantic for him," she said. "That's that you need to save your money, don't spend it all, and think about when you're done racing. The fact for him, he wanted to be able to live the same lifestyle after racing as during, even though of course your salary goes away. What else can you do to provide that? What can you do to build a financial structure to do that, to live the same lifestyle?
"That always stuck with me from a very long time ago. That was probably, what, 2002, 2003, that he told me that. I've always kept that in the back of my mind. I think that's to some degree some of what has motivated me to remember that there is going to be a lot of time after racing. Here I am a little younger than probably what I thought I'd be when I retired.
"At the same point, what year did I start, I was — 2005, so I was 23. I mean, I remember thinking to myself, I don't know, maybe I'll do it for 10 years. It's not that far off (laughter).
"Anyway, I guess I wasn't so far off with two different series. Yeah, I've been very fortunate in my career. I'm excited about the next phase. I know that racing has given me everything I have, it's given me every opportunity I have. It really all started here."
In seven appearances in the 500, Patrick has two top-5 finishes (including a best of third place in 2009) and four other top-10 showings. Her worst finish and the only finish outside the top-10 was 22nd in 2008 due to a crash.
So, would she entertain the possibility of not ending her racing career if she were to win the 500?
"No, absolutely not. That would be the perfect way to never come back. Don't you think? Yeah, don't you think? Just mic drop that thing. That would be the perfect way to go out.
"If you talk to anybody in the last five years about, am I going to do Indy? Personal, like family, I said I'd never do it again. No way. Like, I'm not going to — just not going to do it. It's been too long since I've been in the car.
"The way that it all went down with being able to have time to prepare and be really focused, like, I watched Kurt (Busch) do the double (in 2014). I really tried to do the double the second year I was gone. But I watched him do it, how much back and forth you have to do.
"You can do it, but that to me, based on the fact that I had done so well here so many times, had so much fun history here in my own memory, like, I didn't want to come back just to do the double. I felt like I could within the first two years I was gone and still do a really good job. But after being gone for three, four, five, six, seven years, I was, like, I didn't think I'd ever do it again.
"I have to say that only just because you never know. But, look, if I win, I really don't think I would come back. It would be perfect. It would be perfect just like that."