If there was any doubt that Helio Castroneves is bound and determined to earn a record-tying fourth Indianapolis 500 victory this year, he quickly put that to rest Tuesday.
Castroneves consistently had one of the fastest cars throughout the first full day of practice Tuesday at Indianapolis Motor Speedway for the 102nd Running of the 500 on May 27.
That included being fastest in the third and final practice session of the day – which for the first time included 34 of the 35 cars entered in the race – with a top speed of 224.665 mph.
"We started right away with a good pace," Castroneves said. "Good job, everyone, running issue-free.
"We still have a long way to go, but it was a very base test with the new car actually with traffic and everything. Looking forward to another day tomorrow.so we continue to work and pursue that right result."
Ed Carpenter was second-fastest (224.523 mph), followed by Jay Howard (224.518), Scott Dixon (224.353) and Marco Andretti (224.217).
Carpenter also had the fastest non-tow time of all drivers on-track.
"It was kind of a weird day – I almost feel like this is Day Two for some reason," Carpenter said. "I was pretty happy starting off. As we always do around here, we made changes to try and get better. We probably got a little worse, then we finally got onto some things at the end of the day.
"That's why we have to keep working out here and try to get the feel for what we want. All in all, it was a good first day. I need to go talk to my teammates and compare what we all got in to over the course of the day. For Day One, it's a good start, but I feel like there's a lot more in the car, too!"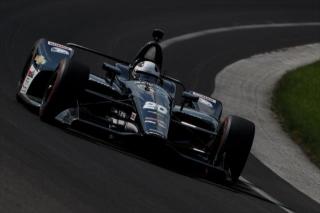 Sixth through 10th were Sage Karam (223.998), Charlie Kimball (223.921), Gabby Chaves (223.640), Zach Veach (223.551) and Ryan Hunter-Reay (223.488).
Howard recorded the most laps of practice (69), followed by 2016 Indy 500 winner Alexander Rossi (68), Jack Harvey (67) and Ryan Hunter-Reay (66).
The three-hour session was interrupted for about a half-hour due to rain, but was able to resume to complete the first day's activities. Practice on Wednesday runs from 11 a.m. to 6 p.m. ET.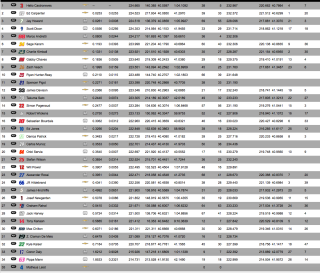 As for other drivers of note in Tuesday's practice:
* Defending Indy 500 winner Takuma Sato was 13th-fastest (223.305 mph).
* Simon Pagenaud was 14th (223.284 mph) fastest in the final practice. He was also the fastest driver overall for the day, recording a speed of 225.787 mph in the morning session. Castroneves' afternoon speed was the second-fastest overall for the day.
* Danica Patrick was 18th (222.728 mph).
* Saturday's INDYCAR Grand Prix winner, Will Power, was 22nd (222.495 mph).
* James Hinchcliffe, defending Verizon IndyCar Series champion Josef Newgarden and Graham Rahal all struggled, scoring 25th (221.900 mph), 26th (221.852) and 27th (221.671 mph) respectively.
* Rookie Matheus Leist was the only driver who failed to get on-track during either the morning or afternoon sessions. It's unclear what the reason was, whether it was illness or something else, but a tweet from A.J. Foyt Racing said Leist will be back at-track on Wednesday.
Speaking of Leist, we thought we'd share this "coaching video" where Tony Kanaan — dressed as Leist (and with hair!) because he was missing — talked about the advice Kanaan "gave" Leist about competing in the Indy 500.