If you're looking for a darkhorse for the 102nd Running of the Indianapolis 500 Presented by PennGrade Motor Oil, Dreyer and Reinbold Racing just might be the pick for you.
Typically one of the best one-off entries, the DRR squad has brought fast cars each year since 2014, their first of the recent string of one-off entries.
Sage Karam finished ninth that year, coming from 31st to do so. The following year, Townsend Bell finished 14th, but Karam's return to the team in 2016 produced an effort that went from 23rd on the grid to run inside the Top 6 before the halfway point. However, a crash on Lap 93 put paid to an effort that may have contended for a win.
And last year, again with Karam piloting their No. 24 machine, they were quick in practice, but a battery failure on Lap 125 ended the day prematurely.
Karam is back in the No. 24 Chevrolet, with backing from WIX Filters, in 2017, but this time not as a "lone wolf." He will have a teammate for the first time since his 2015 effort with Chip Ganassi Racing, as JR Hildebrand joins the team in the No. 66 Salesforce Chevrolet.
Both Karam and Hildebrand will be highly motivated after recent pitfalls in their driving careers. Karam's Verizon IndyCar Series career has been start/stop since he won the 2013 Indy Lights Presented by Cooper Tires championship.
He ran only one race in 2014, 12 in 2015, and one apiece in 2016 and 2017. And his exploits in the IMSA WeatherTech Sports Car Championship, where he competed last year in a full-season effort with 3GT Racing, did not continue into 2018, meaning the Indy 500 is his only scheduled race at this point.
Karam looked strong on Day 1 of practice, coming at seventh on the speed charts.
"Car wasn't too bad. It has a really good balance when I ran by myself. So, we started with that and then tried to trim out and gain more speed by myself. Once I felt comfortable there, I ran with traffic," he explained. "This was the first time I ran in traffic with the new car and it's interesting. It looks like everyone is dealing with the same issue, which is the lack of front grip. These new cars, when you don't have clean air, you lose a lot of front grip. That's the battle for everyone right now is to find front grip. Overall, first day back and P6. We're in the ballpark. Speeds or times don't mean anything yet, but it's good to see us high on the pylon, it is a good feeling. But, it's early so hopefully, we keep it up and we'll see what happens."
Hildebrand, too, is not set to run any more races beyond the Indy 500. The 30-year-old from California departed Ed Carpenter Racing after a disappointing 2017 season saw him finish 15th in the standings, despite scoring ECR's only podium finishes (third at ISM Raceway, and second at Iowa Speedway).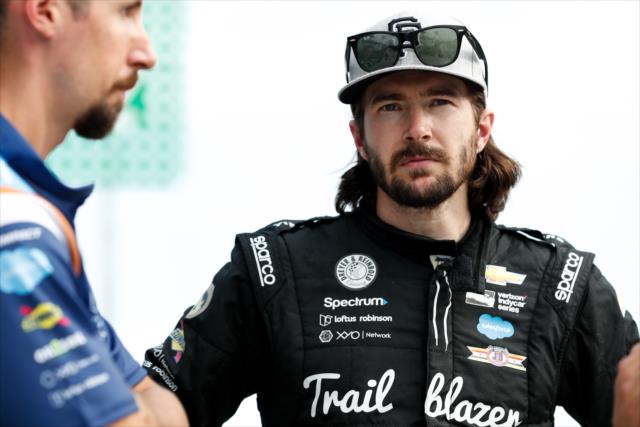 Like Karam, Hildebrand will be motivated to prove he is worthy of another full-time effort.
Hildebrand was 26th overall, but had the third fastest non-tow lap.
"I felt good today with the car. We got up to speed quickly," Hildebrand of the Day 1 effort. "There are a lot of familiar faces for me here at Dreyer and Reinbold. I made my Verizon IndyCar Series debut with DRR back in 2010. We have a lot of the same guys I have worked with the last few years, too, at ECR (Ed Carpenter Racing). I felt good with how the car rolled out of the gates and it went from there."