The rookie battle at last year's Indianapolis 500 was one for the ages, with Ed Jones, Zach Veach, Jack Harvey, and a certain two-time Formula 1 world champion named Fernando Alonso all embarking on their first Indy 500 efforts last year.
In the end, it was Alonso who took Rookie of the Year honors. But, as he returns to the Monaco Grand Prix this year – an event he skipped to run last year's Indy 500 – it leaves Jones, Veach, and Harvey as the returning sophomores looking to build on their efforts from last year.
While Alonso was ROTY, Jones was actually the highest finishing rookie, coming home third behind Helio Castroneves and race winner Takuma Sato. And, a number of circles felt that Jones was more deserving of "Top Rookie" honors.
Indeed, it's hard to argue against it. Thrust into the role of "lead driver" in the wake of Sebastien Bourdais' qualifying accident and subsequent injuries, Jones turned in a performance nothing short of outstanding.
He qualified a very solid 11th, and drove an even stronger race to finish third, even overcoming a hole in the nose of the No. 18 Dale Coyne Racing Honda to do so.
He returns in 2018 with higher expectations as a part of the powerhouse Chip Ganassi Racing team. He has shown flashes of the potential he showed last year – finishes of eighth in St. Petersburg and third at Long Beach are highlights, and he was running a strong second at ISM Raceway before a late crash – but three finishes of 20th or worse (20th, 22nd, and 22nd) leave him 14th in the standings.
But, a strong "500" effort will do wonders for negating those struggles.
"So far, so good here over our first few runs today," said Jones, who was 18th at the end of Day 1 of practice. "Of course, qualifying is important, but you need to have a really good race car for the following week. This car drafts up very well to the other cars, maybe even better than the car we had last year. Over the next few days, we'll work on how that plays out with the NTT DATA car, and have things ready to go when it's time for the race."
Elsewhere, Veach and Harvey will look to improve on 2017 efforts that were about learning. For Veach, he qualified 32nd in a third effort for A.J. Foyt Racing, but dropped out after 155 laps due to a mechanical failure.
His early races with Andretti Autosport have shown promise – he finished fourth at Long Beach and was running in the Top 6 early on at Barber Motorsports Park before losing the ability to make adjustments inside the car, and he ultimately faded to 13th.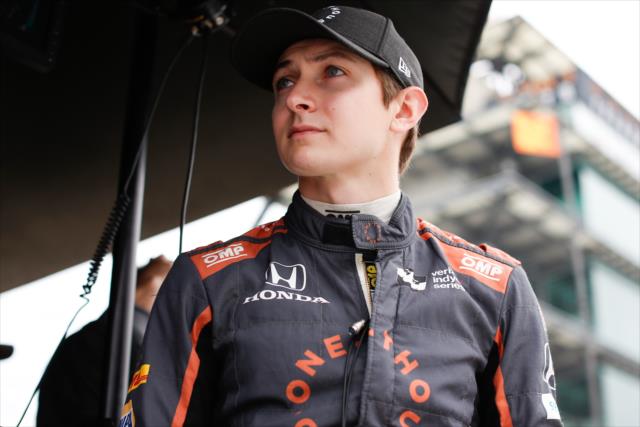 A strong "500" effort will be a boon for Veach moving forward in his debut IndyCar season.
"I think for our first day, we couldn't have asked for more," said Veach, who was 10th fastest on Day 1. "The car is in a pretty good window, so now it's just tweaking the balance for each individual driver on the team. It's a high contrast between my first Indy 500 (2017) and starting my second already. I'm just excited to see what we can do the rest of the week with Andretti Autosport. So far things have been great, and I think they'll keep progressing that way."
Harvey, too, will look for a better go-round in his second "500" attempt. Last year, in a joint effort with Andretti Autosport and Meyer Shank Racing (they called Michael Shank Racing), Harvey qualified 27th, but crashed out on Lap 65 trying to avoid a similarly crashing Conor Daly.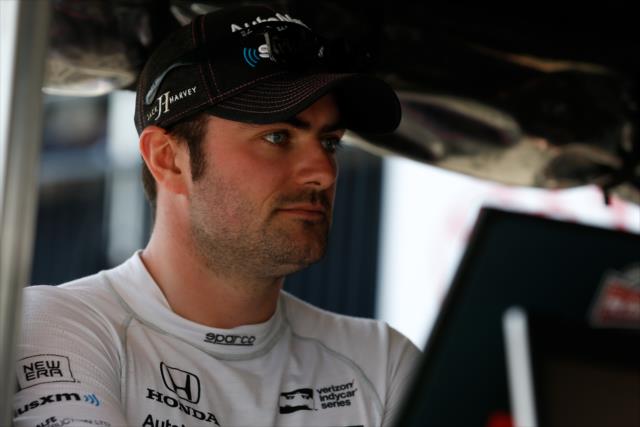 Harvey and the Meyer Shank squad, now in a joint effort with Schmidt Peterson Motorsports – with whom Harvey contested the final two races of 2017 – have run two races together in 2018 – at St. Petersburg and Long Beach. While they crashed after suffering a cut tire in St. Pete, the Long Beach event was a solid rebound, as they finished 12th.
The "500" presents them with a chance to break into the Top 10, and when combined with a partnership with an SPM squad that has been strong at the Indy 500 in the past, the tools are there for a nice effort from this bunch.
Day 1 of practice saw Harvey 28th on the board, though he completed the most laps – 107 –  of anyone.