For the second time in three days, Marco Andretti turned in the fastest speed during Friday's practice session for the May 27th Indianapolis 500.
The beneficiary of increased horsepower at his disposal today – as were the other 34 drivers in the field, as well – Andretti covered the 2.5-mile oval at a stout speed of 231.802 mph.
"We've been feeling good actually, pretty good in traffic, which obviously the tow time shows that, and the car is close in race trim," Andretti said. "I don't know how much better we can get it.
"But qual trim alone, I'm not pleased with the car speed right now. I think we're right on the bubble of the Top Nine to be honest. And I think it's going to take us to nail it to get it in, as with probably five or six other guys, we're going to be right there with them, and I think it's going to be all about a third and fourth lap, and we're just going to have to nail it and do everything right to get it in. Hopefully we can."
Throughout the first four days overall of practice thus far, Andretti has consistently been one of the fastest drivers in the field, including being No. 1 on Wednesday and again Friday.
"Well, obviously it is very important to win the race, but the month is a roller coaster," the third-generation racing member of the Andretti family said. "If there's one thing I've learned in my 13 years here, you just have to be prepared for the roller coaster.
"You look at Graham (Rahal), he's No. 1 yesterday, he's struggling today. I could be struggling tomorrow. That's the way it works. We just need to maximize every time out there, take it corner by corner and hopefully make the right decision at the right time. This place, it always helps to catch the circumstances right, as well. Not only in qualifying but over the course of the 500 miles, it picks the winner, right?
"I'm just focused on trying to be quickest every time out, and I'll smile when I'm quickest every time out."
Canadian driver and IndyCar rookie Robert Wickens was second-fastest at 231.732 mph, followed by team owner and part-time driver Ed Carpenter (231.066 mph).
"Well, first off, I feel like I don't fully deserve to be here," Wickens said. "I mean, Fast Friday is for qualifying and all that stuff, but my very first lap of the day, two people came out of the pits in front of me, and I just got like this insane tow that got me to where I am.
"Honestly, we have a lot of work to do. I think we're okay by ourselves here on Fast Friday, but we're definitely, in my opinion, on the outskirts of the Fast Nine, which is my goal for (Saturday).
Veteran IndyCar driver Oriol Servia, who is competing in a one-off event in a third car for Rahal Letterman Lanigan Racing in the 500, was fourth-fastest (230.247 mph).
Fifth through 10th were Will Power (229.780 mph), Sebastien Bourdais (229.740), Tony Kanaan (229.500), rookie Matheus Leist (229.365), Stefan Wilson (229.273) and 2016 Indy 500 winner Alexander Rossi (229.235).
Graham Rahal, who was fastest Thursday after struggling Wednesday, returned to the struggling side of the ledger, with a top speed of 226.811 mph, good for 33rd in the 35-car field.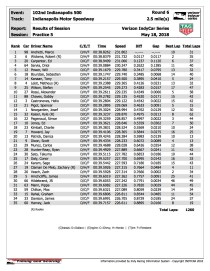 Pre-qualifying practice takes place Saturday from 8-9:30 a.m. ET, while qualifying takes place from 11 a.m. to 6 p.m. ET.
There was only one incident of note in Friday's practice: Australian driver James Davison spun exiting Turn 2, hitting the wall broadside on the left side of his car.
While the chassis tub did not sustain damage, the gear box did, but his team expects to have the car repaired in time for Saturday's qualifying.
Below are the non-tow chart, as well as the chart of the first four combined practices from Tuesday through Friday.