Andretti Autosport and Crown Royal announced Friday that they have significantly exceeded their goal of collecting 31,680 male and female military hero names for the Wall of Gratitude.
The promotion began last year and was reactivated again last month at the Toyota Grand Prix of Long Beach and concludes Monday, May 28, at IMS.
Each submitted name of a military hero is engraved on a five-inch gold plaque. When placed side-by-side, the 31,680 names equals the 2.5-mile length around IMS.
As of Friday afternoon, the promotion has reached nearly 45,000 names, which would circle IMS 1 ½ times – a number that is expected to continue growing through Memorial Day.
"The Crown Royal Wall of Gratitude is a pretty special thing for myself and the whole Andretti Autosport team," 2016 Indy 500 winner Alexander Rossi said. "We announced this morning that we have officially exceeded our goal of collecting more than 31,680 military hero names to honor on the Wall.
"The fact that Crown Royal extended the Wall of Gratitude program this year is pretty special. I am very honored to show appreciation for the veterans that allow us to live the way we do in this country."
Earlier this week, Rossi visited Stout Army Airfield in the Indianapolis area to thank military men and women for their service.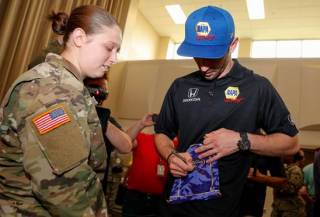 The Wall of Gratitude will be on display at IMS in the Fan Midway throughout the next week, on up through race day, the 102nd Running of the Indianapolis 500, on Sunday, May 27.
Scheduled viewing times are:
Saturday, May 19: 10am-4pm
Sunday, May 20: 10am-4pm
Friday, May 25: 9:30am-3:30pm
Sunday, May 27: 8am-Green Flag
Plans are underway to permanently place the Wall of Gratitude at IMS later this year.