Team Penske dominated Saturday's qualifying and bump day for the 102nd Running of the Indianapolis 500 Presented by PennGrade Motor Oil on May 27th, taking two of the top three spots and four of the top seven.
Helio Castroneves was fastest of the 35-driver field with an average four-lap speed of 228.919 mph.
But perhaps the biggest surprise — and disappointment — was 2016 Indy 500 pole sitter James Hinchcliffe failed to qualify for the race, along with Pippa Mann. Virtually every member of Hinchcliffe's team and family — including the driver — broke into tears after the qualifying timer expired.
"We came here with big expectations and high hopes," Hinchcliffe said. "It's the rules. We're not the first big name to go home.
"It's devastating to everyone. We had a tire vibration. Indy is a cruel mistress sometimes, the highest of highs, the lowest of lows. We have three cars in the show, unfortunately the fourth didn't make it.
"But we win as a team and lose a team. It's crazy to be here after where we were two years ago. But we'll put our heads down and learn from this experience. … It's a big blow, for sure."
Hinchcliffe (224.784 mph) missed the 33rd and final qualifying spot — held by James Davison (224.798 mph) — by .014 of a second, and was .100 of a second behind No. 32 qualifier Conor Daly (224.874 mph).
Mann, meanwhile, made several qualifying attempts but could do no better than a 224.360 mph four-lap average.
Getting back to Castroneves, he went out early in qualifying and his lead held up through the rest of the session.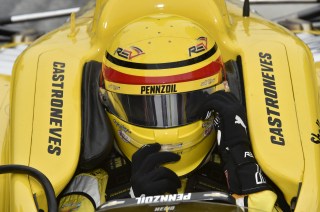 "It was a great event," Castroneves said. "Very tough. Now having the Bump Day, what a stressful day for everyone.
"Yeah, it's tough for Hinch. Sounds like that car should be in the grid, but that's the name of the game. You got to understand the rules. Especially the Fast Nine, as well. So many people taking chances to be on the Fast Nine.
"For me and Team Penske, I have phenomenal teammates which helps the program keep going forward. Obviously my run earlier, the weather was much more consistent. When you have that kind of scenario, helps a lot.
"We all work together to obviously find the limits. We did. We have to do it again tomorrow, the Fast Nine, and let's see what happens."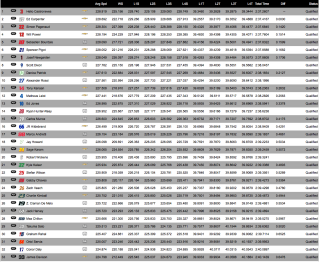 2013 and 2014 Indy 500 pole sitter Ed Carpenter was second-fastest (228.692 mph). Carpenter and Castroneves were the only drivers to surpass 229 mph in a single lap (Carpenter 229.266 mph, Castroneves 229.108 mph and 229.080 mph).
Carpenter looked as if he would take the day's top average in his bid for a 15th appearance in the 500, but his fourth and final lap speed (227.913 mph) slipped slightly, dropping him from No. 1 to No. 2.
"I'm really happy with the feel of the car," Carpenter said. "I think it's just a testament to the team, how hard they work and what a great group we have, to have three cars so close in performance."
When Carpenter made his qualifying effort, it knocked out 2013 Indy 500 winner Tony Kanaan (227.508) from being part of Sunday's Fast Nine.
Getting back to the Penske drivers, 2016 Verizon IndyCar Series champ Simon Pagenaud was third (228.304 mph), while Will Power was fourth (228.194 mph).
And 2017 Verizon IndyCar Series champ Josef Newgarden rounded out the Penske effort with a seventh-place effort of 228.049 mph.
The Fast Nine drivers that will qualify Sunday to run for the pole will be Castroneves, Carpenter, Pagenaud, Power, Sebastien Bourdais (228.090 mph), Spencer Pigot (228.052), Newgarden, Scott Dixon (227.782) and Danica Patrick (227.610).
"I have high expectations for doing well here," Patrick said. "That's why I was fortunate enough to be able to drive for Ed (Carpenter). They always have great cars, especially here at Indy. They're always very strong.
"But to think that I was going to come back (to Indianapolis) and be in the Fast Nine right off the bat, I mean, I'm going to tell you, I was doing 208 at the test the first day and thought, I might not be able to do this. 228 is much better. I definitely am relieved."