Of the names mentioned as possible victims of getting bumped, James Hinchcliffe's was not one of them.
Although down on speed in comparison to previous years, "Hinch" appeared to be in no danger of missing the field for the 102nd Running of the Indianapolis 500. His best non-tow lap on "Fast Friday" came in at 226.950 mph. A four-lap average at that speed would have easily been enough to put him into the field of 33 – such an average speed would have put him 16th on the board on Saturday.
But, mysteriously, speed disappeared from the No. 5 Arrow Electronics Honda on Saturday, and Hinchcliffe's first qualifying attempt was only at 224.784 mph.
And when Oriol Servia bumped his way in with less than 30 minutes remaining, Hinchcliffe and Schmidt Peterson Motorsports began the scramble to get him on track for a second attempt.
While they did make it back out, withdrawing the first time in the process, Hinchcliffe immediately reported a bad tire vibration and waved off the attempt.
He was never able to make another attempt, as time expired while he was waiting on pit road, and his fate was sealed.
Still, Hinchcliffe remained his usual, classy self, and defended Pippa Mann, the other driver who was bumped, and others who made extra attempts prior to him, as some circles had suggested quietly that they were in the wrong – Mann, given that her speed wouldn't have been fast enough to get in, and the others for making attempts they didn't "need" to make.
Hinchcliffe, however, was emphatic in his defense of them.
"This is in no way Pippa Mann's fault, or (the fault of) anybody else in line (who made another attempt). This is our fault. If there's anybody out there that has anything bad to say about that, you don't know motorsports. Keep your mouth shut," he declared.
He went on to explain what went wrong on his second attempt, detailing that a tire pressure senor had broken off and was rattling around inside the wheel.
"The track kept getting a little bit quicker, so we were pretty optimistic, to be honest. As soon as I left pit lane, I felt a horrible vibration. Called it in. Weirdly, it started to go away. I thought I had some pickup on my tires or something. I called into the team, I think it's all right, I'm going to keep going. Turn three, it all came back again. It was violent," he said of the vibration.
He continued, "If we had to stay out, (there's a) good chance we would have gotten a tire failure –  you would not be in the show, have a broken racecar. It worked out timing-wise, not enough seconds in the day to get our last run in."
What's worse is that car did have enough speed to get in. They just didn't have a chance to show it.
"For sure the car had speed to be in the show. I mean, not the fastest car by any stretch this month, but we weren't expecting that. But certainly enough to be comfortable in the show," he revealed.
And when asked once more about his thoughts on other drivers making attempts ahead of him and their impact on his efforts, Hinchcliffe again defended everyone who made an extra attempt.
"Nobody screwed us. The system didn't fail us. We failed us," he asserted. "We just have to do better. I know this team is capable of better. We are better than this, I know that. Everybody in the garage knows that. We deserve to be in this race. Just not this year."
Hinchcliffe entered the Indy 500 fifth in the championship, 34 points behind points leader Josef Newgarden. If Hinchcliffe is not added to the field, either as the driver of Jay Howard's No. 7 One Cure Honda or with another Honda team, he is sure to plummet in the championship standings.
Pippa Mann Emotional Missing After Missing "500" Field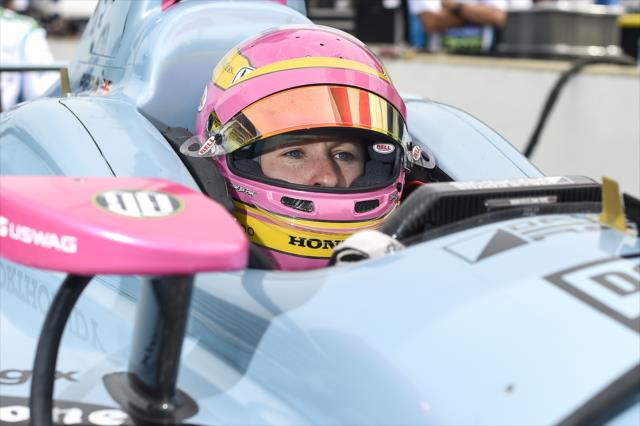 For the first time in her career, Pippa Mann was bumped from the Indy 500 field.
She survived Bump Day in 2011, her first "500" effort, in a one-off entry for the now defunct Conquest Racing, even outqualifying the team's full-season driver Sebastian Saavedra, who failed to make the race that year. Mann went on to finish 20th that year.
She made every "500" she attempted to make since then – she skipped the 2012 race – at least until this year.
After ending "Fast Friday" 32nd on the non-tow list, she certainly appeared to be in jeopardy. Indeed, Saturday qualifying proved to be more of the same, as her No. 63 Honda just didn't have enough speed for her to bump her way back in after she was bumped out.
Mann explained in a post-qualifying press conference that, prior to "Fast Friday," practice had been going well. But when the boost levels were turned up, that's when she and team realized they might be in trouble.
"Wednesday and Thursday, I'll be honest with you, we thought things were going pretty well. The car handled great. It was really good. It was pretty good in traffic. We thought things were rolling along pretty nicely. The no tow reports, they looked fine," she explained.
Mann continued, "Then yesterday morning, I rolled out, (and went 226 mph) out of the box. (I thought) 'Great, this isn't bad. Now let's trim the car.' Went through it again, nothing. That's when we started to realize we might really be in trouble."
Pippa Mann's DNQ means that Danica Patrick, who was ninth fastest on Saturday, will be the only woman in the Indy 500 field this year.