In a sense, Ed Carpenter could easily be described as the "Fast Eddie Felson" of Indianapolis Motor Speedway.
Felson was a pool hustler in the movies "The Hustler" (1961) and "The Color Of Money" (1986) – played both times by the late Paul Newman, who ironically in real life spent many years as co-owner of the very successful Newman-Haas Indy car team.
Much like Felson bending over a pool table, Carpenter just seems to have a knack of running the table at Indy.
By capturing the pole for next Sunday's 102nd Running of the Indianapolis 500, Carpenter has now won the pole for the biggest race in the world three of the last six years, and barely missed a fourth, starting second, last year.
Also, Felson … uh, err, Carpenter … is now only the 11th driver to win the pole three times in 500 history.
But that's not all he wants to be known for.
"Obviously, I don't want to just be considered a guy that can win poles here," Carpenter said. "I think we always work hard on our race cars, but we really put in a lot of work this last week, especially with the weather approaching, not knowing how many days we were going to get.
"I truly am focused on the race, which we always are. I just keep getting in the situation where my team gives me really fast cars, and when you're in a position to go compete for poles, it's hard to not do it."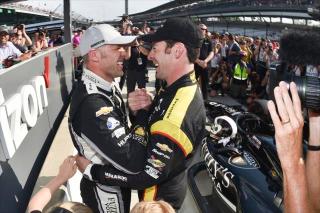 Like Felson tapping easy marks, "Fast Ed" Carpenter hustled Team Penske off the pole — especially Simon Pagenaud, who looked like he'd win the pole — with his outstanding run, being the only driver to break the 230 mph mark (in the first of his four-lap qualifying effort) since practice for the 500 opened last week.
"We looked over everything from last night, made a few minor adjustments, and it came right to us," Carpenter said.
While many felt the four-driver Penske juggernaut would grab the top four spots Sunday, Carpenter and his little team that could showed they have just as muscle and power to not only make the show – but yes, potentially win it.
Carpenter will start first, Spencer Pigot (in his first year with Ed Carpenter Racing) will start sixth and Danica Patrick, making the final start of her racing career, will start seventh.
That means that six of the first spots will be occupied by three ECR drivers and three Penske drivers (with Helio Castroneves making the fourth driver, who will start eighth).
And by no means count out Pigot or Patrick. If their boss falls short, they've shown both in practice and this weekend's qualifying that have the equipment and the speed to not only challenge, but even overtake guys like Simon Pagenaud and Will Power on the front row, Josef Newgarden on the inside of Row 2 and Helio Castroneves in the middle of Row 3, right next to Patrick.
"I'm super proud of the team," Carpenter said. "It's one thing to build a fast car here. It's a whole 'nother to build three fast cars, especially one of them not being a full-time crew (Patrick's team).
"So the effort the whole team put together to have everybody prepared and giving myself, Spencer, Danica all really good cars and equal chances to be in the Fast Nine and go compete for a pole, that's all you can ask for as a driver and as a team owner. Really blessed to have great people in our organization."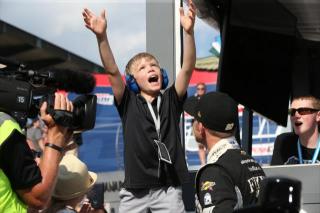 What's more, let's look back over the last couple of years of the 500. The underdog won both times: Alexander Rossi in 2016 and Takuma Sato in 2017. Why can't Carpenter extend that run?
Ironically, while this is Carpenter's third Indy 500 pole in the last six years, it's only the fourth overall pole of his 15-year IndyCar racing career. The other pole was at Kentucky Speedway back in 2010.
Carpenter has focused solely on ovals like Indianapolis Motor Speedway for the last six years. Racing on tracks like IMS, Phoenix, Texas, Iowa, Pocono, Gateway and Fontana just seem to play to his sweet spot as a driver.
The 37-year-old Carpenter has made 171 career starts in his career, with three wins (Kentucky 2011, Fontana 2012 and Texas 2014) and seven overall podium finishes.
But the Indianapolis native is still chasing the biggest win of all: at his hometown track. He used to go to the 500 as a kid, dreaming of someday racing there.
Next Sunday will be his 15th career start in the Greatest Spectacle In Racing. To date, his best finish has been fifth in 2008, along with two other top-10s (eighth in 2009 and 10th in 2013).
"You think about (winning Indy) a lot," Carpenter said. "I've been around here long enough, different things happen. You never know how many more opportunities you're going to get.
"I've been in this position three times now. '13 we didn't really manage the race, and our strategy going into it wasn't as strong as it could have been, being in that position for the first time. We came back in 2014, ran a really strong race up until the point that we weren't in the race anymore and were really well positioned for the last 20- some laps.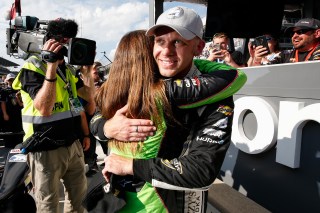 "2015 was just a bad year for us. We didn't have our stuff together. As you see, Indy can do that to you. It's never automatic. It takes hard work and things change year after year. History shows that even the best of teams have tough days here. '16 we had good cars, just can't remember, I had something happen in that race. Something.
"But just hoping that things go well for all 500 miles. We certainly have a car that's fast enough to run up front, and the way it's been driving all week, I feel like we have a good enough handling car on long runs to be in a good position to be a factor if we can go out and execute on a sound strategy."
If he can find the same strategy or formula to win that he used to capture the pole, "Fast Ed" could not only finally realize his childhood dream of winning at IMS, he'd also out-hustle Team Penske once again – which would be like two wins in one.