Roger Penske and Jack Roush, who both began their own racing and team ownership careers — in open-wheel and sports car competition for Penske and drag racing and sports cars for Roush — were named Wednesday to the 2019 induction class for the NASCAR Hall of Fame.
The duo will join Jeff Gordon and the late Davey Allison and Alan Kulwicki when the 2019 Class is formally inducted into the Hall on February 1, 2019, in Charlotte, North Carolina.
MORE: Jeff Gordon leads 2019 Hall of Fame class
While they're being honored for their success in NASCAR, here are some of the highlights of both Penske's and Roush's highly-successful careers, including outside of NASCAR, as well:
***********************************
Penske, 81, has been involved in motorsports for over six decades. He began racing at the age of 19 in 1958 and quickly became a prolific presence behind the wheel.
However, his driving career lasted just seven years until he retired in 1965 to concentrate on building both his business empire, as well as established Penske Racing (later renamed Team Penske) in 1966, making its debut at the 24 Hours of Daytona (now known as the Rolex 24 Hours).
The most notable success Penske has earned as a team owner is a record 16 Indianapolis 500 victories between 1972 (Mark Donohue won) and 2015 (Juan Pablo Montoya).
Penske has four drivers entered in this Sunday's Indy 500: 2017 Verizon IndyCar Series champion Josef Newgarden, 2016 IndyCar champ Simon Pagenaud, Will Power and Helio Castroneves, who is attempting to win a fourth 500, which would tie him for most wins in the Greatest Spectacle In Racing with A.J. Foyt, Al Unser and Rick Mears.
Being named to the NASCAR Hall of Fame adds another honor to a lengthy list of milestones for Penske, including induction into the International Motorsports Hall of Fame (1998), the Motorsports Hall of Fame (1995) of America, Auto Racing Hall of Fame and the Automotive Hall of Fame (2015).
Team Penske has won 200 Indy car races (most recent win was Will Power's triumph on May 12 in the INDYCAR Grand Prix at Indianapolis), as well as 10 USAC open-wheel championships, as well as three IndyCar Series titles.
He also has 108 NASCAR Cup (including two Daytona 500s) and 65 Xfinity Series wins as a team owner, as well as one championship in each series, including the 2012 Cup title with Brad Keselowski.
In total, Team Penske's has earned 489 major race wins across all series and 556 poles. Included are wins in IndyCar, NASCAR, Formula 1 and the 24 Hours of Daytona.
He also was an early owner of Michigan International Speedway and led construction of Auto Club Speedway. He was also involved in the operation of several other facilities including Nazareth Speedway, Homestead-Miami Speedway and North Carolina Speedway.
Here are some comments from some of Penske's current and former IndyCar drivers on his induction into NASCAR's shrine:
Rick Mears (Four-time Indianapolis 500 winner, three-time INDYCAR Champion, 29 INDYCAR wins): "It's been an incredible relationship between myself and Roger since day one. Roger never pressured me from the moment I met him. There was never a time he came and said 'you need to do this.' He always let me do things at my pace. He never pressured me to be a great driver up front. He let me learn at my pace. And that is the type of person Roger Penske is.
"This is an incredible honor for someone who has been such a big part of my life, and the lives of so many within the racing industry. It's not always about race wins and championships, but the type of influence you are able to have on people. Roger has always prided himself on his people. He will be the first to tell you he would never be where he is now without the people he had around him.  And that humility and humbleness is what makes him a great leader. I am really excited for him and for this honor. To be inducted into the NASCAR Hall of Fame is something that is so deserving of so many people, but very few are more deserving for what they have done for the sport and for so many people within the sport than Roger Penske."
Sam Hornish Jr. (2006 Indianapolis 500 Champion, 2006 INDYCAR Champion, 3 NASCAR XFINITY Series wins): "For me, driving for Roger Penske was the fulfillment of a lifelong dream. You know he's going to give you the tools to win and you want to hold up your end of the bargain. There's a great amount of desire that takes place for someone to be a NASCAR team owner and it takes an even larger commitment of the most precious resource: time. There shouldn't be a Hall of Fame that doesn't have him in it and it's without question that he should be in the NASCAR Hall of Fame."
Josef Newgarden (2017 Verizon IndyCar Series Champion, current series point leader): "Congrats to Roger on this achievement. He is a legend in so many aspects of motorsports, so it is only natural for him to receive this kind of recognition in NASCAR as well. It has always been a team effort for Roger and that has spread across all of his motorsports platforms.  For me, it is fun to keep up with what the NASCAR teams are doing. I have always been a fan of that style of racing so it is great to see Roger get recognized for all the time and energy he has put into that part of Team Penske."
Simon Pagenaud (2016 Verizon IndyCar Series Champion, 7 IndyCar Series wins): "Congratulations to Roger on such a great honor. I don't know if he fully understands everything he has done for our sport of auto racing. All of us drivers can't thank him enough for being such an incredible man for motorsports, for the history that he's built and the empire around racing that is Team Penske. Thank you Roger for everything you've done and what an honor."
Will Power (2014 Verizon IndyCar Series Champion, 30 IndyCar Series wins): "Congratulations to Roger for his election into the NASCAR Hall of Fame. It's a very deserving honor for someone who has meant so much for motorsports and for me personally in my career. His accomplishments in NASCAR are certainly impressive and there's no question that he's established a legacy there from his time as a driver to owning and managing successful racetracks to all the production on the track as a team owner. I feel so privileged to drive for Roger and for Team Penske.  He represents everything that you think about when you consider a Hall of Famer."
Helio Castroneves (Longest-tenured Team Penske driver, 32 total wins, 53 total poles): "If there was ever a person that deserved to be inducted into any racing Hall of Fame it would be Roger Penske. He deserves it not only for what he has done in motorsports but also for the person he is. He is a leader for all of us and someone I have always admired throughout my career. Congratulations, Roger, on your induction into the NASCAR Hall of Fame. It has been such an honor to drive for you during my career. I hope to give you many more race wins in the future."
Juan Pablo Montoya (2015 Indianapolis 500 Champion, Acura Team Penske driver): "I think Roger's election into the NASCAR Hall of Fame is something that people expect. Everything that Roger has done, not only in NASCAR, but in racing in general has been amazing. He has been an enormous influence in motorsports all over the world. For me personally I just want to give him a huge congratulations on this honor. I am very proud to be a part of this organization and everything Roger and the team stands for."
***********************************
Jack Roush, 76, is NASCAR's winningest all-time owner.
He was previously inducted into the International Motorsports Hall of Fame (2008) and the Michigan Sports Hall of Fame (2010).
Before he achieved success in NASCAR, Roush was first known for his success as a both a driver and then team owner in NHRA, IHRA and AHRA drag racing events in the 1960s through the early 1980s.
He moved into the world of sports cars, including the IMSA Camel GT series in the early 1980s, a tenure that continued into the early 1990s, as well as the Trans-Am Series.
He began competition in NASCAR in 1988 when he founded a Cup team with Mark Martin as his driver. Martin was inducted last year into the NASCAR Hall of Fame.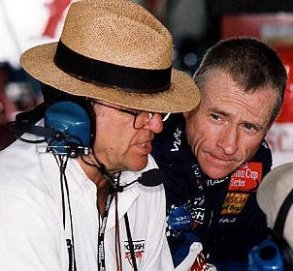 It's in NASCAR that Roush has achieved the most success, with a NASCAR record 325 wins across NASCAR Cup, the Xfinity Series and the Camping World Truck Series.
He's also won six championships across those three series.
Like Penske, Roush is also highly successful not only in racing, but also in business, with much of his corporate empire encompassing performance products and services.