It has been five years since A.J. Foyt Racing was last in the winner's circle – with Takuma Sato at the 2013 Toyota Grand Prix of Long Beach.
And their last win before that? You have to go all the way back to 2002 with Airton Dare at Kansas Speedway.
Those two races remain the Foyt team's only wins in the 21st century. In short, the last 15+ years have been very hard on A.J. Foyt's operation, this despite solid funding and resources from sponsor ABC Supply.
As such, sweeping changes were made ahead of last year's Verizon IndyCar Series season. New team personnel, new mechanics and engineers, and new drivers in Carlos Munoz and Conor Daly highlighted such changes.
While a handful of decent results came their way – Munoz had six top 10s while Daly scored the team's lone Top 5, a fifth at Gateway Motorsports Park – the team still languished at the bottom of the IndyCar field.
Munoz was 16th in the standings at the end of the year, with Daly down in 18th – they scored the least amount of points of any team that ran full-time last year.
As a result, more sweeping changes were made, most notably on the driver front. Out were Munoz and Daly, and in were Tony Kanaan and Matheus Leist, fourth-place finisher in last year's Indy Lights Presented by Cooper Tires championship.
Results have still been hard to come by – a pair of eighth-place efforts from Kanaan at ISM Raceway and Long Beach are the team's only Top 10s this year – but the pace has improved.
And that improved pace was perfectly on display during qualifying for the 102nd Running of the Indianapolis 500. Although neither made the Fast Nine Pole Shootout, both actually were faster than ninth-place qualifier Scott Dixon during Pole Day qualifying.
Kanaan ended up tenth, the best of the non-Fast Nine group, with a four-lap average of 227.664 mph. Leist ended up 11th with an average of 227.571 mph – for reference, Dixon's average was 227.262.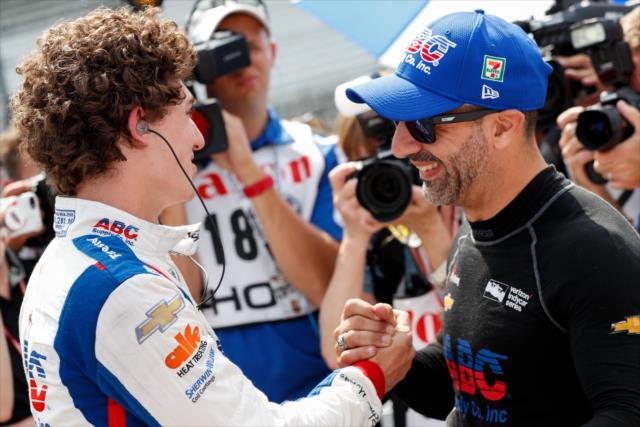 Kanaan was especially enthusiastic about the result, and highlighted the efforts of the entire team for their success.
"What a great effort. As a team. (Team owner A.J. Foyt) and (team president Larry Foyt) put so much effort into this over the winter. They gave us everything I asked and they stepped up. I have a brand new car for this race, Matheus has a brand new car. They spent every single dime to give us a good car. We're a little team, but we're having a lot of fun. This is for them. I told them today our pole is going to be 10th. This is pole in my books," Kanaan asserted afterward.
Leist was equally as elated, similarly spotlighting the effort of the team in the process.
"Since our first day here, the car has been quick," Leist echoed. "We knew that we could have a fast car (on Sunday). I'm so happy for the team and for Tony (Kanaan). Both crews did an awesome job preparing us for qualifying. We were just fast. I think that if qualifying was yesterday and we had this car, we would probably be in the Fast Nine. I'm just so happy for this team. Everyone deserves it. I'm looking forward to the race now."
Both drivers enter Sunday's "500" as darkhorses at the minimum, if not outright contenders. Kanaan, of course, is a former Indy 500 winner (2013), and is one of the best modern drivers at Indianapolis Motor Speedway, with seven Top 5 finishes to his name. And his 2013 triumph came after he started 12th on the grid, so he can easily win Sunday's race from tenth.
Leist, meanwhile, dominated last year's Freedom 100, leading all 40 laps after starting on the pole, so he has had his own success at IMS.
In some ways, especially given the team's recent history, an A.J. Foyt Racing victory would be something of an upset. But, don't be surprised if Kanaan and Leist are major factors on Sunday.