All three series of the Mazda Road to Indy Presented by Cooper Tires visit their first ovals of the 2018 season, though they'll be at different venues to do so.
The Indy Lights Presented by Cooper Tires heads to the Indianapolis Motor Speedway for their annual Freedom 100 (5/25 at 12:30 p.m. ET on NBCSN) while the Pro Mazda Championship Presented by Cooper Tires and the Cooper Tires USF2000 Championship Powered by Mazda head to Lucas Oil Raceway for the Freedom 90 (Pro Mazda) and Freedom 75 (USF2000).
But, for all three, each event represents the first oval race of the year, a unique challenge after a string of road and street courses.
Ovals proved to catch a couple MRTI drivers out last year, and they'll all look to capitalize on the first left-turn-only event of the year.
Talking points for all three series are below.
Indy Lights
A ridiculously close title fight sees Pato O'Ward, Colton Herta, and Santi Urrutia separated by only six points entering the Freedom 100. All three have won races in 2018, but all three have also had off races as well. The Freedom 100 will be a new challenge for O'Ward, who has never run an Indy Lights race on an oval before, while Herta will look to make up for last year's Lap 1 crash. Urrutia had a quiet drive to fifth that day, but he'll look for much better this year.
Aaron Telitz had a well-documented tough start to 2018, but he has finishes of fourth, third, and second in the last three races. He finished second in this race last year, and finishing one spot better on the podium could put him back in title contention. Telitz is also pulling double-duty this weekend and will race at Lucas Oil Raceway, piloting an extra entry with USF2000 team Arms Up Motorsports as a teammate to Keith Donegan.
Of note: Team Pelfrey returns to the Indy Lights grid with Davey Hamilton Jr. Also, Chris Windom was set for his own Indy Lights debut with Belardi Auto Racing, but a crash in testing did too much damage to the No. 33 Dallara IL-15 he was set to drive, so he won't be competing this weekend.
Dalton Kellett will start the race on the pole. The starting grid is below.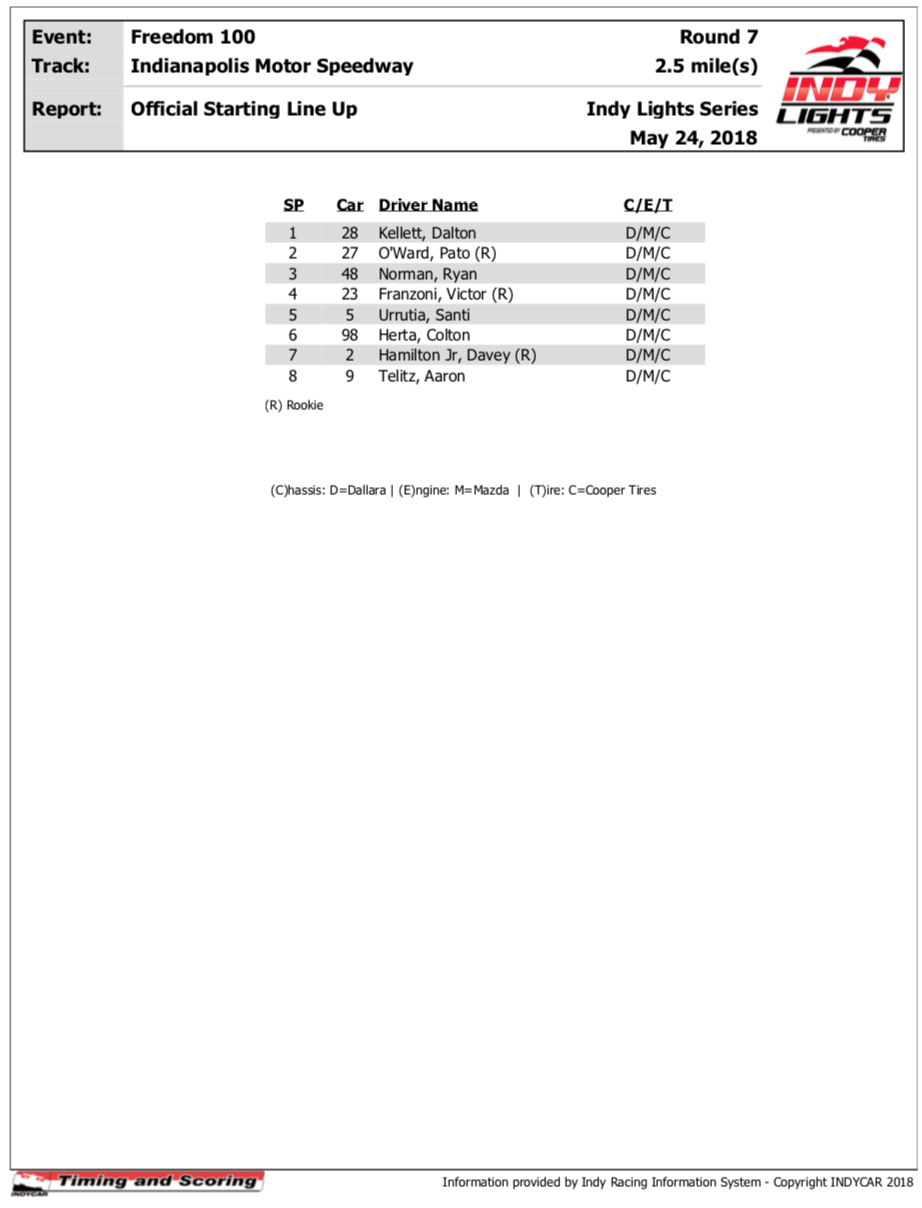 Pro Mazda
This marks the oval debut for the Tatuus PM-18. It's been a hit so far on the road and street courses, shattering previous Pro Mazda track records in the process, and there's no reason to think it won't be a success on ovals either.
Parker Thompson leads Rinus VeeKay in the championship by 22 points entering the weekend. However, that is far from a comfortable margin, as a weekend that's even remotely off-song will let VeeKay slash that points lead, or even take it back altogether. Neither driver has ever won on an oval, and both will look for such an accomplishment this weekend.
Carlos Cunha has quietly had a nice start to 2018, with three podiums helping to put him third in the championship. He sits 30 points behind Thompson, but Cunha seems to get better every week, and a victory this weekend would put him squarely in the title hunt.
Harrison Scott has a pair of wins and a second, but also three finishes of ninth or worse. The Briton has been blindingly fast in recent races, and he has all the potential to make a title run himself. However, he'll need to conquer ovals along the way, along with leveling out the "feast or famine" results. Nonetheless, he will be a driver to watch on Friday night.
Oliver Askew appeared to regain his championship form on the IMS road course, with two poles and finishes of second and fourth on the weekend. He'll look to build off that at Lucas Oil Raceway.
USF2000
Friday night's outing at Lucas Oil Raceway will see many USF2000 drivers compete in their first ever oval races. Alex Baron has the most oval experience, given his prior Indy Lights experience. But, nearly the entire rest of the field, including championship leader Kyle Kirkwood, will contest an oval race for the first time. As such, Friday night's event will be all about adapting to the brand new challenge.
Kirkwood and Baron have distanced themselves from the rest of the USF2000 field – Kirkwood leads with 106 points, with Baron second on 93 points, and they're the only drivers to win so far in the 2018 USF2000 season. Jose Sierra is third, but another 29 points back of Baron.
However, the gap between third and sixth (Sierra, Igor Fraga, Julian Van Der Watt, and Darren Keane) is a narrow 13 points. And the likes of Calvin Ming, Kory Enders, and Lucas Kohl are also within striking distance, so the battle to fill out the podium could be quite intense. And if Kirkwood and Baron should falter, any one of those drivers could find themselves in Victory Lane.
The Freedom 100 rolls off at 12:30 p.m. on Friday on NBCSN. USF2000 kicks things off at Lucas Oil Raceway at 6:05 p.m. ET that night, followed by Pro Mazda at 7:05 p.m. ET.