Friday marked Carb Day at the Indianapolis Motor Speedway for the Verizon IndyCar Series and the Indy Lights Presented by Cooper Tires, but there was also plenty of activity over in Brownsburg, Indiana at Lucas Oil Raceway.
Friday night's Carb Night Classic featured the Pro Mazda Championship Presented by Cooper Tires and Cooper Tires USF2000 Championship Powered by Mazda in their first oval events of the year: the Freedom 75 (USF2000) and the Freedom 90 (Pro Mazda).
Both races saw the points leaders in their respective series dominate, further asserting their championship prowess, and taking their first oval victories in the process.
Recaps of both races are below.
Pro Mazda: Thompson Holds Off Cunha for First Oval Win
The Freedom 90 saw Parker Thompson appear to be almost on cruise control for much of the race, as the Exclusive Autosport driver immediately jumped into the lead off the initial start and he began rocketing away from the field.
Behind him, a pair of Juncos Racing cars emerged in second and third, with Carlos Cunha ahead of Robert Megennis in that battle.
However, Thompson's initial lead was wiped out following a Lap 46 crash involving David Malukas and Harrison Scott. The pair had been engaged in an intense battle for fourth, but came together in Turn 4, sending Scott spinning into the outside wall while Malukas eventually came to a stop alongside the front straightaway wall.
Thompson again pulled away when racing resumed on Lap 55, while Cunha immediately gave chase, passing the lapped car of Lodovico Laurini as he tried to keep Thompson in his sights.
Lapped traffic continued to play a key role in the closing stages, with Thompson getting briefly held up behind Nikita Lastochkin and Oliver Askew, allowing Cunha to close onto his gearbox in the final laps.
However, Thompson kept Cunha at bay to take the win, his third of the Pro Mazda season. Megennis drove a solid race to finish third, while Rinus VeeKay put three Juncos cars in the top five by finishing fourth. Team Pelfrey's Sting Ray Robb finished fifth.
Thompson's win sees him extend his points lead over VeeKay to 36, with Cunha only two points further back in third.
USF2000: Kirkwood Rolls to Victory in Oval Debut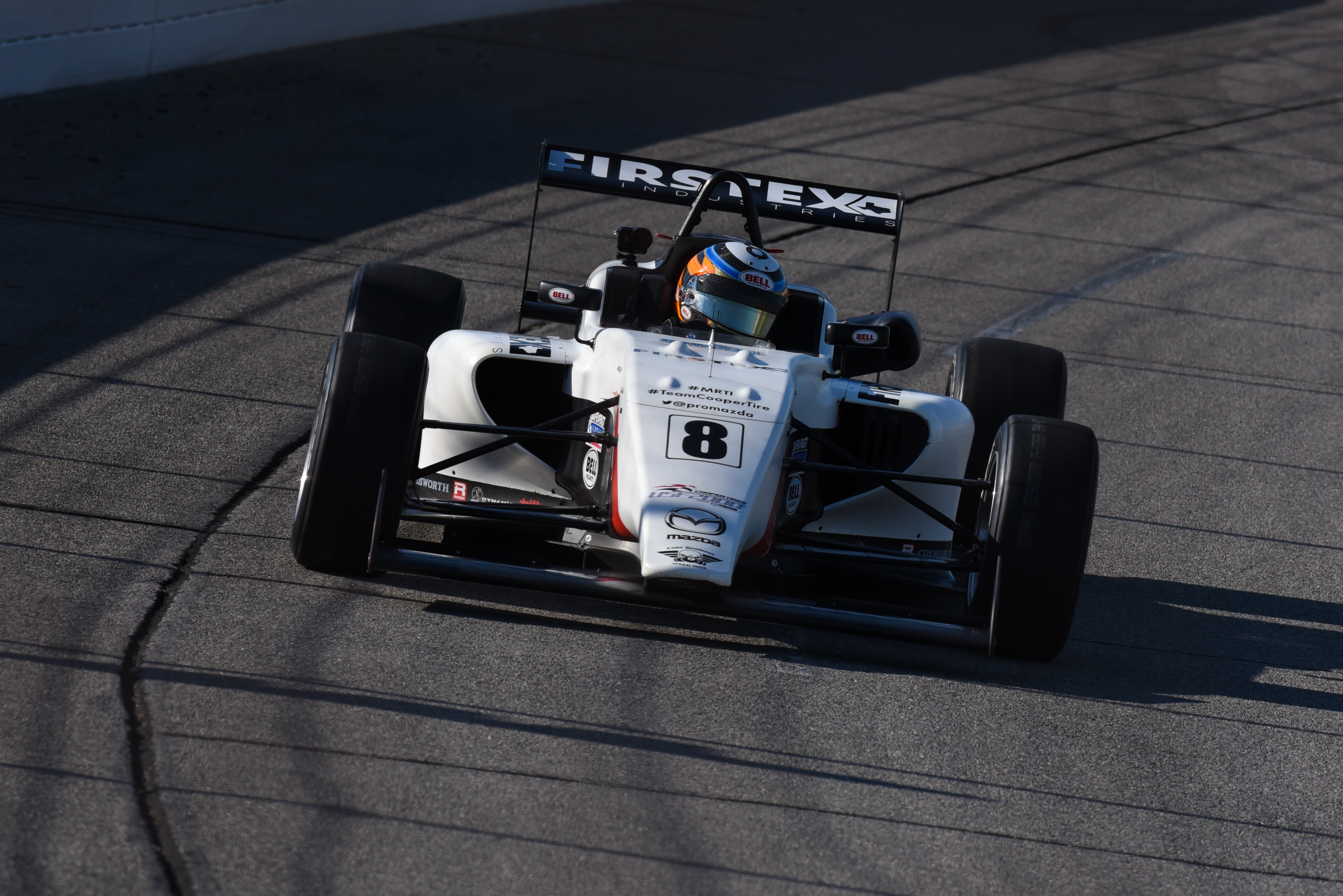 If his first career oval proved a challenge for Cape Motorsports' Kyle Kirkwood, he certainly did not show it. Starting on the pole, Kirkwood rocketed away into the lead and was never challenged.
Behind him, however, his closest title rival faltered. Alex Baron, who charged from eighth to third on Lap 1, crashed out while working his way around the lapped car of Russ McDonough. Baron was visibly upset and frustrated while walking along the pit lane after climbing out of the No. 29 Swan-RJB Motorsports Tatuus USF-17.
Racing only briefly returned to green on Lap 40 before Zach Holden rode up and over the back of Julian van der Watt, with both cars coming to a stop on the back straightaway.
A restart on Lap 50 again saw Kirkwood pull away, while Kaylen Frederick worked his way up to second around Rasmus Lindh and Lucas Kohl.
The race came to a close only eight laps later – the cautions brought a 30-minute time limit into play, preventing them from completing the originally planned 75-lap race.
In the end, no one got close to Kirkwood, who took a win on his oval debut, his third win of the 2018 season. Frederick came home second for his first podium of the year, and his first with Pabst Racing Services, while Rasmus Lindh rounded out the podium in third. Kohl and Jose Sierra completed the top five in fourth and fifth.
Kirkwood's win combined with Baron's crash to give Kirkwood a championship lead of 44 points. Sierra remains third, one point ahead of Igor Fraga.
Both series are back in action for double-headers at Road America on June 23-24.