Ed Carpenter's destiny was sealed on May 28, 1989.
Just a few months earlier, Carpenter's family had moved 90 miles east, from Paris, Illinois, just over the state line, to their new home in Indianapolis.
"I was almost born in Indiana," he said with a laugh earlier this week to MotorSportsTalk. "I consider myself a Hoosier."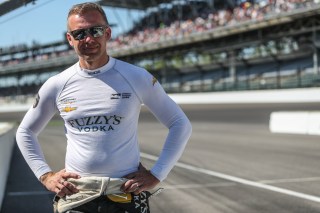 One of the first things that the newly-minted Hoosier did on that particular 1989 Memorial Day weekend was what countless Hoosiers have done religiously for years: It saw little Eddie, his brother and cousins sitting in the grandstands of Indianapolis Motor Speedway, watching the 73rd Running of the Indianapolis 500,
Carpenter was cheering on his idol, Rick Mears, who took the green flag from the pole position for the Greatest Spectacle In Racing.
While he would be denied watching Mears win a record-tying fourth Indy 500 (that would come two years later), Carpenter – like the more than 250,000 other fans in attendance – was on the edge of his seat as Al Unser Jr. and Emerson Fittipaldi were locked in one of the closest battles in 500 history.
With less than two laps to go, both cars touched wheels, with Unser spinning into the wall and Fittipaldi going on to win the race.
"Al Jr. is a family friend, so that was highly emotional and something at the time really angered me," Carpenter said. "But now as I look back, they were just racing the wheels off each other."
It was then and there, on that sunny day, that little Eddie Carpenter vowed to not only become an IndyCar driver, but to one day hopefully win the Indy 500 himself.
He's already accomplished the first part of that goal, with Sunday marking his 30th straight visit to the legendary 2.5-mile oval at 16th and Georgetown, the last 14 as a race car driver.
"I've been to every 500 since I moved to Indy," said Carpenter, now 38. "It's been a major part of my life for pretty much my whole life. That's really what sparked the passion for me to be an Indy car driver.
"I just have so many great memories of Indy. The event means so much to me."
But now, as he prepares for his 15th Indy 500, starting from the pole for the third time in the last six years, Carpenter still has the other part of his dream to accomplish: To win the 500, in his adopted hometown and in front of hundreds – if not thousands – of family and friends. And another 250,000 potential new fans if he takes the checkered flag on Sunday.
While Carpenter won't directly come out and say this is his year to put his face and name on the Borg-Warner Trophy, there's a sense, a feeling deep down inside that it may be the best opportunity he's ever had.
"I think it's always a big deal when an American wins the 500," Carpenter said.
Since 1998, five Americans have won at Indy: Eddie Cheever in 1998, Buddy Rice in 2004, Sam Hornish Jr. in 2006, Ryan Hunter-Reay in 2014 and Alexander Rossi in 2016.
"But to have an Indy resident and essentially a Hoosier to win the race, I think, would make even a little more special," Carpenter continued.
To say both Carpenter and the Indianapolis area are overdue for a win at the 500 is an understatement.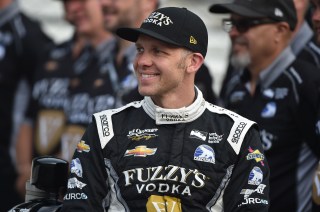 In fact, the last time an Indiana native won the 500 was Wilbur Shaw, who won the big race three times in four years (1937, 1939 and 1940). Shaw was born and raised in Shelbyville, Indiana, about 35 miles southeast of the Speedway.
That means a Hoosier has not gone to victory lane at Indy in 77 years.
"It's been a good while," Carpenter said. "The community involvement in the month of May and the Indianapolis 500 is a large part of what makes this event so special each and every year.
"The city of Indianapolis and the Indianapolis 500 are really synonymous with one another. I certainly feel the local support all month and it would be an incredible feeling to have my hometown (have a local boy) win the 500.
"Being a local resident and member of the community, if I get the opportunity to win the race and be able celebrate in my hometown with the amount of friends and family in different parts of the community I'm involved with would just make it all that more special."
Since earning the pole last Sunday, Carpenter has spent the last week imagining what tomorrow will be like when he leads the 33-car field across the starting line to start the Greatest Spectacle In Racing.
"This is the third time I've won the pole, which puts me in some pretty elite company," Carpenter said. "But having been through that process and knowing what to expect and understanding that makes it probably a little more of an advantage just because I've been through it before, know what's coming and know what the feelings are going to be like on race morning.
"We're just keeping our heads down as a team, focused on Sunday. That's obviously the goal we've had the entire time, is to win this race, and (doing it from) the pole hopefully will be icing on top at the end of a successful month of May."