You might say Helio Castroneves comes into Sunday's 102nd Running of the Indianapolis 500 with a "less is more" philosophy than he's had in years past:
* No pressure
* No worrying about points
* No worrying about winning a championship
Take away all those things and the very popular Brazilian driver could be in the best position he's ever been to achieve the biggest goal of his career:
Winning a fourth Indy 500, making him a member of motor racing's most exclusive club, joining legendary drivers A.J. Foyt, Al Unser and Rick Mears as the only drivers to conquer the legendary Indianapolis Motor Speedway four times each.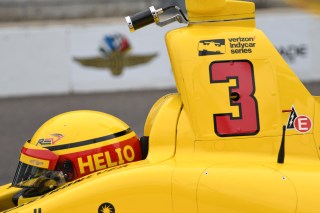 "For sure, I definitely don't have much to lose in terms of points, championships, and things like that," Castroneves told MotorSportsTalk earlier this week. "I don't have to think that I don't have a car to win, I'm not going to risk that much because there are still championship points (to earn if he was still racing full-time in the series).
"Not that I did that before, but if the situation occurs, people just need to know I have nothing to lose this time."
Castroneves three prior triumphs in the 500 came in his first two years in the field – 2001 and 2002 – and again in 2009. In addition, he has finished twice in the last four editions of the Greatest Spectacle In Racing in 2014 and 2017.
Coming so close last year, losing to Takuma Sato by .201 of a second, is something Castroneves hasn't forgotten about. To come so close to No. 4 has only made him more hungry to get it done on Sunday.
"Yeah, but if it were easy, we would likely have had more than four wins by now," he said. "We've had opportunities in the past, the last four years we were really competitive, we were right there, especially in '14 and '17, we were right on it.
"Last year, I thought it was going to be the hardest 500 for me and look what happened: we were battling to the end for a victory," Castroneves said. "It's not just about trying hard, it's about being there at the right place at the right time.
"And this place, Indianapolis, I've always said the track winds up choosing who is going to be the winner. Hopefully, with safety and luck, we'll be part of it and be on the right side."
Team owner Roger Penske decided after last season to put Castroneves and Juan Pablo Montoya as the chief drivers of Team Penske's new two-car effort in the IMSA WeatherTech Championship sports car series.
When the announcement was first made, many feared that Castroneves had run out of chances to get that elusive No. 4 at Indy.
But Penske sweetened the deal for Helio to go sports car racing by promising he'd field a car for him at Indy. And Penske has proven to be a man of his word, giving Castroneves everything he needs to finally win No. 4.
"I feel we've prepared as much as a team, we're doing everything possible in relation to preparation," Castroneves said. "The preparation we had in the previous year helps us tremendously to give us an opportunity fighting there for a win, and that's what we're looking for."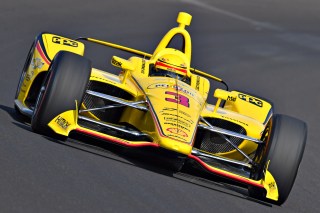 Castroneves has taken to the new style Indy car with aplomb. During the first week of practice leading up to last weekend's qualifying, he was consistently one of the fastest drivers in the field.
The 43-year-old even topped the speed charts in the Fast Nine last Saturday before ending up eighth in the following day's pole qualifying.
As a result, he'll start Sunday's race from the middle of Row 3, anchoring Team Penske's four-man Top 8 starting lineup effort in the 500. When the green flag drops, to his left will be Danica Patrick and to his right will be four-time IndyCar champ and former 500 winner Scott Dixon.
And millions of others right behind him, so to speak.
"I feel the sense that everyone wants it to happen," he said of winning No. 4. "We're talking about being part of history here. The last guy to do it was Rick Mears in the '90s (1991).
"I mean, how cool would that be if I would be in the position and to see No. 4 in my era. I hear a lot of the fans, even those supporting different drivers, all saying 'Man, I want to see you win No. 4.' That just shows how special this place is.
"(The Indy 500) is part of a lot of people's lives. I just would be very fortunate to hopefully to have this generation see someone do No. 4."
While he'd rather not think about missing out on a fourth win at Indy for a ninth straight year, Castroneves is using reverse psychology somewhat.
He's going into Sunday's biggest race in the world fully believing he will finally win No. 4.
And if he does, forget the idea that he would never come back to race at Indy again.
"Not at all. Why? You're so close to getting four, and then when you get four, you stop it? It doesn't make sense.
"I think I still have at least four or five more years, there's no question about it. As long as Roger (Penske) gives me the opportunity, I'm going to be going for it, for sure."