It's finally upon us. After a month of build-up, featuring testing in early May, the INDYCAR Grand Prix in the middle of May, and then two weeks of practice, qualifying, and media promotions, it's time for the Greatest Spectacle in Racing.
The 102nd Running of the Indianapolis 500 features a number of high-profile storylines. It's Danica Patrick's final car race. Ed Carpenter upset the Team Penske apple-cart by qualifying on the pole, stopping a Penske front row lockout.
Helio Castroneves is looking for his fourth Indy 500 triumph. Marco Andretti and Graham Rahal are still looking for their first "500" victories, ones that would add new chapters to their families' legacies.
IndyCar champions Josef Newgarden, Will Power, and Simon Pagenaud all look to add Indy crowns to their championships for Team Penske.
A.J. Foyt Racing could see a return to glory with Tony Kanaan and Matheus Leist. And Dale Coyne Racing could complete its transition from underdog to full-fledged powerhouse with an Indy crown.
And, bumping was back…and claimed the hard-working and likeable Pippa Mann along with perhaps the Verizon IndyCar Series' most popular driver James Hinchcliffe.
In short, the month has already been packed with drama and storylines…and the race hasn't even been run yet.
All those talking points, and more, have been elaborated on in detail in the run up to the Indy 500. But, there may yet be more factors in play on Sunday.
A look at additional talking points for Sunday's 102nd Running of the Indianapolis 500 are below.
If You Can't Stand the Heat…
Sunday's race could be a record-setting day for heat. The hottest "500" on record was in 1937, with an ambient of 92 degrees. The 1953 and 2012 races were just shy of that mark, at 91 degrees ambient.
Sunday's forcast calls for temperatures of above 90 degrees, putting it well within reach of becoming the hottest "500" ever.
Regardless of whether or not it does hit that number, it will be incredibly hot, meaning the track will be incredibly slick. Expect handling to be at a premium all day, with drivers wrestling their cars at all times.
This fact is not lost on the drivers, as Scott helped explain following Carb Day practice. Dixon also mentioned that the heat means it's hard to read just how strong of a car he'll have in relation to others.
"I don't really know if (Carb Day) told us too much about what the race will bring in the PNC Bank car," Dixon detailed. "(It was really warm) and we think it could be even warmer on race day. The track temp was way up there as well. I'm not really sure what you can learn from the times. There were a lot of people throwing tires at it out there. Overall, the car felt good and we were comfortable. You just never know exactly what you're going to have until you get into the race."
The 2012 race, also above 90 degrees and the first one in the DW-12 era, saw 34 lead changes in a thriller of a race. But how the new aero package reacts to such heat remains a bit of an unknown.
Chevy With an Upperhand on Honda?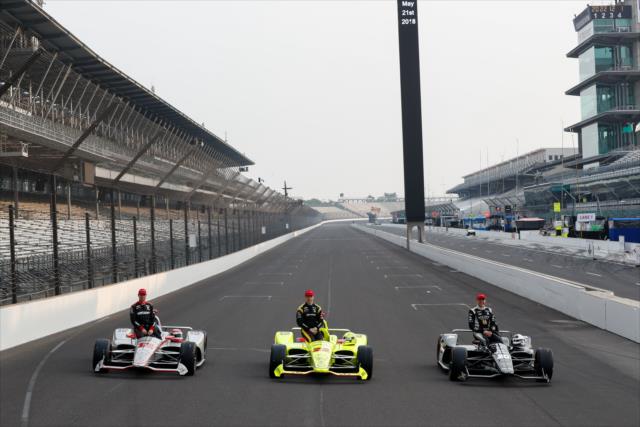 For the last two years, Honda has had a pace advantage over Chevrolet, thanks to both its engine and aero package.
This year, the tide seems to have turned in the favor of Chevrolet. Chevy-powered cars swept the front row, and seven qualified inside the top nine – Sebastien Bourdais (fifth) and Scott Dixon (ninth) were the only Hondas to make the Fast Nine Pole Shootout.
However, several Hondas, notably from the Andretti Autosport camp along with Bourdais' No. 19 Dale Coyne Racing entry, have shown very strong race pace, and have looked particularly strong running in traffic. That much will be vital, as passing could be more difficult with the 2018 universal aero kits.
In terms of outright pace, though, Chevy may have the advantage.
Impact of the Aero Kits on the Show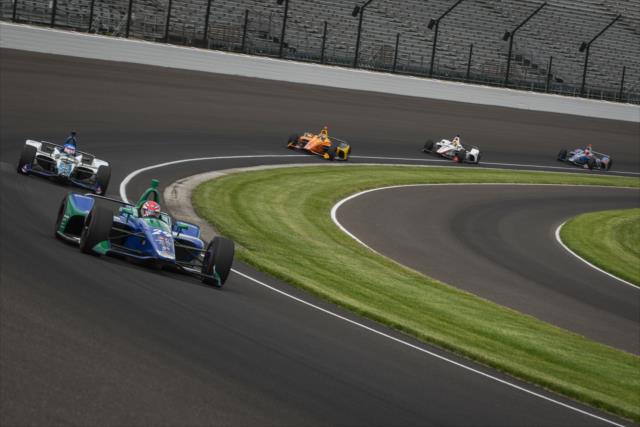 Speaking of the aero kits, the introduction of the Dallara DW-12 in 2012 brought with it an annual slip-streaming shootout that made each year's Indy 500 seemingly better than the previous.
However, the new universal aero kits for 2018 could see a drastic change in how the racing looks. While the downforce levels are roughly the same as they were last year, drag has increased, and many have experienced a great amount of turbulence as they run behind more cars.
And a number of drivers have said as much through practice.
"I think (running) first and second (in a group) is awesome. Anything beyond that is tough, tough," said Graham Rahal after Day 3 of practice on May 17.
Marco Andretti and Scott Dixon discussed also discussed as much on the previous day.
"If you're third or back in line, it's going to be very tough. It's going to take discipline to wait for the guy to have a go and have a big wash-up, then you get him. It will be tougher to pass. But I prefer that," Marco Andretti detailed.
Dixon echoed similar sentiments. "The first two cars seem to be able to swap back and forth pretty easily. As Marco said, once you get third and back, especially if you're fifth and back, the wash-out seems to be a lot more this year, which is kind of interesting," said the 2008 Indy 500 winner.
As a result, passing on Sunday's race could be full of intrigue, and it may require more work to set up a pass than in previous years.
Misc.
No driver has ever won the Indy 500 from the last row, but that's the exact challenge facing Andretti Autosport's Alexander Rossi. Fast practice speeds went for naught in qualifying when a punctured tire hampered his run, and saw him qualify 32nd. But, his No. 98 Napa Auto Parts Honda has plenty of speed, so he should be someone to watch in the early laps.
Four rookies are entered: Robert Wickens, Matheus Leist, Zachary Claman De Melo, and Kyle Kaiser. Wickens has been the best of the 2018 rookies, which makes him likely the early favorite for Rookie of the Year honors, but all four of them have impressed all month long. Solid runs for Claman De Melp, Leist, and Kaiser in particular would do their young careers a world of good, while Wickens looks to help Schmidt Peterson Motorsports move past the difficulty of seeing star driver James Hinchcliffe fail to qualify.
As a double-points race, the Indy 500 can have an enormous impact on the championship standings. Case and point, last year, Takuma Sato entered Indy sitting 10th in the championship, and vaulted all the way up to third after winning the "500." A race victory is at the forefront of everyone's mind, but championship implications abound as well.
Coverage begins at 11:00 a.m. ET, with "Drivers Start Your Engines" set for 12:14 p.m. ET, and the green flag falling at 12:21.