Will Power had so many people and groups to thank after finally winning his first Indianapolis 500 on Sunday, but he missed one group.
The IRS.
With Helio Castroneves embroiled in a federal tax evasion case in late 2008 and early 2009, team owner Roger Penske was in a bind: he needed a substitute to fill in for Castroneves at the 2009 season-opening Verizon IndyCar Series race at St. Petersburg, Florida.
Penske chose Power, who was an available free agent at the time after losing his ride with KV Racing Technology following the previous season.
Power did not disappoint Penske, finishing sixth at St. Pete, just before Castroneves was acquitted of all charges and returned to the seat of his race car at the following event a few weeks later at Long Beach.
But Penske was not about to let Power be a one-and-done stand-in.
Team Penske president Tim Cindric recalled Sunday what happened back then so very clearly.
"If you remember back to the situation that Helio had there, Will honestly wasn't on our radar screen," Cindric admitted. "I talked to him a little bit before, but we didn't really have a spot.
"It was obvious Helio wasn't going to be there for the first race in St. Pete. Roger and I, we made a short list of kind of who might be the right one for that situation. But with Helio, we weren't sure how that was all going to turn out. I don't know anybody was.
"When we met with (Power), the one thing that stood out for us, at that point we couldn't commit to a full season, we couldn't commit to more than one race, we couldn't make a lot of commitments because we were loyal to Helio's situation. We didn't really want to add another car.
"He looked at us both and said, 'I'll run one lap, no laps, any laps. I just want to be on the team.'
"He was a team player from the very beginning. He did a great job. Should have won St. Pete. I remember being on his pit box. He was running the Marlboro car at the time. We ran the session, he was P1. Helio had just been cleared. I said, 'Do you want the good news or the bad news?'
"(Power said at the time) what's that?
"Well, you're P1 and you're getting out of this car after this session, we have another car for you. At that point Roger told him, that night, 'Hey, no matter what happens, you have a ride at the Indy 500.' Verizon stood behind him. They were really a big part of his career, going to another level when he signed with us, and he took it from there with his talent."
Power did not disappoint in Penske's and Cindric's faith in him, finishing second in the subsequent races at Long Beach, fifth in his first Indy 500, third at Toronto, won at Edmonton and was ninth at Kentucky.
That helped earn him a full-time contract for 2010, and he's been one of the most successful drivers at Team Penske since. In fact, 31 of Power's 34 career IndyCar triumphs have come for Team Penske.
And the biggest win of all, Sunday's 500 triumph, wasn't just Power's biggest, but also extended one of the most dominant marks in motorsports history, giving Penske his 17th win in the 500, Team Penske's first since Juan Pablo Montoya earned his second 500 win in 2015.
"My career, I've had so many wins and so many poles," Power said. "I was wondering if I would ever win it."
Now that he has, for the next year, Power will be the reigning Indy 500 champion. It's something that he worked so hard for, and for so many years, but now is something he'll never have to wait for again – nor will it be something anyone can ever take away from him for the rest of his life.
"Man, it's what I needed so badly, what I wanted so badly, and it came true," Power said. "When you go into Penske (headquarters), you see all the baby Borgs (miniature versions of the Borg-Warner Trophy for winning the Indy 500) there in the foyer.
"In the IndyCar shop, you see all the pictures of those that have won (the 500). I've looked at that often and wanted to be up there. Yeah, it's going to be pretty cool to walk in that shop and see yourself up there in Victory Lane from the Indy 500. Pretty cool."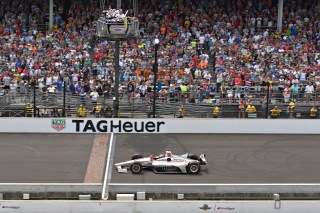 Power has long been known as one of the most laid-back, reserved guys in IndyCar racing. Given that so many fans call Scott Dixon "the Ice Man" for being so cool under pressure, Power should be called "Mr. Freeze" for an even cooler and colder all-business demeanor.
With his 34 wins, Power is one of IndyCar's winningest drivers and also has an incredible 51 career pole positions, something he could easily brag about.
But the 37-year-old Aussie has never been the kind of guy to call attention to himself, never boasted or bragged, was always a family man first and racer second.
He even won the Verizon IndyCar Series championship in 2014. But one thing has historically been lacking, something that continued to grow and gnaw at him more and more with each passing year.
Said Cindric, "The one thing he always talked about was, 'I have to win the Indy 500, I have to win the Indy 500 to get where you need to be.'
"Will was agonizing during dinner as far as what his setup was, what his gears were going to be. His mind never leaves this sport. He's fully committed. He has made a lot of sacrifices. To see the culmination. I think you saw how excited he was today. You don't see that out of Will too often. Great day for us and the team."
Now that Power has finally earned the elusive 500 win, "this closes the book for what he wanted to accomplish in IndyCar: win a championship, now is tied for winning the most races as an Indy driver for the team, and the Indy 500 is something that he wanted to do from the very beginning," Penske said. "He's had some ups and downs. Championships slipped away from him, two or three almost in a row. He's in a different world right now, which is important."
In a sense, Power and Penske are cut from the same mold personality-wise. Both are stoic, are usually seen with more straight faces than smiles upon them, and are very much tacticians and strategists.
But Sunday's win made both absolutely giddy, even cracking some great one-liners:
Penske on the fact Power is Australian: "I don't look at their passports when we hire them."
Power on slightly hesitating before drinking from the celebratory bottle of milk: "I knew you drink milk here. Believe me. I've seen a few of my competitors do it. I just hesitated a bit because I'm not supposed to eat dairy, but I didn't care. I just drank it."
Power on what it means to be the first Australian to win the 500: "That's very special. Maybe they might recognize me down there now. I don't think many people know who I am down there, because we don't have a (IndyCar) race there any more. Yeah, it's very cool."
Power and his family moved to North Carolina when Penske relocated its IndyCar operation to Mooresville – in the heart of NASCAR-land – several years ago. How will Power now show off to his NASCAR neighbors around nearby Lake Norman? "Maybe I can just get a boat that's bigger than theirs, say I won the 500."
But after the chuckles and smiles, Power returned to his more stoic, serious side when asked if he has finally achieved everything he has ever wanted to accomplish in his racing career.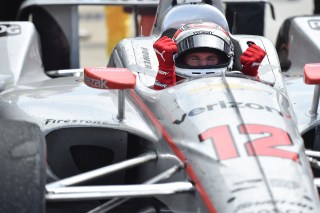 "It runs through my head the last year more than ever because I've won so many races and poles, led more laps than anyone," he said. "I just hadn't done it here.
"It was the last box to tick, to be considered as a very successful driver. But I'm not done, I'm not done. Like, I still have plenty of time left to win more 500s and championships and races."
And in a strange, indirect way, Power has the IRS to thank for all of it.