After 10 prior tries, Will Power, the pride and joy of Toowoomba, Queensland, Australia, finally earned the biggest prize of his IndyCar career, capturing Sunday's 102nd Running of the Indianapolis 500.
"I'm so excited, I can't believe we won the Indy 500," Power said of his 34th career IndyCar win in Victory Lane. "I've just about lost my voice from screaming so much.
"With one to go, I was screaming. I was thinking, 'Man, I'm going to win this.' I've had so many wins and poles in my career, but I can't imagine winning a race like this in front of a crowd like this. It's just amazing."
Power's previous best finish in the 500 was runner-up in 2015, and fifth in 2009.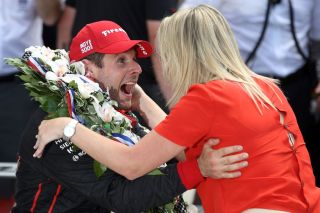 It also marks a record 17th Indy 500 win for team owner Roger Penske, as well as Team Penske's 201st all-time IndyCar win, with Power taking No. 200 two weeks ago in the INDYCAR Grand Prix.
The 37-year-old Power not only earned his first 500 title, he also becomes the first driver to win the INDYCAR Grand Prix and the Indy 500 in the same month at Indianapolis Motor Speedway, having won the GP on May 12.
And with double points available in the 500, Power is now at the top of the Verizon IndyCar Series point standings.
Power, who started on the outside of the front row, took the lead on Lap 197 after race leaders Stefan Wilson and Jack Harvey were forced to pit road for a splash of fuel.
"I'm just like, I have to get these guys," Power said. "I don't know how much fuel they've got. But this is the restart of my life (after Tony Kanaan wrecked on Lap 190). And then, I go on, and two (cars ahead of him) pit, and I'm like man, I think I'm going to win this. With one to go I was like screaming. Like man, I've got this. Unbelievable."
Pole sitter Ed Carpenter finished over three seconds behind Power but still earned a career-best second place finish in the 500, followed by Scott Dixon, Alexander Rossi and Ryan Hunter-Reay.
"In a couple days, I'll feel better about this finish, but I'm still extremely proud of this Ed Carpenter Racing team," Carpenter said. "We were probably one of two guys that were the most consistent this month. … It had been a while since I got a top-5 here, so it feels good to be in this position. I'm also glad for Will. Congrats to him."
Sixth through 10th were Simon Pagenaud, Carlos Munoz, Josef Newgarden, Robert Wickens and Graham Rahal.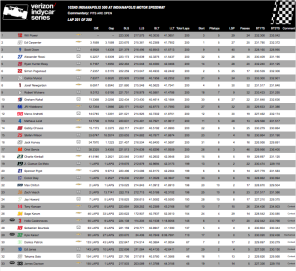 Here's how the race played out:
Danica Patrick and Tony Kanaan were the first drivers to hit pit road in the race, both on Lap 31. The rest of the field came in for service over the next three laps.
On Lap 48, in the first contact of the day, defending 500 winner Takuma Sato wrecked with James Davison, knocking both drivers out of the race.
Davison had struggled throughout the race to maintain a competitive speed. Sato came out of Turn 3 at full speed and had nowhere to go, unable to avoid Davison's car, running into its left rear, destroying both cars.
"We knew Davison was running way up high and running slow … and it looked like we just didn't see him or didn't understood the closing rate and hit him," team owner Bobby Rahal told the IMS Radio Network. "It's very disappointing."
After being medically cleared at the infield care center, Davison said, "We had an anti-roll bar jam and I couldn't choose the balance and not put any steering in it without getting loose. I feel for Takuma and his team, getting caught up in that. It's not the situation you wanted to be involved in. It just wasn't to be for us this year."
Added Sato, "James seemed to be struggling, went high, we braked, slowed down and the closing speed between he and I was too small, I hit the brakes, tried to avoid him and it just sucked in."
The Davison-Sato wreck proved to be the first of seven wrecks in the 200-lap race.
As the cleanup completed, the majority of the field came to pit road on Lap 51, most only for fuel.
On Lap 60, another driver who did well in last year's race, made an early exit. Ed Jones, who finished third last year as a rookie, had a one-car incident coming out of Turn 2 and saw his race come to an abrupt end.
Jones complained of a headache and neck pain and was transported to the Indiana Health facility a few miles east of the Speedway.
Danica Patrick, in the final race of her two-plus decade racing career (including in Europe, IndyCar and NASCAR), saw her hopes for a win also come to a premature end as she spun and hit the outside wall coming out of Turn 2, in a similar situation and location to Jones' mishap.
"I don't really know what happened, just came around on us," Patrick told the IMS Radio Network. "It was a little tough to drive but I was not expecting it."
Patrick finished 30th, the worst finish of her eight appearances in the 500.
"It just seemed to come around, seemed pretty late off the corner," Patrick told ABC. "Today was really disappointing for what we were hoping for and what you want for your last race, but I'm grateful for all of it. I wish I could have finished stronger.
"It's an entire career, but what really launched it was this. I've had a lot of good fortune here and still had some this month, it just didn't come on race day. We had some good moments."
Graham Rahal, who started near the back of the pack, led at the halfway point (100 laps) before falling back.
On Lap 105, Zach Veach came on pit road and suffered flames when the fueling hose disconnected. Veach returned to the track and the flames extinguished themselves, apparently not causing any damage to Veach's car.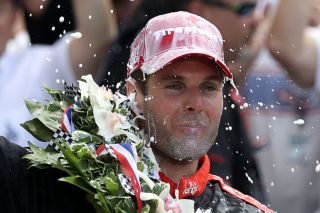 Just before that, Tony Kanaan had to return to pit road for an unscheduled pit stop when it appeared he was losing air in his right rear tire. The stop forced Kanaan, who had been at or near the front for much of the race, to fall one lap off the pace.
On Lap 113, rookie Kyle Kaiser suffered mechanical failure coming onto pit road that ended his day and his first appearance in the 500.
On Lap 139, Sebastien Bourdais spun coming out of Turn 3, hit the Turn 4 wall and wound up sitting backwards on the track.
On Lap 145, Helio Castroneves saw his bid for a fourth Indy 500 win end, spun coming out of Turn 4 and crashed hard into the pit road wall.
Castroneves, who was running in the top five, received a big round of cheers from fans and walked under his own power to the infield care center.
"I was never expecting it, I never had any sign," Castroneves told ABC. "It was very frustrating. The car was good, it definitely was very tough out there."
Castroneves already hopes to be back for next year's 500.
"Please, Roger, I've gotta go back," he said in a plea to team owner Roger Penske.
Penske told ABC, "We'll certainly take a good look at that, for sure. … I guess he just got a little bit high. You don't see a guy like him lose it very often, what a great guy and what he's done for our team for so many years. He's the fence climber and he's one of my best guys."
After the race, Team Penske President Tim Cindric confirmed that Castroneves will definitely be back for next year's Indy 500. Castroneves told MotorSportsTalk several days ago that he still felt he had four or five more 500s left in him.
As he exited Turn 4 on Lap 155, Sage Karam hit the outside wall hard in almost the same place as where Castroneves hit.
"I really don't know what happened, man," Karam said over his team radio.
Another fan favorite, Tony Kanaan, joined the list of drivers that wrecked, losing it coming out of Turn 2 on Lap 190 and striking the inside retaining wall.
We'll have more, including driver quotes and more shortly. Please check back soon.