And just like that, the 102nd running of the Indianapolis 500 is now in the history books, and the Verizon IndyCar Series switches gears to full championship mode the rest of the way.
Sunday was most certainly different than previous years in the DW-12 era. Gone was the slip-streaming madness that created lead changes seemingly on every lap and in its place was a more tactical race defined by car setup, race strategy and surviving slick conditions produced by an incredibly hot day.
Yet while very different in nature, this year was equally as enthralling, nail-biting and intriguing as any that we've seen in recent years, thanks in part to a genuinely great driver checking off the only missing box on his resume, a host of strategy plays that put some unexpected names near the front, a number of big names encountering problems and much more.
A recap of talking points from the 102nd Indy 500:
Power's Storied Career Is Now Finally Complete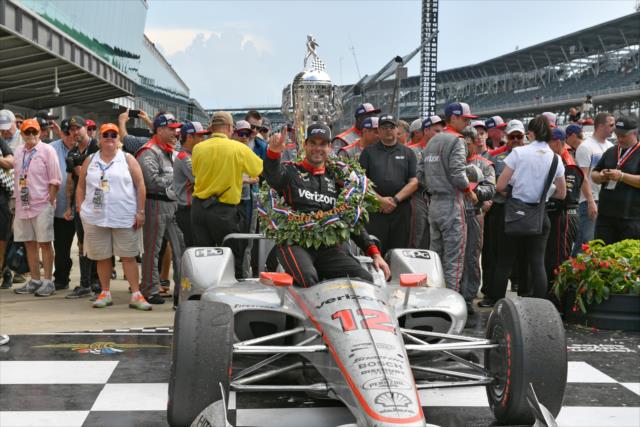 "DJ Willy P" has been one of the best Verizon IndyCar Series drivers of his generation for a very long time. Power's victory tally sits at 34, and 31 have come with Team Penske, making him their winningest IndyCar driver ever. Sunday's win put him one clear of Helio Castroneves.
With 51 poles, Power is something of a qualifying master, a facet of his driving that has been at the forefront ever since he joined Penske in 2009.
And with a championship to his name in 2014, Power had checked off every significant box an IndyCar driver can … except one.
The Indianapolis 500 had always eluded him, and outside of a second-place effort to Juan Pablo Montoya in 2015 – a race in which Power was a strong contender for victory – Power's Indy 500 history was far from stellar.
He left the pits early after his first pit stop in 2010 and took part of the fuel buckeye with him (he eventually finished eighth). In 2011, he again left the pits early, this time before the left-rear tire had been secured, and it fell off immediately after he left the pits (he eventually finished 14th).
He crashed out in 2012 and was a non-factor in 2013, '14, and '16 (he finished 19th, eighth, and 10th those years), and he crashed out again in '17.
And, despite a 2011 victory at Texas Motor Speedway, his oval prowess wasn't a strong suit of his early career either. Case in point: In 2012, he had four finishes of 12th or worse on ovals, featuring three crashes, including one at the season finale at Auto Club Speedway. The combination of those issues cost him a championship that year to Ryan Hunter-Reay.
But recent years have seen him become an oval-meister. He has wins at Auto Club (2013), The Milwaukee Mile (2014), Pocono Raceway (2016 and 2017) and Texas Motor Speedway (2017).
Still, a lack of success at Indy remained a black eye on an otherwise stellar career…until Sunday.
Indeed, Sunday's victory cements Power's legacy as one of the sport's genuine greats. And his emotions afterward demonstrate how much it means to him.
"Overwhelming," Power said. "Amazing. It's funny, you forget where you are, you're so immersed in the race. You don't even realize. On the white-flag lap, I started screaming because I just knew I was going to win it. Unbelievable. Never been so excited."
At 37, Power may be on the back end of his career. But while he admitted an Indy win was the last thing on his list, don't expect him to back off any time soon.
"It was the last box to tick, to be considered as a very successful driver," he asserted. "I'm not done. I'm not done. Like, I still have plenty of time left to win more 500s and championships and races."
Power now leads the championship by two points over Andretti Autosport's Alexander Rossi.
Hot, Slick Conditions and Low Downforce Take Toll on Some Big Names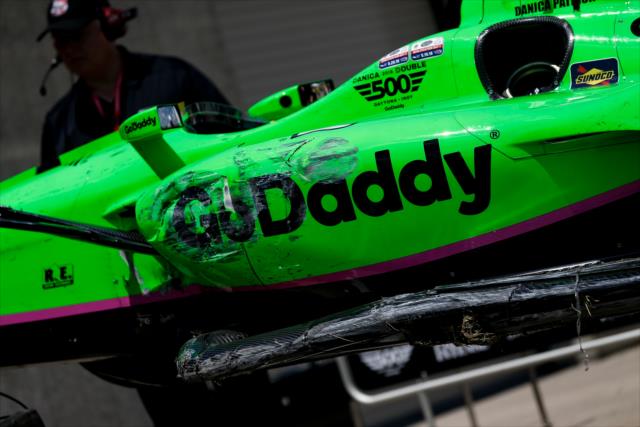 Sunday's Indy 500 was the second hottest on record, and the combination of heat, high track temperatures, altered weight distribution on the cars and lower downforce wreaked havoc.
Danica Patrick, Ed Jones, Sebastien Bourdais, Sage Karam, Helio Castroneves, and Tony Kanaan all spun by themselves – Patrick, Jones, and Kanaan exiting Turn 2, with Karam, Bourdais, and Castroneves doing so in Turns 3 and 4.
Throw in James Davison (whose roll bar adjuster reportedly malfunctioned) and his crash with Takuma Sato, and you have no fewer than seven incidents on-track … nearly all of which were sparked by tricky conditions.
Debate has already begun about what could be done to improve things for next year. Regardless, Sunday's race was an exhibition in car control on a track that wanted to inflict punishment. And some big names, and their cars, left Indy definitely feeling punished.
Underdogs Nearly Have Their Day
While the powerhouse Team Penske operation took its 17th Indy 500 victory, adding to their already immense record, several smaller teams nearly pulled off a big upset.
Ed Carpenter may have had the best car on Sunday, leading a race-high 65 laps, but a pit stop sequence allowed Power to get ahead of him, and he never was able to find his way back around, ultimately settling for second.
And in the final laps, Oriol Servia, Stefan Wilson, and Jack Harvey found themselves 1-2-3 before a restart with seven laps remaining.
All three had gone off-strategy to do so, but they appeared to have just enough pace to stay up front in the event their fuel lasted.
Servia, driving for Indy 500 debutants Scuderia Corsa (aligned with Rahal Letterman Lanigan Racing) led 12 laps.
Stefan Wilson, in a one-off entry for Andretti Autosport, led three laps after taking the lead from Servia on the aforementioned restart. Wilson's moment in the sun was particularly heartwarming, given the difficulty he has faced in recent years, both in his driving career (he gave up an Indy 500 ride last year to allow Fernando Alonso to participate) and, of course, following the death of older brother Justin.
Jack Harvey and Meyer Shank Racing deserve kudos as well for giving it a shot, and they ran second in the final laps behind Wilson.
All three ended up pitting for splashes of fuel, and finished 15th (Wilson), 16th (Harvey), and 17th (Servia).
But, their presence at the front created a refreshing surprise that added a perfect amount of late-race drama.
Misc.
Graham Rahal and Alexander Rossi combined to have the two best drives of the day. Rahal finished 10th after starting 30th, leading 12 laps, while Rossi came home a remarkable fourth after starting 32nd. Their charges through the field were mighty impressive, and Rossi was worth the price of admission by himself with a pair of outside moves on late-race restarts. Both will be disappointed to miss out on victories, but they and their teams have a lot to be proud of for good results from troublesome starting spots.
Ryan Hunter-Reay had one of the quietest drives to fifth place ever. The 2014 Indy 500 winner was in the top five prior to the halfway point but never could get up with the other leaders to mount a real challenge for the lead. Nevertheless, the result was a nice shot in the arm that helped him immensely in the championship.
Kudos should be given to the four rookies. Robert Wickens (ninth), Matheus Leist (13th), and Zachary Claman De Melo (17th) all finished with solid days. And while Kyle Kaiser didn't make the end (due to a mechanical failure), he kept his nose clean prior to that and deserved more than to see his day end early.
It was genuinely sad to see Danica Patrick's racing career end with a crash. Regardless, she made a positive impact on the sport in several ways, and her presence will be missed.
With that, attention now turns to the Raceway at Belle Isle Park for the Chevrolet Dual in Detroit, the lone doubleheader of the IndyCar season.