A banner weekend at the Indianapolis Motor Speedway and Lucas Oil Raceway saw all three series of the Mazda Road to Indy Presented by Cooper Tires contest their first oval races of the 2018 season.
The Indy Lights Presented by Cooper Tires' Freedom 100 was its usual thrill show. It featured a race-record 20 lead changes and a seemingly endless string of three-wide racing amongst the Indy Lights field, and Colton Herta barely edged Pato O'Ward at the line to the take win.
Over at Lucas Oil Raceway, the Cooper Tires Freedom 90 and the Cooper Tires Freedom 75 – contested by the Pro Mazda Championship Presented by Cooper Tires and the Cooper Tires USF2000 Championship Powered by Mazda – a pair of dominant performances were turned in by Parker Thompson and Kyle Kirkwood, both taking their first oval wins. Kirkwood's also came in his oval debut.
Talking points to emerge from all three MRTI series:
Colton Herta Completes Indy Sweep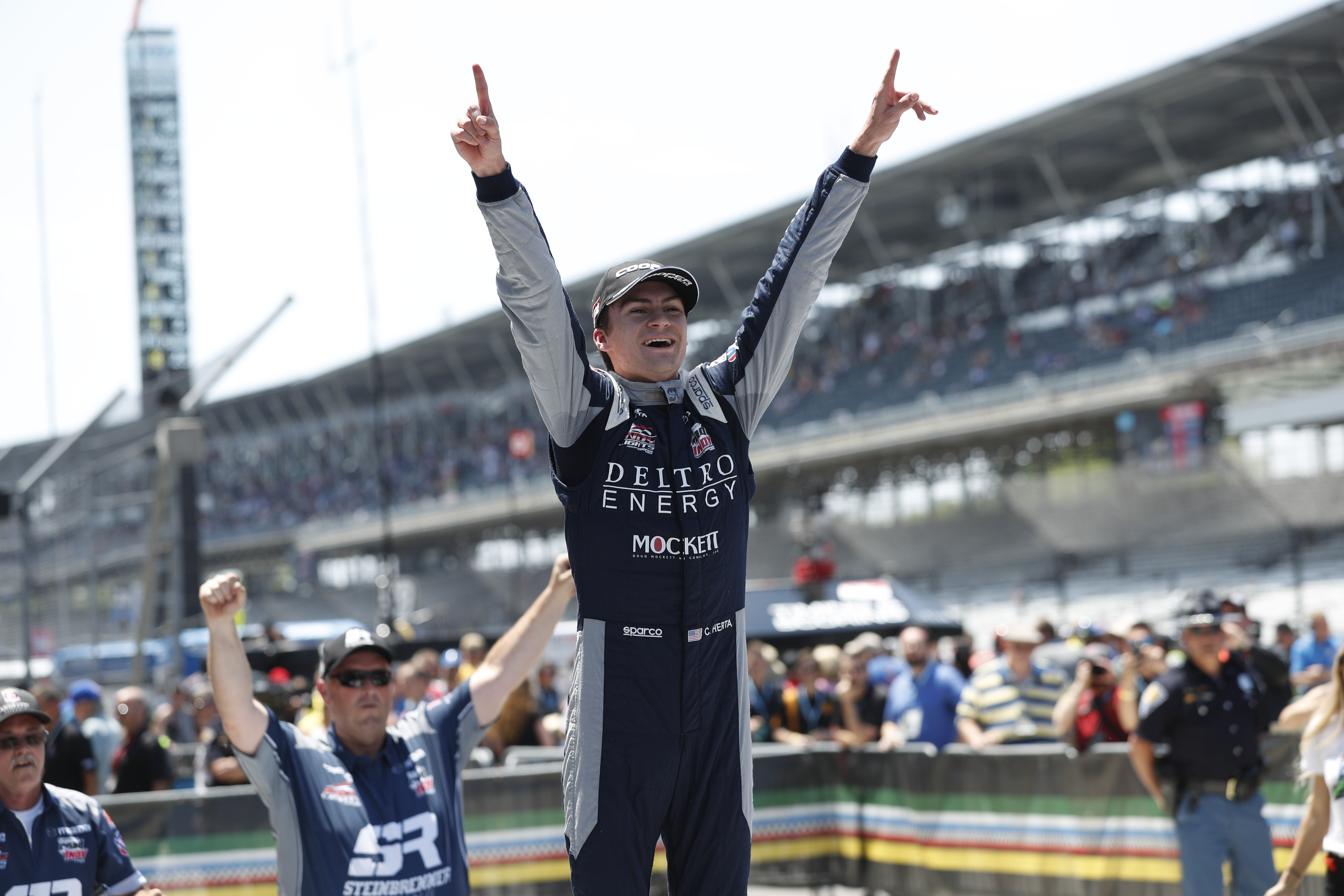 Andretti-Steinbrenner Racing's Colton Herta had, by most accounts, a perfect month at the Indianapolis Motor Speedway. He swept the pair of races on the IMS Road Course and then outdueled the aforementioned O'Ward, along with Dalton Kellett and Santi Urrutia, to claim his first oval victory in Indy Lights competition.
And doing so at the series' biggest race, and on the weekend of the Indianapolis 500, left Herta beside himself.
"It's so cool. I didn't really realize how cool it was until I got to kiss the bricks. Both my dad's IndyCar wins, I held off here because I didn't deserve it. Now I finally deserved it. Damn, that's so cool," said an elated Herta.
Team co-owner George Michael Steinbrenner IV was equally as elated.
"I'm not sure what to say really. Just look at this place. It's amazing," said Steinbrenner. "It's the goal of anyone involved in IndyCar or Indy Lights racing to win here. To be able to do it, it's almost otherworldly. To be sitting here with the trophy right next to us, it's something really special. I'm not sure I'll know for a while how I truly feel about it."
The month also proved pivotal for Herta's 2018 championship hopes, as he now leads O'Ward by four points, with Urrutia 16 out of the lead.
Herta's second year in Indy Lights has seen him mature with every race. While he has still made some mistakes this year (e.g. Race 2 in St. Petersburg, and contact with Aaron Telitz in Race 2 on the IMS Road Course), his driving has certainly improved, and he is very much a championship contender.
Such a possibility does lead one to wonder if the Andretti Steinbrenner team would move up to the Verizon IndyCar Series with him. Steinbrenner did his best to elaborate on that but did not offer a set timeline about his plans for his team.
"That's the goal we're setting for ourselves," he said of the team's possible IndyCar prospects. "We really want to make sure all the pieces if it together from an operational and financial standpoint. We want to do it the right way so we can be competitive as soon as possible. There are no guarantees of when it will happen, it's just as soon as possible."
Herta, however, chimed in and offered his own thoughts. "He's too nice. If we win the championship, we're going IndyCar racing next year," he declared.
Regardless, Herta is very much an Indy Lights title contender now.
Pro Mazda: Thompson Continues His Roll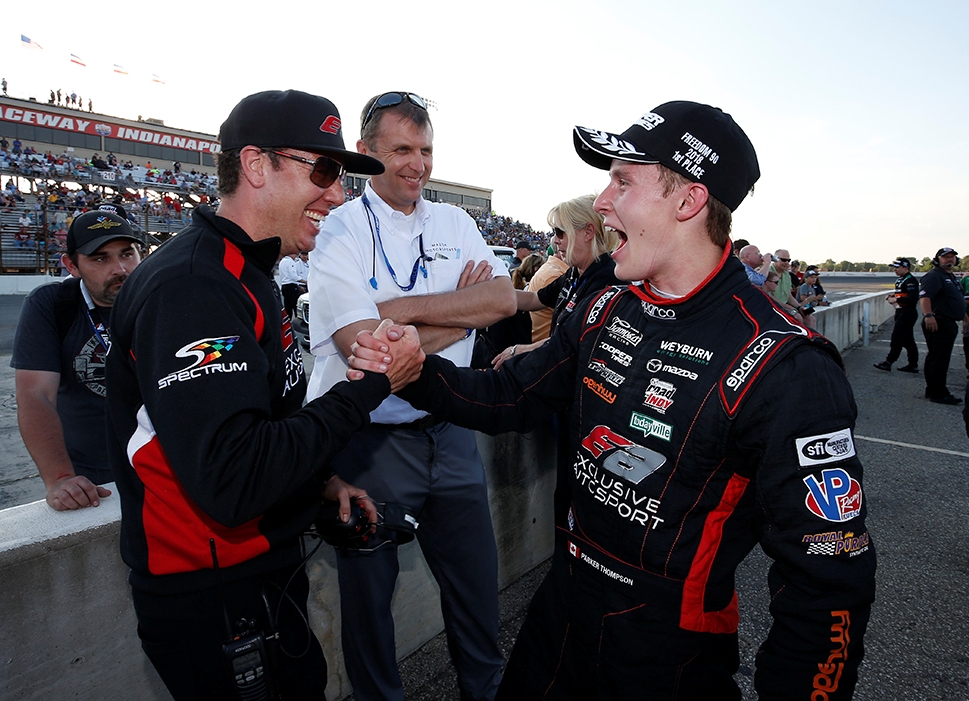 Exclusive Autosport's Parker Thompson is quickly starting to distance himself in the Pro Mazda championship.
With three wins this season and a worst finish of fifth, Thompson is demonstrating the right balance of winning and consistency that are required to make a championship run.
And it's magnified by the stumbles of some of his potential title rivals. Carlos Cunha has been consistent this year (with a worst finish of tenth) but has yet to win. Rinus VeeKay has a pair of wins (sweeping the weekend in St. Petersburg), but he struggled somewhat at Barber Motorsports Park (though he rebounded to finish fourth and fifth there). He also crashed out on Lap 1 of Race 2 on the IMS Road Course.
Like VeeKay, Harrison Scott has a pair of wins but also has three finishes of 12th or worse. And USF2000 champ Oliver Askew has struggled for pace most of the year, leaving him a distant fifth in the championship.
Still, championship thoughts are not quite on Thompson's mind yet. He was plenty happy to simply revel in Friday night's victory.
"This is a special race to win, not just because of the extra points but because we're here in Indianapolis and this is the month of May. And this is my first oval win! Now I have that monkey off my back," Thompson revealed afterward.
Thompson now leads Cunha by 39 points.
Misc.
Carlos Cunha does not have a win yet, but the key word there is "yet." With back-to-back second-place finishes (along with a pair of third-place finishes as well), Cunha is knocking on the door of victory. "When I came to the United States last year, it was really my first year in proper race cars. I'm learning more and more, and we are getting so much closer to my first win," he said following the Freedom 90.
With three finishes of 14th or worse, Robert Megennis has had a rough go of it in his first Pro Mazda season. However, he drove a very solid race on Friday night to round out the podium in third, his first podium since Race 1 in St. Petersburg. A race winner in USF2000 last year, Megennis has the potential to surprise a few people in the second half of the season.
USF2000: Kirkwood Takes Control of USF2000 Title Chase in Winning Oval Debut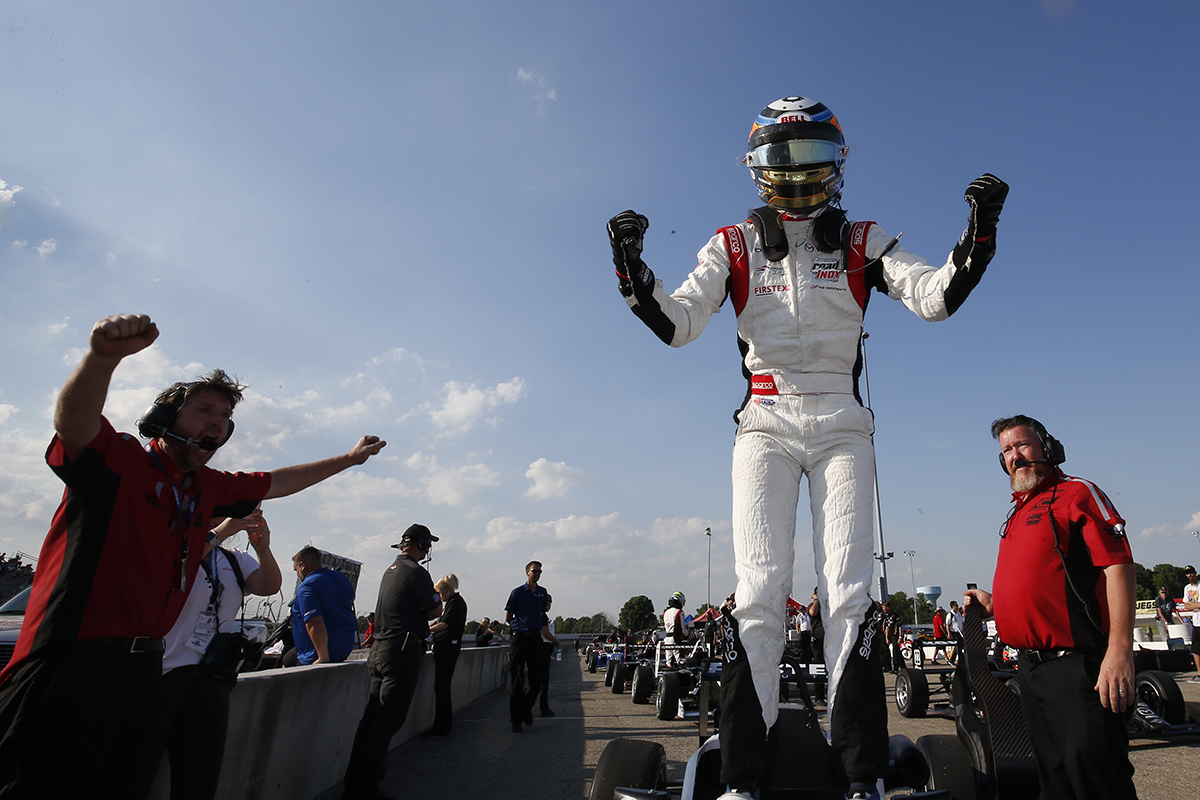 Prior to Friday night, Cape Motorsports' Kyle Kirkwood had never raced on an oval. However, you would have never known it watching him that night.
He rocketed to the pole and led every lap without facing anything resembling a challenge from a competitor.
Kirkwood even revealed afterward that he wasn't exactly enthusiastic about ovals beforehand, but that his thoughts are now completely different.
"In my mind, it was all just turning left," he said. "But my perspective on it has totally changed after this weekend, after I learned how much strategy was involved and how technically it actually was. Getting the car setup right is huge. I love it now. That was the most fun I've had with all the passing, both in practice and in the race."
Further, Kirkwood now has a whopping 59-point lead over Swan-RJB Motorsports' Alex Baron, who crashed out working his way through lapped traffic.
It certainly is too early for Kirkwood to start playing "prevent," but Kirkwood is nonetheless sitting pretty at the moment.
Misc.
Kaylen Frederick finally scored a podium, finishing second on Friday. It's only his second finish inside the top 10 this year – ninth in Race 2 at St. Pete was the other – in what's been a tough sophomore season for the 15-year-old. He'll look to build on this at Road America in June.
Baron's crash leaves Jose Sierra, who finished fifth, only five points behind him in the championship. Baron has two wins and a second-place finish, but finishes of 22nd (St. Pete Race 1) and 21st (Lucas Oil Raceway) have him in position to drop down in the championship standings. Baron has demonstrated a lot of speed, but he'll need to rid himself of the "feast or famine" results.
All three rungs of the Mazda Road to Indy ladder return to action at Road America on June 23-24.