It's one of the most frequently asked questions in the NHRA today: What's wrong with John Force
The 16-time NHRA Funny Car champion is mired in his worst performance slump in more than a decade.
Even worse, he's an almost unthinkable 12th place in the Funny Car standings, a massive 348 points behind leader and daughter, Courtney Force.
John Force, who turned 69 on May 4, is doing everything he can to right a ship that has seen three motor explosions already this season, a crash and also failed to qualify for one race (at Houston in April), snapping a string of qualifying for 221 consecutive races dating back to Sept. 13, 2008.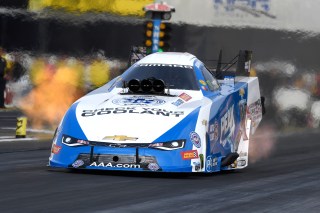 As the NHRA moves on to the middle third of its 24-race season – in this weekend's JEGS Route 66 NHRA Nationals in Joliet, Illinois (about 50 miles southwest of downtown Chicago) – John Force is hoping to begin a massive turnaround and comeback.
Time is running out, though. There are only 12 more races to qualify for the 10-driver field for the six-race Countdown to the Championship playoffs. If the Countdown began today, John Force would not make it for the first time in his career.
Force is closing in on 150 Funny Car wins in his four-plus decade career. He comes into this weekend's race with 148 wins.
But he's also not won a race in more than a year (March 19, 2017 in Gainesville, Florida). Thus far this season, he's reached just one final round, finishing runner-up at last month's NGK Spark Plus NHRA Four-Wide Nationals at zMAX Dragway in suburban Charlotte, North Carolina.
Force comes into this weekend's race with three wins at Route 66, but hasn't won there since 2006 (beat teammate Robert Hight). His last final round appearance there was a runner-up finish to Matt Hagan in 2013.
Will that toddlin' town be kind to Force this weekend and see him at least move back up the rankings into 10th place (he's 29 points behind current 10th-ranked Jonnie Lindberg)?
In an exclusive interview with NBC Sports' MotorSportsTalk, Force spoke at length about his team's struggles this year and how he hopes to begin turning things around:
1) How frustrating of a year has it been for you? Is the worst behind you?
Force: "I am sure hoping it is. First though, understand something. I have been down this road. In the early days I had problems. I had fires. I had explosions but I never had anything that took place from testing in Phoenix in January all the way through Gainesville in March. It had me talking to God. I know the drill. I know what happens. I know the people, the tune-ups and the parts. I just couldn't get anything right. My people worked really hard on it. We found our way out of it. I have a job to do for PEAK and all my sponsors. I want to deliver. I don't just ride a wave of success from the past. Even at my age I want to win races and win championships. I have everybody looking at this car. My crew chiefs have made changes in the engine program. (Auto Club crew chief) Jimmy Prock is my lead and we are running his combination and it can be tricky. We found an issue. It wasn't anything that had to do with safety, just something going on with the car. We addressed it. I have never been snake-bit that long. When I was talking with God I was asking him if I had done something wrong and maybe this is how it is going to work out. It started to come around. In Houston it wasn't qualifying and I can't get it to the lights without my crew chief shutting it off early from the starting line. We have been through a lot but I am going to leave it behind me and I am going to Chicago with a whole new attitude."
2) How have you taken your mind off the frustration?
FORCE: "Let me tell you something. I went down to Barona (California) with my grandkids for a Junior Dragster race, even though it was long days. It was like going back to my roots in a crew cab and Chaparral trailer. It was like watching myself out there. Learning and seeing them race for the first time really was a mind changer for me. You get so caught up in your problems of financial. I am financially good right now. I am very strong with Auto Club and Chevrolet and Advance and Monster and PEAK. I just mentally get into too much and I just had to get back to my roots.
"I was at that little track in Barona for a Junior Dragster race and Autumn (Hight, Robert's daughter) won her first race. Jacob (Hood, Ashley and Danny Hood's son) put out the top bulb up there during a race staging. It was great. He is learning. It was a wake-up call. I came home satisfied. I was like ready to go to Chicago. I needed that. I am going to be OK."
3) Are fans talking to you about the slump?
FORCE: "You know what is funny? So many of the race track people and the fans were coming up to me telling me I was going to be OK. I was thinking 'What are they talking about? Do I not look good?' They watch our TV show and they care about you. That is what motivates me more than anything. It's the fans and the friends and other racers down there even though they are in Junior Dragster. They know what we do and they love it. I have a big following out there and I am not going to let them down. My mind is right. It took a junior dragster race in Barona to get my mind right. Trust me."
4) You just turned 69. Did you have doubts about your career when all these things were going on?
FORCE: "I can drive a race car. I know how to do the media. I know how to run teams even though Robert Hight has become my lead. Sometimes you get caught up after you have done this for 40 something years. You get caught up in it. It is like being tired and you don't realize it. You just think your health is going. Then all of a sudden you take a quick nap in the middle of the day like I have done before and you wake up with a whole new attitude. There are times when I felt like I couldn't do a meeting or an interview but I go get a nap for an hour. I did it in Indy. I told my staff I was going to get a quick nap and I would be right back. You don't realize that you are getting tired because you are working all the time and you love it. You have to remember that. You think you can go days and days. We work every day like so many people on this team. My mind is always going. I don't ever get away from it. This is good timing for this call because I am in a great mood. Before Barona we had been racing and I would come back for meetings about TV shows and sponsors and I just had no energy. That weekend with the grandkids really brought back the old John Force. I get sleep at night at least seven or eight hours. I know I am getting older but I really don't think that is the issue."
5) This is the longest you've been out of the top 10 since 2007, before your bad crash at Texas. Are you concerned about being outside the top 10?
FORCE: "No I don't worry about that. Hell, I might not make it. I never thought there would be a day when me and (former crew chief ) Austin Coil wouldn't qualify at Indy. Sh** happens. I know my race car. I know what my other cars can do and they are winning races. They are setting records. No, it isn't me and I have a lot on my plate, but right now I am a round and a half out of the top 10 but I will get there. That is my job and that it what I owe to do for my sponsors."
6) You're heading to Chicago and start a stretch of four races in a row. That's four straight weekends of racing. How do you feel?
FORCE: "That is when I will find my zone. I will find my groove. I have run these race teams for 40 years and I have more championships than anybody. I am going to Chicago and PEAK's headquarters. I am going there and I want to show my stuff. I only blame myself for anything that we have done wrong. Sometimes you make decisions and they are wrong. And then you make more decisions and those might not be the right calls but you keep going until you figure out the puzzle. This race car is like a giant Rubik's cube. You have to keep turning and twisting the pieces until you find your way. I don't claim to be a genius but I listen to my people. We are working together to go down this road. I can put together a team that can win. Robert (2017 Funny Car champ Robert High) has proven that and Brittany (2017 Top Fuel champ Brittany Force) has proven that. Courtney has won three races so far this year so they are proving they have a good team. I thought my team would be a no-brainer but we are the ones that got snake-bit. I am going to be OK. Four in a row is exciting. To go from one town to the next is like the old days. Robert and I aren't even going home we are just staying out there. You want to get into that mood with the team. I might even drive one of my 18-wheelers to a race. I drove the trailer to Barona and it was a great two-hour trip. It was something I needed. I am very positive. The biggest thing is I feel rested and ready to go to work."
7) Is it safe to say that if you don't have a strong race at Chicago, that there may be some changes within the team?
FORCE: "Every now and then you get snake-bit. You look at Monster last year. They were struggling a little bit but we fought through it and won the championship. We have shuffled teams in the past and won races and won championships, but we have a really good combination now with my people. I know what I am doing. I had the problems at the start of the year and maybe I should have taken a race off, but I kept working and racing. The doctors said I was OK so I kept working and running full-speed. I knew it would take a while to get back to 100 percent. I feel like now I am putting a lot of that stuff behind me. I have been hard to live with. I am going through what the doctors all told me, which is you'll have good days and bad days. Nothing major but my body is still healing and it has been getting better ever since Gainesville. It has been about 60 days since that last explosion and I am getting back to feeling good."
8) Can you draw any comparisons between this year's struggles and those you experienced in 2007?
FORCE: "Nothing compares to 2007. You live every day since we lost Eric (Medlen) with the responsibility and keeping his memory alive. Eric is gone (killed in a crash during a test session at Gainesville earlier that year). I had my crash (at Texas later that season) and I felt like if he crashed then I should have crashed too and he saved my life. We worked to build better race cars. We fought our way out of that. That was enough to make anybody quit but we knew we couldn't give up because of Eric and John Medlen (Eric's father and former crew chief for Force). You have to give John Medlen so much credit for his strength. I had a couple crashes this year and it has taken me a few months to recover. It took some time here and there and maybe I should have taken more but I am a fighter. I have a job to do and I love my job so much that I can't fail. It has been hard on me physically but I got through a lot harder physical issues in 2007."
9) Last question: While it has been a frustrating season, you still have the runner-up finish at Charlotte. Can you get some of that same magic here in Chicago?
FORCE: "I am glad you brought that up. Going to the final at the four-wide and being in the hunt there was big. I have had some time to get past the explosions and we have been working things out with the headers. I don't want to make any excuses. I am ready for these four (races) in a row. I have been through a lot. I have been through down times like 2007. Losing Austin Coil as my crew chief was a down time for me to regroup. I have always found a way because that is what I do. Racing is what I do. It ain't a job to me. I don't need to do this to make a living. I could retire. I am putting some of my own money back into my race teams to keep winning. I have gotten some rest since I have been home for over a week.
"Now, I am going to Chicago with the right attitude. The attitude is back. I feel good. I can't wait to get going at Chicago."