With the 102nd Running of the Indianapolis 500 come and gone, the focus now shifts to the summer championship stretch for the Verizon IndyCar Series.
In essence, the Chevrolet Dual in Detroit represents a second straight double-points event – with two races on the offer, that means 100 points are up for grabs race wins, not counting bonus points for poles, leading a lap, and leading the most laps.
With six events and seven races in the next nine weeks, the months of June and July also represent one of the busier stretches of the calendar, adding another dimension to the summer months.
Talking points ahead of this weekend's Chevrolet Dual in Detroit are below.
Championship Swing Can Start Now
Every race is critical in the championship chase, there is no doubt about that. But, the Detroit double-header can be especially critical.
Take last year as an example. Graham Rahal entered the weekend 15th in the championship, 101 points behind then championship leader Helio Castroneves. Rahal went on to score a pole in Race 1, lead the most laps in each race, and win both races in a near-perfect weekend.
Rahal's point tally that weekend came in at 107 of a possible 108. The impact on his championship standing? He left the weekend in sixth, 52 points out of the lead. In other words, he cut the deficit very nearly in half.
And the year before that, Will Power used the Detroit weekend as a springboard to make a championship push of his own. After finishing 20th in Race 1, he scored a win in Race 2, and followed it up with finishes of first, second, first, second, and first.
In that seven race stretch, Power went from 114 points back of the championship leader – teammate Simon Pagenaud – to 20, shaving 94 points off that gap.
The current standings are very close at the top. Power's Indy 500 victory vaulted him into the championship lead on 243 points. Alexander Rossi is two points back in second, with Josef Newgarden third, ten points out of the lead.
The rest of the top ten looks like this: Scott Dixon (218), Ryan Hunter-Reay (186), Graham Rahal (183), Robert Wickens (178), Sebastien Bourdais, (168), Simon Pagenaud (155), and James Hinchcliffe (144).
Coincidentally, Hinchcliffe is even fewer points out of the lead than Rahal was last year entering Detroit (99 to Rahal's 101). And, as last year showed, this weekend presents an enormous opportunity to make headway, or make up for lost ground, as Hinch will be motivated to do after he failed to qualify for the Indy 500.
It all adds up to a weekend that can enormously impact the 2018 season.
Chevrolet Looks to Reclaim its Territory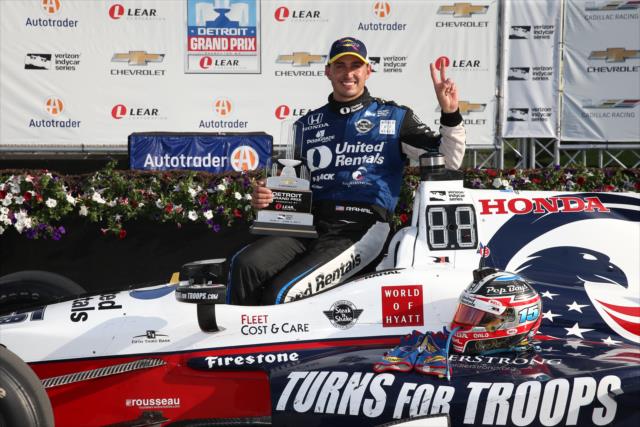 Rahal's sweep last year was also a sweep for Honda. In fact, Honda enjoyed a particularly successful weekend, even going 1-2-3 in Race 1 with Scott Dixon and James Hinchcliffe rounding out the podium.
Add in that it came at an event sponsored by rival manufacturer Chevrolet, and it was a weekend that surely left a few wry smiles on the faces of the Honda folks.
As such, Chevrolet and their teams will look to reclaim their "turf" of sorts. With four wins in 2018, including a stretch of three in a row between Power and Josef Newgarden – not the least of which being Power's Indy 500 triumph – and they are riding a wave of momentum heading into the weekend.
Chevy won the Honda Grand Prix of Alabama in April (with Newgarden), and expect Chevy to have more revenge on their minds after losing out to Honda in this event last year.
Power Looks to Keep Things Going in Detroit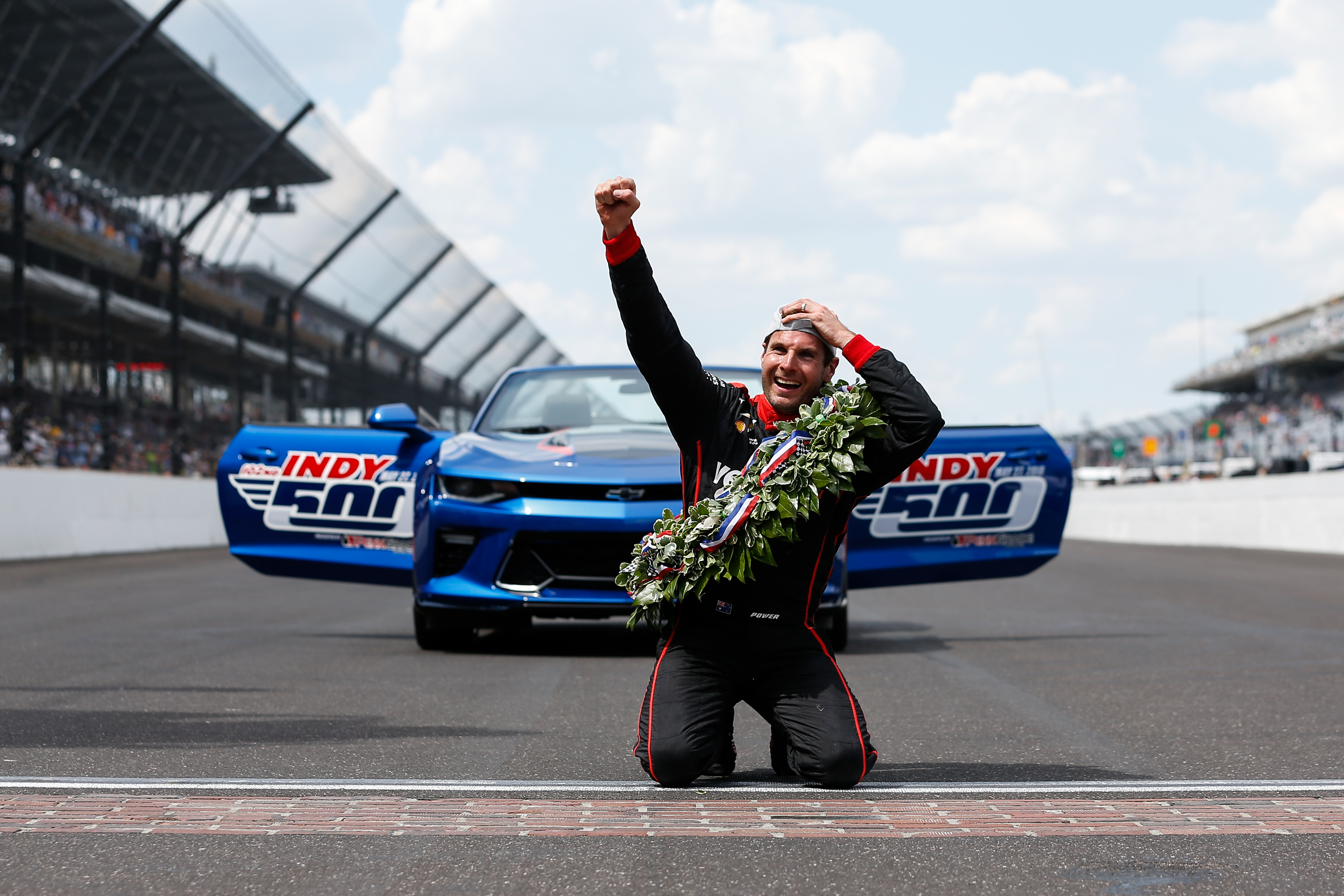 Typically, Indy 500 winners have not fared well at the Detroit double-header. Results of the 2013-2016 "500" winners are below.
2013: Tony Kanaan: Race 1, Started 19th, Finished 13th; Race 2, Started 19th, Finished 12th
2014: Ryan Hunter-Reay: Race 1, 21st/16th (Accident); Race 2, 21st/19th (Electrical)
2015: Juan Pablo Montoya: Race 1, 3rd/10th; Race 2, 1st/10th
2016: Alexander Rossi, Race 1, 17th/10th; Race 2, 18th/12th
Montoya collected a third and a 10th in 2015, while Rossi ended up 10th in Race 1 in 2016, but the other results reveal a slew of struggles, mechanical woes, and on-track incidents that have inflicted the Indy 500 winner.
However, Takuma Sato solidly bucked that trend last year, finishing eighth and fourth across both races.
This year's Indy 500 winner Will Power will look to build off that and be only the second 500 winner to make a Detroit podium since the event returned in 2012 – Franchitti finished second that year, with Montoya's aforementioned third the only other podium.
Power has two wins at Detroit, so indications are that he'll be strong there. And he is ready to get back rolling after basking in the glow of Indy 500 glory.
"This has been an amazing week so far," Power said of his time since winning at Indy. "When you want something so much and it finally comes true, that your hard work has paid off, it is a great feeling. Now we have to focus on Detroit with the No. 12 Verizon team because I don't want to experience a hangover from the win when we are leading the points. And this is such an important weekend for Roger (Penske) and Chevrolet. It's great to come here as the Indy 500 Champion, but we want to win here too because this race means a lot to a lot of people. It's such a tough circuit that you have to be in the game from the drop of the green flag or you can have a bad day pretty quick.
Misc.
Santino Ferrucci makes his Verizon IndyCar Series debut this weekend with Dale Coyne Racing, in the No. 19 Paysafe Honda. Ferrucci, a 20-year-old native of Connecticut, has been a test and development driver with the Haas F1 Team since 2016.
Rene Binder makes his return to Juncos Racing, having last competed at the Honda Indy Grand Prix of Alabama.
Several entries feature new liveries this weekend. Alexander Rossi has Ruoff Home Mortgage on his No. 27 Andretti Autosport Honda. Jordan King has Allegiant International on his Ed Carpenter Racing No. 20 Chevrolet. Takuma Sato's No. 30 Rahal Letterman Lanigan Racing Honda features Fifth Third Bank branding. Marco Andretti's No. 98 Honda will have Autonation on it. Also, Simon Pagenaud has DXC Technology on his No. 22 Team Penske Chevrolet.
The Final Word…
From Graham Rahal, who swept the Detroit races last year:
"Last year at Detroit was a great weekend for the United Rentals team, no doubt about that. Everything went according to plan; it was perfect.  We really need to try to replicate the performance.  This year has been really solid with top-10s every single race, completing every single lap but I would like to go to Detroit and find a way to win both of the races just like last year.  It was a dream weekend. We were fastest or second in every single practice or qualifying session and then in the race; it was just a perfect weekend. We need to find a way to make magic happen again. Looking at the long-range forecast, it looks like it will be in the low 70's so it will be a nice and a good change from what we had in Indy. From a physicality standing point for me, it's one of my strengths compared to others so we've just got to try to take advantage of that. I think our street course car is our best package that we have currently so I definitely feel really good about our situation.  I really feel Detroit should suit us extremely well. Clearly, coming off of last year, everybody in our team has a lot of confidence that we can go there and have a great weekend.  We're going to try our best."
Here's the IndyCar weekend schedule:
At-track schedule (all times local):
Friday, June 1
11:20 a.m.-12:05 p.m. – Verizon IndyCar Series practice 1
3:10-3:55 p.m.  – Verizon IndyCar Series practice 2
4:00-4:20 p.m.  – Verizon IndyCar Series pit stop practice
Saturday, June 2
10:55-11:25 a.m. – Race 1 qualifying for the Verizon P1 Award, IndyCar.com (live)
3:30 p.m. – Broadcast begins (ABC, live)
3:50 p.m. – Chevrolet Dual in Detroit 1 (70 laps)
Sunday, June 3
10:45-11:15 a.m. – Race 2 qualifying for the Verizon P1 Award, IndyCar.com (live)
3:30 p.m. – Broadcast begins (ABC, live)
3:50 p.m. – Chevrolet Dual in Detroit 2 (70 laps)
Here's last year's top 10: 
Race 1
1. Graham Rahal
2. Scott Dixon
3. James Hinchcliffe
4. Josef Newgarden
5. Alexander Rossi
6. Mikhail Aleshin
7. Helio Castroneves
8. Takuma Sato
9. Ed Jones
10. Spencer Pigot
Race 2
1. Graham Rahal
2. Josef Newgarden
3. Will Power
4. Takuma Sato
5. Simon Pagenaud
6. Scott Dixon
7. Alexander Rossi
8. Charlie Kimball
9. Helio Castroneves
10. Tony Kanaan