Tequila Patron ESM's Pipo Derani made perfect use of his final flying lap in qualifying for the Chevrolet Sports Car Classic, round 5 of the 2018 IMSA WeatherTech SportsCar Championship season, to grab the pole for Saturday's race in the No. 22 Nissan Onroak DPi.
Derani's final lap came in at a blistering 1:22.273, bettering Acura Team Penske's Juan Pablo Montoya by more than seven tenths of a second – Montoya's best lap was a 1:22.992 in the No. 6 ARX-05.
Helio Castroneves made it an Acura/Penske 2-3, qualifying third in the No. 7 Acura. Joao Barbosa was fourth in the No. 5 Mustang Sampling Racing Cadillac DPi-V.R, while Misha Goikhberg put in an outstanding effort to qualify the No. 99 JDC-Miller Motorsports Oreca 07 Gibson in fifth.
Of note: Goikberg's teammate Robert Alon, in the No. 85 Oreca, crashed in the middle of the session, which brought out a brief red flag. Alon had been sitting in a solid fourth at the time, but dropped to ninth at the end, his car too damaged to continue.
In GT Daytona, Bryan Sellers turned in a mighty final lap of his own to put the championship-leading Paul Miller Racing. No. 48 Lamborghini Huracan GT3 on the pole. In fact, Sellers' time of 1:28.942 – the only GTD time below the 1:29 mark – broke the GTD track record around the Raceway at Belle Isle Park.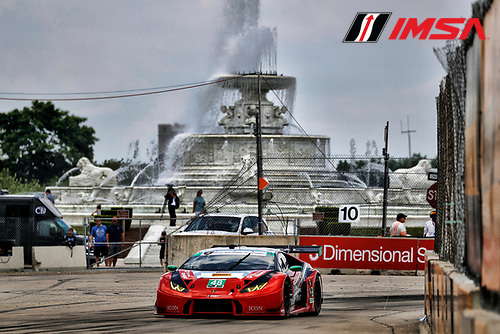 Katherine Legge, who sits second in the GTD championship, qualified second in the No. 86 Meyer Shank Racing w/ Curb-Agajanian Acura NSX GT3, with her teammate Justin Marks putting the sister No. 93 right behind her in third.
Dominik Baumann had a solid run for 3GT Racing, putting the No. 14 Lexus RC F GT3 fourth on the grid, with teammate David Heinemeier Hansson right behind him as well – Heinemeier Hansson put in the No. 15 Lexus in fifth.
Of note: qualifying was reduced from 15 minutes for Prototype and GTD to 12 minutes per class, after a weather delay cut into the qualifying time and saw the series bump up against the overall curfew for the day.
Results can be found here. Tomorrow's Chevrolet Sports Car Classic rolls off at 12:40 p.m.