Ryan Hunter-Reay was quickest of the 23 drivers that took to the Belle Isle street course during Friday's second practice for this weekend's two IndyCar races in the Chevrolet Detroit Grand Prix.
Hunter-Reay covered the 2.3-mile course at a best time of 1 minute, 16.3598 seconds at 110.791 mph.
Scott Dixon was second-fastest (1:16.3667 at 110.781 mph), followed by James Hinchcliffe (1:16.4840 at 110.611 mph), bouncing back from failing to qualify for this past Sunday's Indianapolis 500.
Fourth through 10th were Josef Newgarden (1:16.5864 at 110.463 mph), Marco Andretti (1:16.6198 at 110.415 mph), Graham Rahal (1:16.7098 at 110.286 mph), Simon Pagenaud (1:16.7888 at 110.172 mph), Alexander Rossi (116.7898 at 110.153 mph), Robert Wickens (1:16.7974 at 110.160 mph) and Zach Veach (1:16.8133 at 110.137 mph).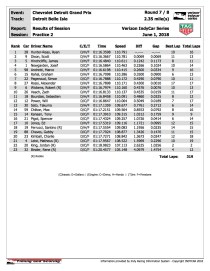 Nine of the top 11 drivers were powered by Honda.
Not surprisingly, the very difficult and worn road course produced a number of incidents during the second session, just like it did in the morning practice.
With about 34 minutes to go in the one-hour session, Jordan King and the No. 20 Chevrolet of Ed Carpenter Racing hit the left side retaining wall entering Turn 13 at full speed, and then shot across the racetrack, striking the right side wall.
"He just said it kind of got away from him in (Turn) 13, it's unfortunate," team owner Ed Carpenter told the IMS Radio Network. "It's a pretty big setback, looks like he got all four corner. This is the last practice before tomorrow's qualifying and race. It puts us in a tough situation, but we've been hear before. We'll just have to rebound tomorrow."
Added King, "I just lost the rear, got a bit of a snap on the rear. It really wasn't even a big thing, but by the time I caught the car, I was too wide, and then the wall is obviously right there. It's really annoying because it was a tiny error, but it was quite costly."
At about the same time, Alexander Rossi also scraped the wall in Turn 6.
With less than six minutes left in the session, Tony Kanaan slid into the tire wall in Turn 7, bringing out yet another full course red flag.
Then, in the closing minutes, both Hinchcliffe and Sebastien Bourdais spun in Turn 7, as well.
Qualifying for Saturday's afternoon race takes place at 10:55 a.m. ET for Group 1, and 11:13 a.m. ET for Group 2.
The race, the first of back-to-back Verizon IndyCar Series events on Saturday and Sunday, starts tomorrow at 3:40 p.m. ET.