Felipe Nasr and Eric Curran gave the No. 31 Whelen Engineer Racing Cadillac DPi-V.R for Action Express its first win of the 2018 IMSA WeatherTech SportsCar Championship.
Clever pit strategy, and quick pit work, put the No. 31 out front in the second half of the race. An early caution – after David Heinemeier Hansson nosed into the Turn 5 tire barrier in the No. 15 3GT Racing Lexus RCF GT3 – jumbled the running order and strategy, with several teams staying out while others elected to pit.
The No. 31 team played their strategy correctly, pitting under that early yellow and taking fuel only on their second stop, while some mighty quick laps from Nasr helped put them in position to win in the final minutes.
However, Nasr needed to battle with a fast-charging Ricky Taylor, on fresher tires after the Acura Team Penske group elected to put fresh Continentals on his No. 7 ARX-05 for the final stint.
Taylor managed to close in as they worked through traffic, but never got close enough to try and overtake Nasr, who scored the first win of 2018 for himself, co-driver Eric Curran, and the No. 31 AXR team.
Taylor hung on for second, while teammate Dane Cameron came home third in the sister No. 6 Acura. Of note: the pole sitting No. 22 Tequila Patron ESM Nissan Onroak DPi, in the hands of Pipo Derani at the start, suffered steering problems in the early laps, forcing an unscheduled pit stop.
Johannes van Overbeek took over to finish the race during their final stop, and the combo eventually finished seventh.
In GTD, it was a banner day for Meyer Shank Racing w/ Curb-Agajanian, with Katherine Legge and Mario Farnbacher – in the No. 86 Acura NSX GT3 – leading teammates Justin Marks and Lawson Aschenbach – in the No. 93 NSX – in a 1-2 for the MSR squad.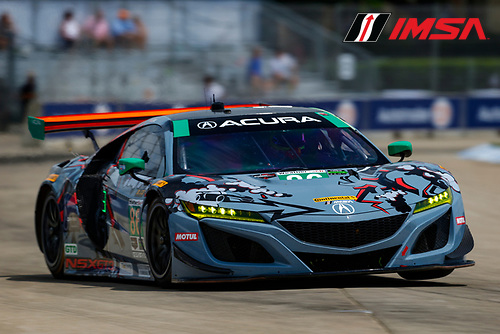 The No. 86 team moved to the lead during a cycle of pit stops, after keeping Legge out one lap longer than rivals Paul Miller Racing, with the No. 48 Lamborghini Huracan GT3. Bryan Sellers, who started the race for the Paul Miller squad, was the first of the leaders to pit, but Legge stayed out to put in a blistering in-lap and it was enough to see Farnbacher, who took over for Legge at that stop, to emerge in the lead.
Meanwhile, quick pit work saw the No. 93, in the hands of Aschenbach after Marks started the race, come out ahead of the No. 48 Lamborghini to run second.
And they stayed in that order the rest of the way, with Legge and Farnbacher – subbing for Alvaro Parente – giving Meyer Shank their first win of 2018. Madison Snow brought the No. 48 Lamborghini home in third.
Full results can be found here.