While most of his opponents needed three pit stops, Scott Dixon used just a two-stop strategy to propel himself to the win in Saturday's Race 1 of the Chevrolet Dual in Detroit Grand Prix at Belle Isle Park.
Race 2 of the back-to-back race weekend takes place Sunday at 3:30 p.m. ET. There is a prediction of rain in the morning and afternoon that could impact the race. However, Firestone is prepared with a new rain tire if precipitation does occur.
Dixon, 37, took the lead on Lap 33 of Saturday's 70-lap event and held on most of the way to the checkered flag, ending with a 1.8249-second margin over runner-up Ryan Hunter-Reay.
It was Dixon's 42nd career IndyCar win, tying him for third place on the all-time wins list with Michael Andretti.
It also marked Dixon's first win in nearly a year, having won last during last season at Road America. His previous best finish this season was second at the INDYCAR Grand Prix at Indianapolis.
"It's big," Dixon told ABC about the win. "It's nice to get that first win out of the way. We came up a little short in the last few races, but to bounce back last week … it's always good to be back in the winner's circle."
Hunter-Reay was followed by Andretti Autosport teammates Alexander Rossi and pole sitter Marco Andretti for third and fourth place, respectively. It was Andretti's best finish in a race since finishing fourth last year at Toronto.
"Man, it was physical," Hunter-Reay told ABC. "We just came up a little bit short on this one. We're going to put our best foot forward tomorrow."
Said Rossi, who regained the points lead from Indy 500 and INDYCAR GP winner Will Power, "Scott was a deserving winner. I'm not saying anything to the contrary. It was a good points day and we'll try even harder tomorrow."
Added Andretti, "The racer in me is very bummed because you hate to go backwards and you want a podium at least, but I guess we have to be happy we stayed with the fast guys, but not fast enough. I guess we have to do our homework and look where to improve for tomorrow."
Takuma Sato finished fifth, followed by Ed Jones, Power, Robert Wickens, Josef Newgarden and Spencer Pigot.
"We were just lacking the pace and I think the Hondas just have a different power curve that suits this track," Power told ABC. "I drove pretty hard for seventh place today. Our car is pretty good, the handling is not bad, there's not much I can pick up to gain us speed. I think if we can just qualify top 4 (in qualifying Sunday morning before Race 2), I think that could do something there with strategy."
Newgarden was unhappy with his performance.
"It's a lot of work for not the greatest performance," he said. "We got a top 10, which is good, but we don't come here to finish ninth. This is our home turf so we want to do well, but we just didn't have enough today. We really tried our best. It was very physical, I'm worn out, we have to experiment a little bit tonight to see what we can do tomorrow and hopefully not just have the same story when we show up."
Ironically, while the race is sponsored by Chevrolet, Hondas finished in each of the top 6 positions and seven of the top 10. On the flip side, Chevys made up eight of the bottom 10 in the field.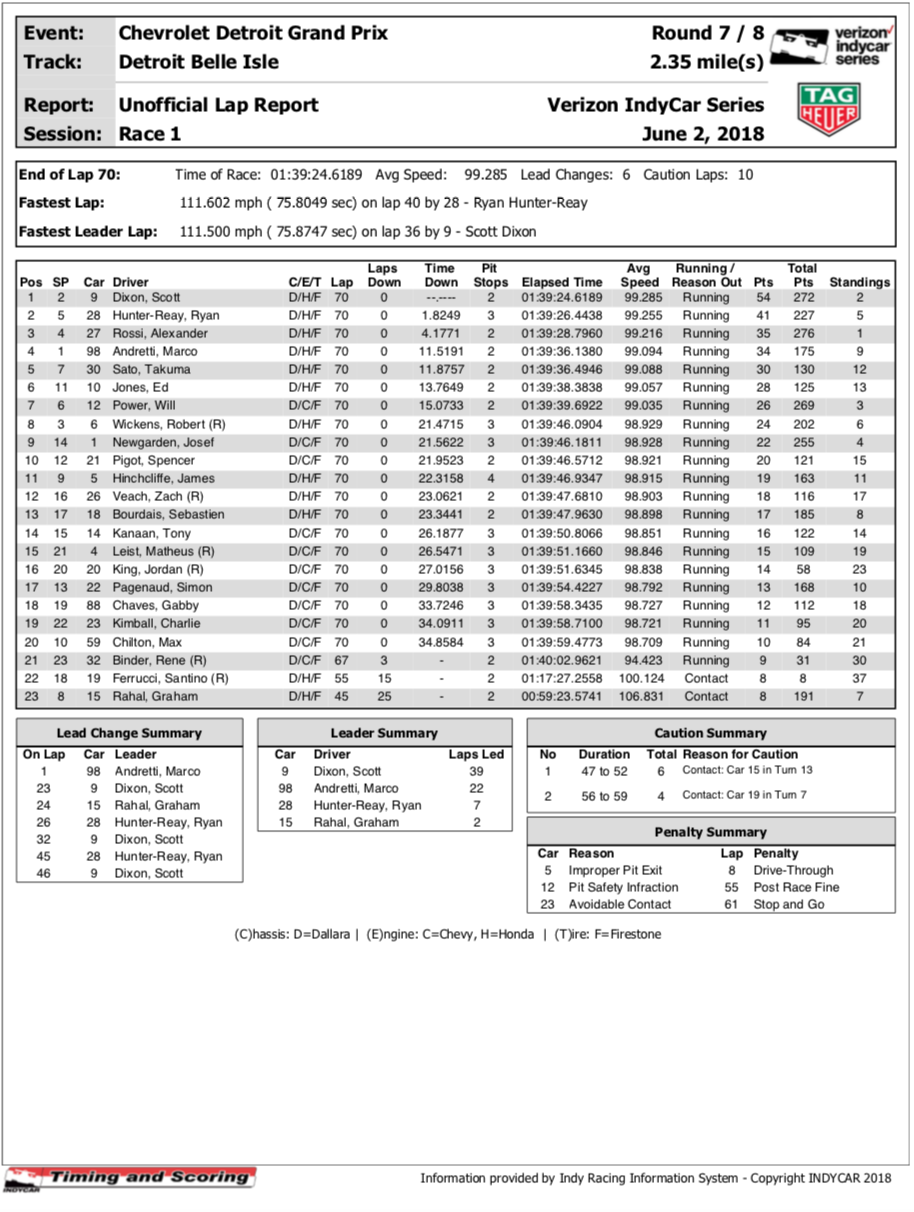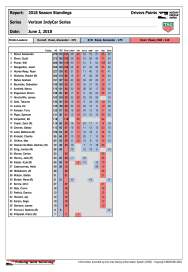 Andretti held the lead for the first 23 laps before pitting for the first time on Lap 24. Andretti appeared to pick up a vibration after the stop, when the team switched from black to red tires, but the issue appeared to resolve itself in subsequent laps.
Graham Rahal, who won both races in Detroit last year, assumed the lead until Lap 25, when he also pitted.
Rahal was the only driver to start the race on the harder black tire compound before switching to red tires in his first stop.
Hunter-Reay assumed the lead on Lap 26 and built as much as a nine-second edge until he pitted on Lap 33, yielding the lead to Dixon, who was one of just a few drivers in the race that went with a two-stop strategy.
Rahal saw his hope of repeating last year's two wins at Detroit disappear on Lap 47 when he hit hard into the Turn 13 wall in a single-car incident.
"Hard crash, I'm sorry, boys, I have no clue what happened," Rahal said over the team radio. "It snapped huge on the entry. No clue."
It's unclear whether Rahal's car can be repaired. If not, he'll have to go to a backup car and qualify Sunday morning without the benefit of any practice on the secondary ride.
Of note, Tony Kanaan finished 14th in his 350th career IndyCar start.
Among incidents in the race:
— On Lap 12 of the 70-lap event, Sebastien Bourdais came into Turn 7 a bit too hot and went into the runoff area, costing him three positions.
— The same situation occurred on Lap 46 when rookie Rene Binder also entered the Turn 7 runoff area. He was unable to get the car restarted, prompting the IndyCar safety team to respond to give him a hand.
— On Lap 56, Turn 7 once again claimed another driver and car. Rookie Santino Ferrucci, making his first career IndyCar start, was tapped from behind by Charlie Kimball, spun and hit hard head-on into the tire wall.