As the lone double-header on the Verizon IndyCar Series calendar, the Chevrolet Dual in Detroit always has a habit of leaving an impression.
This can often be literal – the bumpy Raceway at Belle Isle street circuit has been known to leave "impressions" (i.e. blisters) on drivers' hands afterward – but the event itself has also become a landmark event of sorts.
Since Roger Penske helped reinvigorate the event ahead of the 2012 season, the track and facility have been improved year and after year, and it's become a genuinely first-class event. Oh, and the racing has been pretty good too.
The current contract is up after this year, so the future of the event is uncertain – a report in the Detroit News detailed that no contact is currently in place for next year and beyond.
Regardless, this year's event was nothing short of a thriller across both races.
A look back at talking points to emerge from the weekend in Detroit are below.
Dixon, Hunter-Reay Put Sublime Skills on Full Display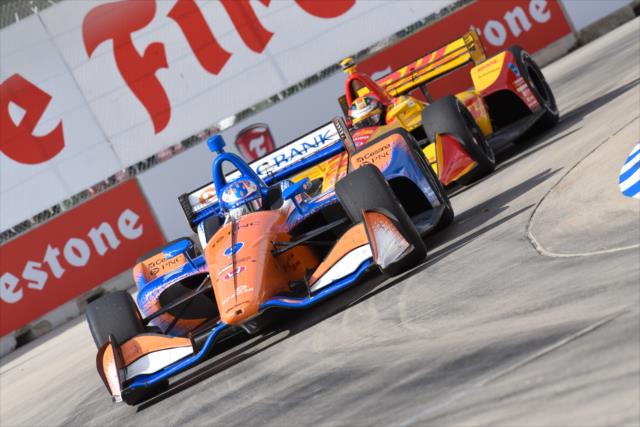 Scott Dixon and Ryan Hunter-Reay are undoubtedly two of the best drivers in the Verizon IndyCar Series. And with different styles as well – Dixon the calculated, cerebral type who, while unassuming, can easily seize control of any race, while Hunter-Reay is a hard-charger who seems to especially thrive when he's in maximum attack mode.
And their skills were perfectly on display all weekend in Detroit.
Dixon's Race 1 victory was classic Dixon. He leapfrogged early leader Marco Andretti during their first cycle of pit stops, and assumed the actual race lead once Hunter-Reay, on a different strategy, pitted on Lap 32, and he only surrendered the lead on subsequent rounds of pit stops, controlling the entire second half of the race.
And a pair of late-race restarts unsurprisingly failed to phase the driver nicknamed "The Iceman," who came through for his first win of 2018 in Race 1.
Though unassuming, Dixon's drive was methodical, calculated, and impeccable. And it netted him his 42nd career win, tying him with Michael Andretti for third on the all-time list.
"It's always nice (to win)," Dixon said after the Race 1 triumph. "I think right now, with the competition in the Verizon IndyCar Series, it's just through the roof. If you look back a few years, you can sort of run off five or six victories in a season, and it seems those days are pretty much gone. I'm super proud of everybody at Chip Ganassi Racing, and obviously PNC Bank's first victory."
Hunter-Reay, who charged to second on a three-stop strategy, enjoyed an equally strong race, but just came up one spot short. Race 2, however, delivered the outcome he desired.
Hunter-Reay's hard-charging style was perfectly on display again in Race 2. Starting 10th, he committed early to a three-stop strategy – he pitted on Lap 11 – and proceeded to run a race full of qualifying laps.
And that's not an exaggeration. Hunter-Reay's fastest lap in Race 2, at 1:15.059, would have qualified him second for Race 1 (note: Race 2 qualifying was held in the wet), and was one of several laps in the 1:15 bracket. In fact, that 1:15.059 lap was faster than his Race 1 qualifying lap, a 1:15.494.
And it produced a genuine thriller, as Hunter-Reay reeled in teammate Alexander Rossi in the closing laps. A duel for the win was cut short when Rossi locked up the brakes and went into the Turn 3 runoff area, but as fast as Hunter-Reay was, nothing may have gotten in his way.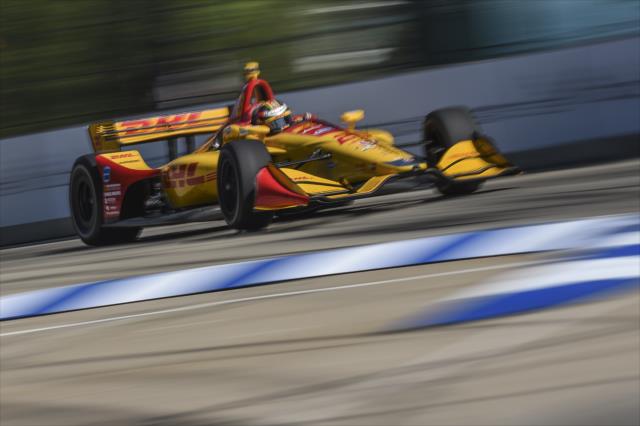 "I mean, it was — we were at times lapping, I think, a second and a half faster than anybody on the track, and that car definitely ended the race where it should be, and that's in Victory Lane," Hunter-Reay asserted afterward. "So really proud of the 28 DHL Honda team. These guys have worked really hard, but they gave me a great race car, the engineering side. I'm just really proud of what they've done."
And the races they didn't win this weekend were nothing to sneeze at either. Hunter-Reay was second in Race 1, while Dixon came home fourth in Race 2.
As it stands, they rank second and fourth in the championship – Dixon trails Will power by five points, while Hunter-Reay is 31 out of the lead. Each of these former champions could go on a title run as we near the second half of the season, so watch out of them.
Honda Sweeps Chevy's Home Race…Again
Graham Rahal's sweep of last year's Detroit event was also a sweep for Honda, and Honda drivers Dixon and Hunter-Reay made it back-to-back Honda sweeps over the weekend.
And this year's outing was particularly dominating for the Honda teams. They had the top six finishers from Race 1, and seven of the top 10, and six of the top 10 from Race 2, including five of the first six finishers.
Add in a GT Daytona victory for Meyer Shank Racing in Saturday's Chevrolet Sports Car Classic for the IMSA WeatherTech Sports Car Championship, and it proved to be a banner weekend for the Honda bunch.
"This is a great way to cap off a weekend of wins for Honda and Acura," said Honda Performance Development president Art St. Cyr. "To come away with two IndyCar victories, and taking five of the six podium positions (in Race 2), speaks to the strengths of our IndyCar program. In addition, we're celebrating another victory for our Acura NSX GT3, a double-podium finish for our ARX-05 prototype and a win for Honda at the Baja 500 (desert truck race). Congratulations to Scott for Saturday's win, the 42nd of his career, and to Ryan for his 'pure pace' victory (on Sunday)."
Given that Chevy/Penske driver Josef Newgarden a won a Honda-sponsored event earlier this year – the Honda Indy Grand Prix of Alabama – Detroit proved to be sweet revenge for Honda.
Championship Beginning to Take Shape
Yet another close championship fight could be brewing for IndyCar in 2018 if you look at the standings as the series leaves Detroit.
As previously described, Power leads Dixon by five points. Alexander Rossi sits third, 11 points behind Power. Hunter-Reay is fourth, 31 markers back, with Josef Newgarden fifth, 39 points back.
That's 39 points separating the top five, a scant amount given how quickly things can change. Sixth-place Robert Wickens is even within striking distance, at 77 points back. Graham Rahal sits seventh, 88 points out of the lead.
That's seven drivers separated by less than 100 points.
And with double-points again on the docket at the season-ending GoPro Grand Prix of Sonoma, no one looks poised to run away with it.
Misc.
The pair of races over the weekend were stereotypical Dr. Jekyll and Mr. Hyde. Race 1 – Dr. Jekyll – was relatively routine, with Dixon commanding the pace in the second half. And though a pair of late-cautions created some late drama, the victory was never genuinely in doubt.
Race 2 – Mr. Hyde – was quite a bit more dramatic. A pace car crash delayed the start by over 30 minutes. Spencer Pigot spun on Lap 1, while Sebastien Bourdais suffered a cut tire. Santino Ferrucci spun on Lap 22. Bourdais spun on lap 38. And, of course, there was the late-race dramatics between Rossi and Hunter-Reay. It continued a trend of double-headers in which one race is routine, while the other is the exact opposite.
Ed Jones had a much needed strong weekend after finishes of 20th, 22nd, and 31st since his third-place effort in Long Beach. Jones was sixth in Race 1, and third in Race 2 – his second podium of 2018. He now sits 28 points behind 10th place Simon Pagenaud.
Josef Newgarden had his first "off" weekend all year. He qualified 14th and 19th in each race (he even crashed in qualifying for Race 2), and while he salvaged ninth in Race 1 – albeit quietly – Race 2 was a small disaster that saw him finish 15th. It was the first time this year the defending champ seemed to lack pace, and it stands within reason to think of it as a blip on the radar. Nonetheless, it will be a weekend he'll look to put behind him.
Sebastien Bourdais put on a show in Race 2, and his charge from the back of field after the aforementioned cut tire was a thing of beauty. That it ended with a spin and a bent toe-link, the repairs for which put him 21st and three laps down at the end, was thoroughly undeserved.
The Verizon IndyCar Series returns to oval-track action this weekend, and high-banked oval track action at that, with the the DXC Technology 600 at Texas Motor Speedway (Saturday June 9, 8:00 p.m. ET on NBCSN).