Tom McEwen was both sly and smart as a fox, but it was the Mongoose in him that he'll always be remembered for.
He not only had a penchant for trash talking in drag racing, he also had the brains to back it up, becoming a hallmark of innovation that helped bring NHRA drag racing into the mainstream of motorsports in the late 1960s and early-to-mid 1970s.
McEwen may not have always won in head-to-head competition on the 1,320-foot quarter mile – he won only five NHRA national events in his career – but he would leave an indelible mark upon his rivals that they'd never forget.
A self-professed "BS-er," what McEwen lost on the racetrack he more than made up for with win after win in the corporate board room.
That's why today's NHRA drag racers – and by extension, NASCAR and IndyCar drivers – owe McEwen, who died Sunday at the age of 81, a great deal of gratitude.
McEwen was an idea guy, always thinking of ways to not only promote the sport, but also to promote himself. The greatest stroke of genius in his career was teaming with arch-rival – but also close friend – Don "The Snake" Prudhomme to form one of the greatest rivalries the sport has ever seen.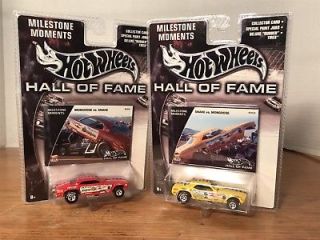 Even to this day, the McEwen-Prudhomme synergy that resulted in a multi-million, multi-year sponsorship from Mattel Toys' Hot Wheels brand is still talked upon in iconic terms as being "the deal" that really put NHRA and the sport on the motorsports map.
Prior to that, drag racing had been primarily a West Coast-based sport for the most part. It was to California, Arizona and Utah similar to what NASCAR back in the day was to the Southeast states of the U.S.
But with the match race rivalry that McEwen built with Prudhomme in the 1960s, he was confident the sport was prime to take national, and Hot Wheels cars were the vehicle.
I still remember getting my first Hot Wheels cars when I was about 12 years old. I was like millions of other boys – and a few racing-crazy girls – who reveled in each new colorful, four-wheeled piece of metal that we'd get for birthdays, Christmas, or just because our parents wanted to do something nice for us.
But when the Snake vs. Mongoose Hot Wheels cars came out, things were taken to a whole new level. Getting their Funny Cars were like hitting a kids-like Lotto. They were the best, fastest and most bad-ass looking cars we could ever want.
While the Hot Wheels promotion on the dragstrip lasted just four years, it continues to live on today, more than four decades later. Check out Ebay or collector forums, and Snake and Mongoose cars today remain some of the most popular finds there are.
And all that popularity began when McEwen one day had an idea that at the time was so far out of the box that some of his fellow racers thought he was, shall we say, crazy like a fox.
But McEwen had the last laugh. When he and Prudhomme went to Hot Wheels headquarters in Southern California to pitch an idea to use the colorful little cars to boost drag racing prominence, his genius brainstorm of an idea was quickly recognized by company officials – and the rest is drag racing and toy making history.
Oh, and let's not forget that all those tiny race cars, not to mention the big-dollar sponsorships on the sides of their real-size cars, not only made "The Mongoose" and "The Snake" household names, they also made McEwen and Prudhomme wealthy, successful beyond their wildest dreams both on and off the dragstrip.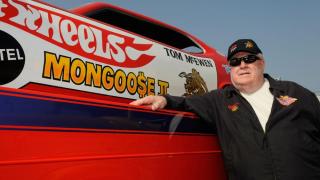 Hot Wheels also helped make McEwen and Prudhomme roll models for all those millions of boys and girls, which led to drag racing becoming such a popular sport both at racetracks, as well as influencing those kids-turned-adults to go out and buy their own street cars that continued their long-time emulation of Snake and the 'Goose.
I first met McEwen in-person in the mid- 1980s at ground zero of the NHRA drag racing world, Pomona Raceway (now AutoClub Raceway) in Pomona, California, about an hour east of downtown Los Angeles.
By then, his drag racing days were all but behind him. But he still proved to be a fascinating interview. I initially told him I wanted maybe 10 minutes of his time to do a story about his career, his famous nickname and, of course, his rivalry with Prudhomme.
Nearly 90 minutes later, he was still talking – as McEwen was noted for doing a lot of in his life. But it also was one of the most fascinating interviews I've ever had in my professional career.
The thing that struck me the most in that interview was how McEwen recalled how he came up with all of his ideas over the years.
I mean, they were fairly simplistic ideas, making him the first guy to typically think them up, and then went on to put them into place.
McEwen could be gruff at times, but he also had an incredible wit and a sense of humor that left you hard-pressed to know where the truth ended and the BS-ing began, as he liked to put it.
Still, McEwen was a true character, one of the larger-than-life personalities that made the sport and the NHRA so successful over the years. While NHRA founder, the late Wally Parks, is credited for making the sanctioning body what it is, the NHRA owes McEwen a lot for all he did to grow the sport and bring more attention to it.
For if it wasn't for McEwen's out-of-the-box thinking with Hot Wheels, the NHRA we know today likely would not be anywhere as successful or significant in the motorsports landscape as it has become.
Rest in peace, Mongoose.