Texas Motor Speedway has long been a controversial venue for the Verizon IndyCar Series. Initially so for the incredibly close, and at times frightening, pack racing that featured cars side-by-side, several rows deep, for lap after lap, recent years have seen a swing toward car setup and tire management defining the action more so than pack racing, though the debate has raged on about the quality of the show and its entertainment value.
Saturday night's DXC Technology 600 was yet another chapter in that controversial debate, as the universal aero kit made its debut on the high-banked 1.5-mile oval. Indeed, it was far from a pack race, but pre-race concerns about passing, with some fearing the race would be "boring," ultimately proved somewhat exaggerated.
The 600-kilometer affair was plenty entertaining, with action all over the place from the getgo.
A recap of Saturday night's DXC Technology 600 is below.
Car Setup, Strategy, and Overtaking Combined for an Impressive Show
As previously described, Saturday night's Texas race was not a pack race. But that didn't mean it was boring, and there was passing aplenty throughout.
Zach Veach charged from 16th on the grid to run inside the top five in the first 100 laps. Marco Andretti put on a similar charge, also getting inside the top five in the first half of the race after starting 11th.
Alexander Rossi was his usual, hard-charging self, and he made particular use of lapped traffic to make up positions.
Pit strategy also shuffled the leaders around in the opening stints. Josef Newgarden led early, then Simon Pagenaud assumed the lead on Lap 73 after the first round of pit stops. Robert Wickens then made a pass on Pagenaud to take the lead on Lap 97.
And Scott Dixon then assumed the lead on lap 132 following a round of stops – he pitted a lap earlier than Wickens, and used a lap on fresher tires along with quick pit work to assume the lead.
And though Dixon dominated from there, the racing behind him was pretty frantic, as evidenced by the clips below.
And the drivers felt like the show looked good from where they were sitting.
"We passed a lot of cars," detailed second-place finisher Simon Pagenaud. "It was a different kind of racing than what you've seen last year. I felt safe. I felt like I was really driving the car, really taking care of my tires, like I said. I had to think about what I needed. To me, that's racing. To me, that's the quality of being a racecar driver. I don't know about the show because I got to watch the race. But to me it was pretty active. It felt pretty good."
Race winner Dixon explained that the concerns raised in practice about a lack of grip came from running in the heat of the day, and the night time conditions were always going to yield more grip.
"It's always tough at Texas because we do our practices during the heat of the day. The track changes significantly once we get to the nighttime. Once the track temp goes down, the grip really comes up. I had that sensation at the end of the last practice last night. Once the track temp started to come down, the grip level really came up. I knew it was going to be a pretty good situation for the race," he explained.
While the package for Texas continues to be somewhat of a moving target – unsurprisingly, given that it is the only high-banked oval on the schedule – Saturday night's race was thoroughly intriguing throughout all 248 laps.
Dixon Cements Legendary Status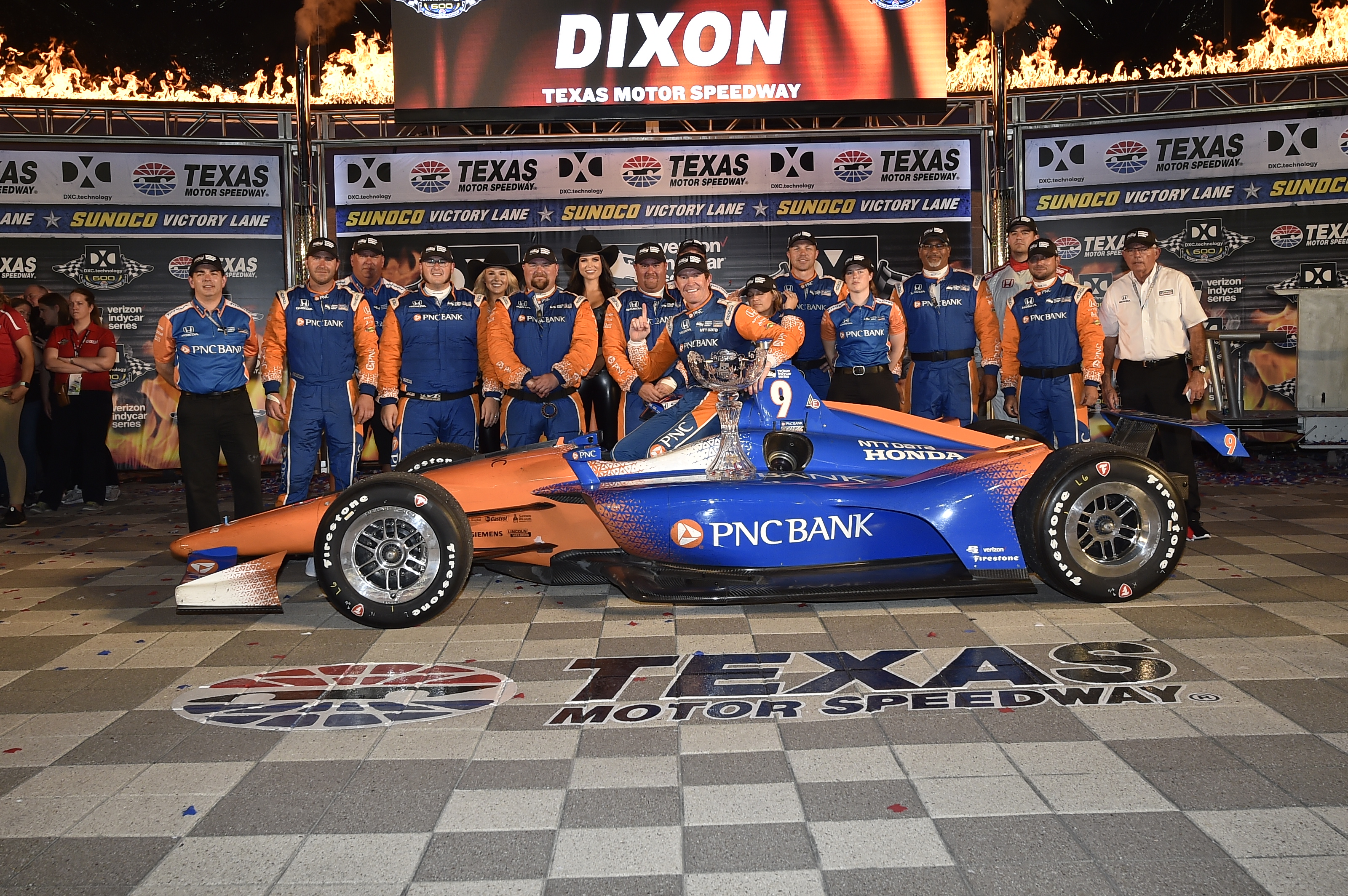 The legend that is Scott Dixon grew slightly more on Saturday, and not just because of the manner in which he won – it was another classic Dixon race in which he methodically worked his way forward after starting seventh and dominated after assuming the lead to make winning look almost easy.
Dixon's legend grew because of where the win places him on the all-time win list now. Winning Race 1 of the Chevrolet Dual in Detroit tied him with Michael Andretti for third all-time with 42 victories, and Saturday night's triumph broke that tie to put Dixon into third place all by himself with 43 wins.
As such, the only two drivers ahead of him now are named A.J. Foyt (with 67 wins) and Mario Andretti (with 52 wins). Add in a pair of overall wins at the Rolex 24 at Daytona (2006 and 2015), along with a GT Le Mans class win in 2018, and Dixon has a lot of accolades on his resume…and those accolades legitimately place him among the sports all-time greats.
Humble as always, Dixon expressed gratitude for simply being able to race for a living, and he highlighted that being mentioned alongside Foyt and the Andrettis is icing on the cake.
"It's really cool. Obviously I have massive respect for a lot of these drivers. But when you look at those names, A.J. Foyt, Mario Andretti, Michael Andretti, the Unsers, to me it still seems very strange that 'Dixon' is on that list, too," he revealed. "I feel very privileged and lucky to do what I get to do. I love racing. I love the Verizon IndyCar Series. I think it's the best racing on the planet, one of the most difficult with all the disciplines. For me, man, I just hope it continues. I hope we can keep a winning style, pick up wins. It's so difficult right now it's so competitive."
Dixon turns 38 in July, and though the number suggests he's on the back end of his career, Dixon ain't slowing down…at all. And there's no telling what numbers he may amass in the remainder of his career.
Misc.
He continues to be overshadowed by teammate Robert Wickens, but James Hinchcliffe put in another solid drive on Saturday night to finish fourth. Not qualifying for the Indianapolis 500 will undoubtedly leave a big black mark on his season, but his results outside of that look like this: fourth, sixth, ninth, third, seventh, 11th, 16th, fourth. If not for Indy, Hinch may well be battling for a top five spot in the championship picture. Wickens may be stealing the headlines, but James Hinchcliffe is not to be forgotten.
The aforementioned Zach Veach and Marco Andretti suffered horrible luck in Texas. Veach brushed the wall, damaging a toe link, while Andretti suffered a broken clutch during a Lap 125 pit stop. Their misfortunes left them in 14th (Andretti) and 16th (Veach) on nights when they surely would have battled inside the top five. Both deserved better than the misfortune they suffered.
Charlie Kimball now has back-to-back top 10s for Carlin Racing – he finished eighth in Detroit Race 2 and 10th in Texas. Given that Carlin is still adapting to IndyCar competition, it's a pair of solid results that show the team is making nice progress.
With that, the Verizon IndyCar Series takes a week off – though drivers like Scott Dixon, Tony Kanaan, and Sebastien Bourdais are headed to the 24 Hours of Le Mans as part of the Ford Chip Ganassi Racing effort – with the next IndyCar event being the KOHLER Grand Prix at Road America (June 22-24).