Don "The Snake" Prudhomme is heartbroken following the death Sunday of best friend, business partner and racing rival Tom "The Mongoose" McEwen.
"Tom was like a brother to me," Prudhomme told MotorSportsTalk in an exclusive interview Tuesday morning. "We fought, argued like hell, and we laughed like hell, like brothers.
"That was pretty much our whole 60 years together. That was always a cool thing, our relationship."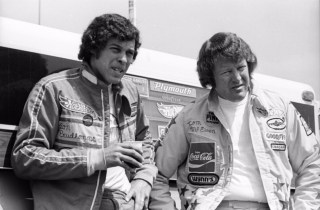 Prudhomme wasn't kidding about McEwen being like a brother to him. Prudhomme lost his only brother many years ago. McEwen was there to console him and assumed a big brother type of role to Prudhomme – four years younger than McEwen – from then until his death on Sunday.
"Basically, Tom became my brother after that," Prudhomme said. "We spoke constantly on the phone, every day, for 60 years.
"I'm really going to miss him. We were like an act together, you know? We were a couple of characters, a couple of kids that found a way to make a living in drag racing, and largely because of him with his great mind that he had as far as marketing and promoting ourselves.
MORE: Drag racing legend Tom 'The Mongoose' McEwen dies at 81
MORE: Column: How 'Mongoose' McEwen turned Hot Wheels into sheer genius
"Not only did he do a lot for me, he did a lot for drag racing. He showed me and people that are racing today that you could go out and get sponsors and turn our sport into a legitimate motorsport. He was one of the guys that really made that happen."
Prudhomme revealed that McEwen died at the age of 81 due to complications following recent colon cancer surgery.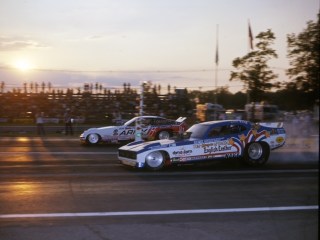 "They operated and got the cancer out, but he had complications after that," Prudhomme said. "Basically, he died from complications of the operation."
McEwen not only had a great mind for marketing and promotion within the sport, he also had a big heart, helping countless drivers throughout his career and life.
Sadly, though, that loyalty to everyone else came at a cost.
"Tom, as much as I loved him and as much as he looked after other people including me, he didn't look after himself very well," Prudhomme said. "He was more concerned about how someone else was doing than how he was doing. That was his nature."
While they were friends for six decades and on-track rivals for more than 30 years, McEwen and Prudhomme were perhaps best known for their sponsorship by Hot Wheels from Mattel Toys in the early-to-mid 1970s.
Mattel had a marketing bonanza on its hand that still continues today with the same Hot Wheels brand. It was McEwen who, along with Prudhomme, approached Mattel in 1969, trying to convince the company to back their racing efforts. The rest became drag racing and toy history.
While Prudhomme won multiple championships and races in both his NHRA Funny Car and Top Fuel careers, McEwen won just five NHRA national events, the biggest being Mongoose's upset win over the Snake in the 1978 U.S. Nationals in suburban Indianapolis.
Prudhomme first met McEwen in 1958 at Lions Dragstrip in Long Beach, California.
"I remember it like it was yesterday," Prudhomme said with a chuckle. "I was in a car club called the Road Kings of Burbank, and in the club there was a guy named Tommy Ivo (known in drag racing circles as "TV Tommy Ivo" because he was also an actor), who was quite a racer.
"Ivo had a roadster to push his dragster to the starting line and I drove the roadster. Mongoose came up to me and said, 'Hey, can I ride with you?' And I said, 'No kid, you've gotta ask Ivo.'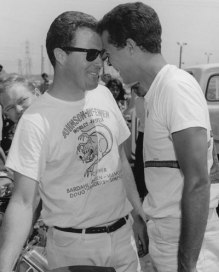 "So I threw him out and wouldn't let him ride down the track with me. To this day, he always brought it up how I just blew him off (Prudhomme said with a laugh).
"That's the first time I met him, and for some reason or other, he and I became instant friends. We were complete opposites. He had money and I painted cars in the San Fernando Valley.
"We just clicked together. We could go into a sponsor and the two of us, for the most part, would crack a joke and the sponsor would like it. We were an act, we fed off each other. Even today, if we'd go to a press conference or sign t-shirts and stuff, we always had a way to get the crowd laughing and having a good time."
Prudhomme had a very poignant answer when asked how he will best remember McEwen: "Every time my name, Snake, comes up, I'll remember it because there's a Mongoose that's attached to it. We're forever embedded in each other."