Other drivers may be dominating their championships or garnering more headlines for their driving flare, but few have had a more impressive start to their season than Parker Thompson in the Pro Mazda Championship Presented by Cooper Tires.
Thompson is the only Pro Mazda driver without a bad finish to his name – his worst finish in 2018 is fifth (on two occasions) and he has five podiums already in the first seven races, highlighted by three wins. Everyone else has at least one finish of 10th or worse.
His most recent triumph, at Lucas Oil Raceway in the Cooper Tires Freedom 90, may be his most impressive, as he sprinted away from the pole and led all 90 laps, taking a thoroughly authoritative win.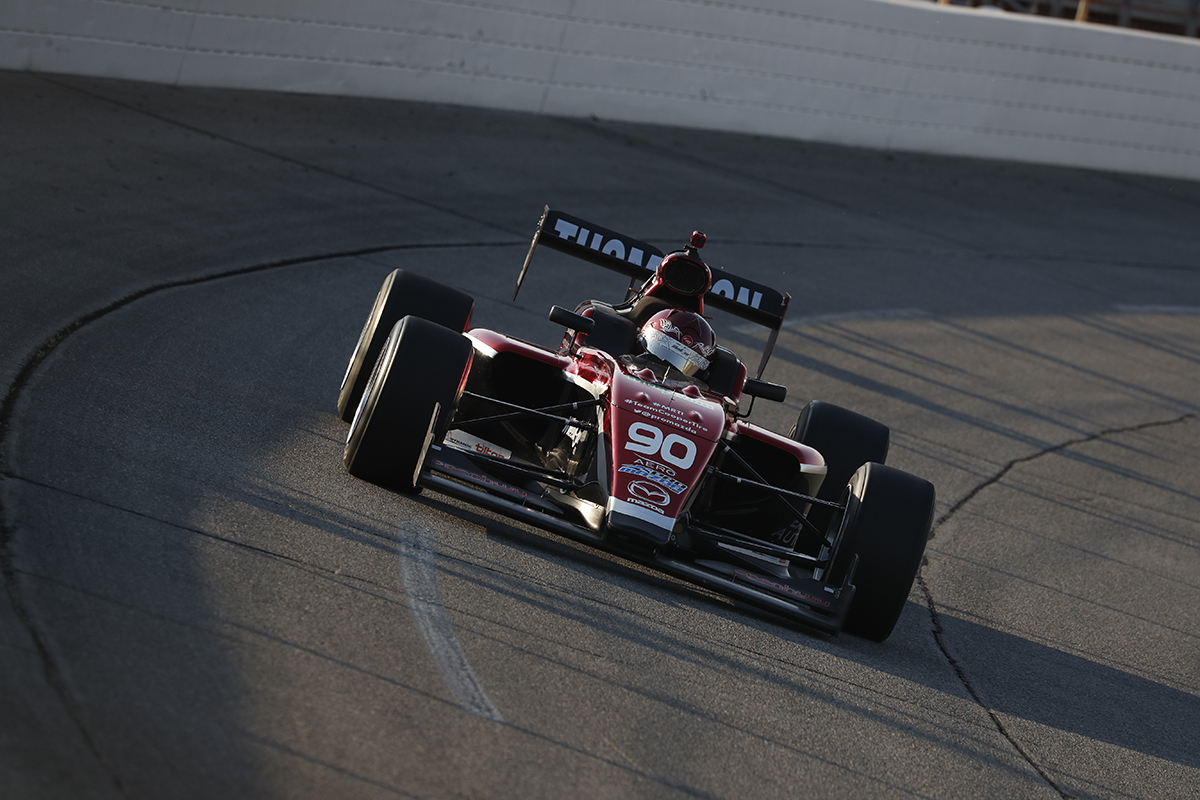 It was a display of pure dominance, but it wasn't exactly easy. Thompson had to fight hard with lapped traffic at the end, which allowed Juncos Racing teammates Carlos Cunha and Robert Megennis, running second and third, to close in.
Thompson explained that the lapped cars produced a unique challenge, in that he had to play it somewhat safe, but had to balance that with the knowledge that his rivals were fast approaching, as he detailed to NBC Sports.
"It seems like lapped cars are always going to fight the leader harder than when they fight second or third place. So as you approach lapped cars, they don't want to go a lap down, because if a caution comes out, they have chance to get their spot back. At the same time, it always seems like they fight the leader harder than they're going to fight second or third, because once they're lapped, it doesn't really matter anymore. So, it was really about feeling it out," Thompson said of handling lapped traffic.
But, he navigated the traffic flawlessly to take the victory that night, his first win on an oval, and one that was a bit of redemption. In 2016, while competing in the Cooper Tires USF2000 Championship powered by Mazda, Thompson led at Lucas Oil Raceway, but ultimately lost out to then teammate Anthony Martin (both ran with Cape Motorsports that year) because of traffic.
Thompson explained that getting such redemption was a nice personal hurdle to overcome.
"I think you saw a more aggressive Parker Thompson than you normally would in lapped traffic, and we got the job done. In terms of a mental hurdle, it was pretty huge not only to get my first (oval) win, but to also bury the hatchet and get some redemption from the 2016 championship when I lost out at Lucas Oil," said the native of Red Deer, Alberta, Canada.
The win is the second in a row for Thompson, and the third of the 2018 season, and it all comes with a team that is very new to the Mazda Road to Indy.
Exclusive Autosport, which like Thompson is based in Canada, has a slew of F1600 championships in Canada, but only joined the MRTI last year, running in USF2000 with Thompson as one of their drivers.
The combination moved up to Pro Mazda together for 2018, and fields a team car for Antonio Serravalle, while continuing a USF2000 effort with Manual Cabrera, Igor Fraga, and Jayson Clunie.
Despite their relative inexperience in the MRTI, the team has quickly become a regular frontrunner, and Thompson asserts their history in Canadian F1600 as a strong foundation on which they've been able to build.
"It's a very interesting question: How does a team adapt (to a new series)? I think overall there's a winning formula, and I think Exclusive Autosport knows the winning formula. They've exemplified that in F1600, they've dominated Canadian F1600 for the last decade really."
Further, Thompson highlighted exemplary efforts from the team's crew members, all of whom have completed their jobs impeccably so far and are driven by a common goal: winning.
"I don't think there's a group of guys in the paddock that want to win races more than that group of guys, and then myself included. And when you put five or six guys that want to win more than anyone else together, we find a way to win and I think that's what you really see this year."
Their 2018 success is made all the more impressive considering the program came together somewhat late. While Thompson's Pro Mazda effort were confirmed back in February, he explained that dotting the i's and crossing the t's of their budget took all the way up until the start of the season.
"It took all the way up to St. Pete, and it's still taking time," Thompson quipped. "There's expenses in racing that come up that are unforeseen, so I'm constantly working behind the scenes to still try and raise money so that we can compete for the championship. It takes a lot of money to compete at the top level. You look at all the expenses, and tires, and just unexpected costs. But, at the same time, we've got a pretty solid program, and I'm just happy to be where I'm at with Exclusive Autosport."
Fortunately, everything looks good for them to run a full season without issue. In this area, Thompson added that team owner Michael Duncalfe has been an enormous resource to help bring more money into their budget, and Thompson feels he's gone above and beyond what you typically see from a team owner.
"I'm very proud to work with Michael, he's treated me extremely well as a race car driver and he treats all of the Exclusive Autosport drivers well," Thompson revealed. "He works with us and even sometimes when the money gets tight, he's always there to help out. And he's been able to find sponsors to help me out this year. You don't find too many team owners in the paddock helping drivers find money to race."
Thompson's driving success is also down to how he and the team have meshed with the new Tatuus PM-18 Pro Mazda chassis. Based on the USF-17 in USF2000 – the two share the same base chassis – the PM-18 has more sophisticated aero, a more powerful engine, and other modifications.
It is a big step up from the USF-17, but one that Thompson says fits him very well.
"With more downforce and more horsepower, you're trying to get into the corners harder and you're getting on the throttle sooner and more aggressive, with more power. So, I think that has really played to my advantage," he detailed. "In USF2000, you really have to be polite to the car. You had to roll the speed, you had to drive it smooth in a certain way. In Pro Mazda, you can really get aggressive. And I think that suits my driving style that much more."
As it stands, Thompson heads to next weekend's double-header at Road America with a 40-point lead over Carlos Cunha. And while Thompson admitted that his primary focus is on winning races, he is acutely aware of his championship standing and isn't going to take any undue chances.
"Obviously, I don't want to crash the car, so I'm not going to take unnecessary risks that are just going to end up costing myself and my sponsors more money. But I'm definitely going to take risks that have the reward of a race win, and if I think that I can get a race win, I'm definitely going to take it."
Further, Thompson may ultimately need the Mazda Motorsports Advancement Scholarship the Pro Mazda champion gets if he is to keep his career going and move on to the Indy Lights Presented by Cooper Tires championship.
While it's possible a team could have the budget to sign him without the need for extra funding, the Canadian driver does not have a limitless budget, and the $790,000+ scholarship prize borders on a necessity.
"As it stands right now, the only way I will be racing Indy Lights next year is if I win the Pro Mazda championship, so that is 100% my goal," he revealed. "And to be completely honest, I'm in a very similar situation as I was last year in that I don't know my plans for next year (at the moment). I don't want to think about finishing second, because that's not an option for me at this point."
Thompson had a pair of fifth place efforts last year at Road America, while competing in USF2000, and will look to improve upon them in Pro Mazda next weekend.