Like many of his contemporaries such as Don "The Snake" Prudhomme and Kenny Bernstein, NHRA Funny Car legend John Force is also devastated by the death of Tom "The Mongoose" McEwen, who passed away Sunday at the age of 81.
Force issued a lengthy and emotional statement Wednesday morning recalling his close relationship with McEwen, one that lasted over the last 40-plus years.
MORE: Don "Snake" Prudhomme on Tom 'Mongoose' McEwen: "Like brothers" for 60 years
MORE: Drag racing legend Tom 'The Mongoose' McEwen dies at 81
MORE: Column: How 'Mongoose' McEwen turned Hot Wheels into sheer genius
Force last spoke with McEwen nearly a month ago after McEwen left a message on Force's cell phone voicemail, wondering why Force had three big motor explosions, as well as three crashes related to those explosions.
"Force," McEwen said, "are you trying to kill yourself?  Let's talk, call me."
When McEwen talked, Force always stopped to listen.
"He could do that," Force said. "I know I don't listen like I should because I'm always too busy talking about my kids or my sponsors or something else, but I would always listen to Mongoose.
"He'd be honest. If he thought I was screwing up, he'd tell me. Sometimes it would piss me off, but when I thought about it, he was usually right. He didn't pull any punches. He knew the life."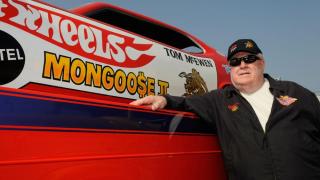 McEwen not only was a formidable opponent to Force early in the latter's racing career, he also was also a mentor to Force, particularly when it came to attracting sponsorship for Force's Funny Car.
"He was a hustler," Force said of McEwen. "He was the first marketer (in drag racing). Kenny Bernstein and Raymond Beadle, they sold the sport to corporate America, but Mongoose in my opinion was the first. He was the one who showed the way.
"He was one of the guys who taught me how to chase money and that the sponsors always had to be taken care of.
"Back in the early days he taught me how to talk to the racetrack promoters and what they really expected of me as a race car driver. Tracks like Irwindale, Orange County, Seattle, Bakersfield, Fremont and Phoenix, they wanted a showman, a fast talker, tire smoking, hot cars, and story teller, and he was the king.
"(McEwen) would always tell me like it was and I'm telling you, he was the PT Barnum of drag racing. When I won my first round at an NHRA event in Baton Rouge, all he said was 'Johnny boy, I'm proud of you.'"
Force then launched into his own personal eulogy of McEwen.
"Drag racing never would be where it is right now without the Mongoose," Force said. "My kids would never have the kind of opportunities they have, or the lives they live.
"It's very emotional for me because I'm losing all my heroes Gene Beaver (Force's uncle), Keith Black, Joe Pisano, Raymond Beadle, (Dale) Armstrong, (Steve) Plueger, and now Mongoose.
"I know (death is) going to happen to all of us; we ain't getting out of this alive. But this one is really hard because, to me, the Mongoose was invincible. He loved drag racing, he loved the fans and he loved life.
"He would come to my shows for hours and sign (autographs) for the fans. When I was 16 at Lions Dragstrip (in Long Beach, California), I knew that all I wanted was to race but I knew it was impossible.
"But when I saw Hot Wheels with Snake and the Mongoose years later, I saw that you really could make a living in this sport. Mongoose put us on the map.
People who never heard of John Force know about the Snake and the Mongoose. That's how big they were.
"We all learned from him and right to the end he was still so big in the sport. People who never heard of John Force know about the Snake and the Mongoose. That's how big they were.
"I was emotional after hearing of his passing while at Richmond (this past weekend's most recent NHRA national event), because the Mongoose was a racer that took care of so many, including me. He loved the sport, he loved his family, he loved his friends, he loved his fans and NHRA drag racing."
Force admits he has one regret over McEwen's passing: "I realized something that I had missed. I never said I loved him, but I always did."
But Force also takes consolation in knowing McEwen's legacy and impact upon the sport will continue to be felt for a long time still to come: "Heroes live on, but legends never die."
Follow @JerryBonkowski