If you hear Zach Veach humming or even singing The Beatles' "Penny Lane" this weekend at Road America, there's a jolly good reason for it, as they say in England.
Much like the way teammate Alexander Rossi has nicknamed his car "Baby Girl," Veach has nicknamed his road and street course car "Penny Lane," thanks in part to his girlfriend being a huge Beatles fan who has helped Veach also become a fan.
The Stockdale, Ohio native also has a nickname for his speedway car: "Lucy In The Sky With Diamonds."
Veach has had a tough rookie season in the Verizon IndyCar Series. He comes into this weekend's Kohler Grand Prix in Elkhart Lake, Wisconsin, ranked 15th in the standings with 147 points, but an already massive 210 points behind series leader Scott Dixon.
He could easily sing The Beatles' "Help!", given how the season has gone so far.
The 23-year-old Veach's best finish – and only top-10 showing thus far in 2018 – has been fourth at Long Beach – in "Penny Lane" of course, a finish he hopes to equal, if not improve upon, Sunday in central Wisconsin.
He's struggled since Long Beach, though, failing to finish higher than 12th in the following six races: 13th at Birmingham, 23rd in both the Indianapolis Grand Prix and Indy 500, 12th and 13th at Detroit's Belle Isle and 16th at Texas.
He also finished 16th in each of the season's first two races at St. Petersburg and Phoenix.
But Veach hopes to be singing another Beatles song on the 4.048-mile road course: "Twist and Shout" in hopes of having a strong finish on the twisting 14-turn kettle moraine course.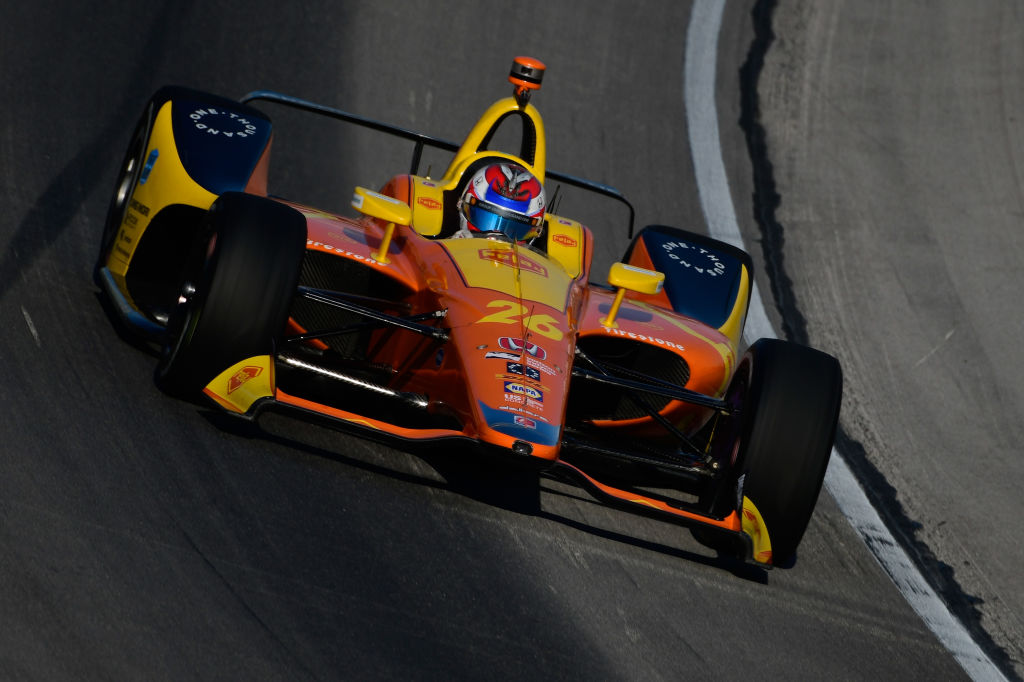 Veach has a good reason to be optimistic for success at Road America.
"Road America has actually been pretty good to us in USF 2000 and Indy Lights," Veach said. "I think we have four or five podiums there. In 2016 (racing for Belard Auto Racing), we set the track record in Lights, won the first race and finished third in the second. I'm hoping that speed continues (in Sunday's IndyCar race)."
While he acknowledges this season's struggles thus far, Veach also knows he's learning and improving.
"I think the biggest thing is the braking capabilities of the Indy car," he said. "You're going from steel rotors (in Lights) to carbon pads. Honestly, it feels like you can brake 150 feet deeper going into a corner with an Indy car, but at the same time, you're also going into that corner 40 to 50 mph faster in an Indy car than in a Lights car.
"Our first year in Indy Lights wasn't anything spectacular, and then we came back and almost won a championship. I think that's just the way I go about things. I take inches at a time instead of miles, but I feel like we're getting to that point where we need to be in IndyCar."
Veach is no stranger to Andretti Autosport, having raced with the team from 2010 to 2014 and then signed a three-year contract to drive in the Verizon IndyCar Series last fall.
"To have the opportunity to race with Andretti is almost perfect for me as far as growth and development," Veach said. "With the three teammates I have and the skill and experience they have, it's allowed my learning curve to accelerate that much quicker.
"That's the tough thing. It's a rookie season and when I look back at it and look at numbers, you may say things didn't look good at certain races. But when I look back at them, I say to myself where that's when I did my best fuel save, or that's when I figured out how to fix an issue with braking. There's so much I've picked up.
"But I feel like these last two race weekends have been arguably the most comfortable I've felt. Detroit, I was looking so great for 12th and 13th, and Texas, racing from 16th to 3rd and then I made a mistake (finished 16th). I finally feel confident enough to say I can race these guys and can race them hard and the car is finally starting to feel small, if you want to say that, like I'm driving the car instead of being stuck behind somebody else."
While he's learned from all of his Andretti Autosport teammates — Rossi, Marco Andretti and Ryan Hunter-Reay — Veach feels he is closest to fellow young driver, Rossi.
"We're both on the younger side of the spectrum of our teammates," Veach said of Rossi. "And he's the newest guy learning IndyCar, so he got that experience a little sooner than the other guys as far as time.
"For me, I'm in much the same position he was in two years ago. He's been real helpful in helping me get up to speed."
With eight more races remaining in the season, Veach's primary goal is to finish his first full IndyCar season in the top-10. He's currently 66 points behind the 10th-ranked driver, teammate Marco Andretti.
"If we could be top-10 in the championship, that'd be great, that's what we're hoping for," Veach said. "We want to try and be consistently in the top-10 in the second half (of the season) in race results, too. And if we could get some top-fives, that would be fantastic.
"We just have to keep improving on qualifying, which shows how well you understand the car and how you can get the most out of it. I feel our race speed has been good, but when you're starting at or near the back, it's hard to move forward."
Even so, there's still good reason for optimism for Veach.
"Andretti always gives its drivers some of the best cars, so at the end of the day, it comes down to you learning as much as you can and learning as much as you can get out of a race-winning car," he said. "I've just been lucky. This is my sixth season with Andretti if you count the ladder series, and it always has felt like a family."
And if he has a strong finish Sunday at Road America, don't be surprised if Veach hums or sings another Beatles song, "I Feel Fine," as he leaves the legendary road course.