It would be hard to top the month of May that Colton Herta is coming off of.
The 18-year-old, now in his second year competing in the Indy Lights Presented by Cooper Tires, enjoyed a sweep of the three Indy Lights races at the Indianapolis Motor Speedway, winning both events on the IMS Road Course – charging through the field to do so (he fell back as far as sixth and fourth between Race 1 and Race 2) – and outdueling Andretti Autosport stablemates Pato O'Ward and Dalton Kellett to win a frantic Freedom 100.
In short, it was a near perfect month for the young Herta.
"It's super special to win in Indy and to get to do the triple there at a place that's so nostalgic, it's a pretty cool feeling," Herta told NBC Sports about his Indy success.
And all three wins were thrilling drives in which Herta spent the entire time battling with rivals – Santi Urrutia on the IMS Road Course, and the aforementioned O'Ward and Kellett, along with Urrutia as well, in the Freedom 100.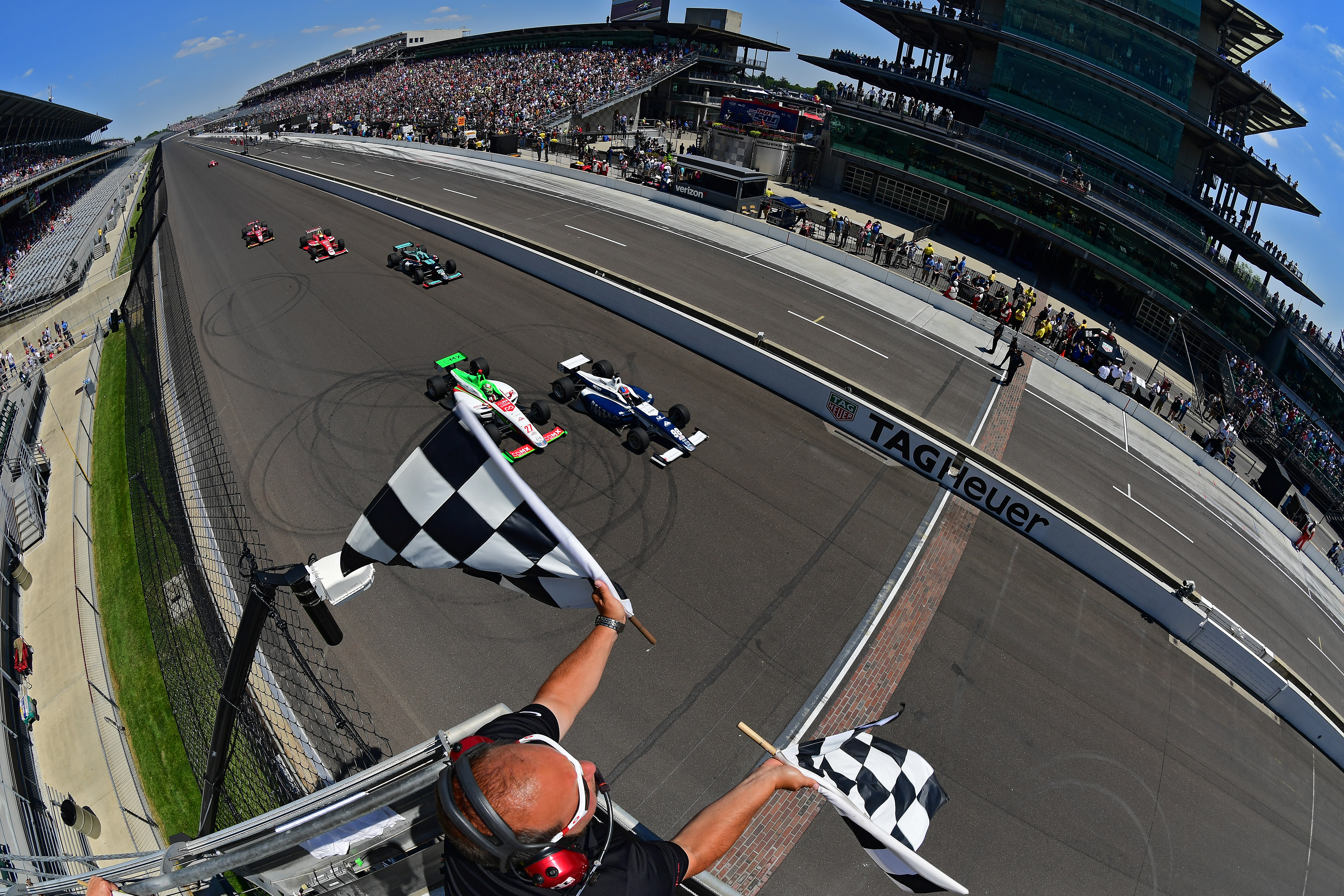 Herta is no stranger to winning – he won twice in 2017 (Race 2 at St. Petersburg and Race 2 at Barber Motorsports Park) – both times in dominant fashion.
As he explained, it isn't necessarily more challenging to dominate a race versus battling rivals the entire way, but different mindsets are required to survive each.
"It's a different skill set," he asserted. "Obviously when you start up front, there's a lot more pressure to perform, so it's more about managing the gap to the guys behind. Whereas you're not as nervous when you're in the back of the pack, because you can't go any further back. So there's less nerves going into the race, and it's more about attacking the whole time and taking more risks."
In discussing his Indy victories more, Herta detailed that outdueling opponents in intense battles – like the ones at Indy – comes down to thoroughly analyzing one's opponents and making aggressive, yet smart passes.
"You can see what the guys are doing ahead of you, and obviously if you follow them for a lap or two you can see where they're struggling and you can make up ground on them," he explained. "And that's the biggest thing: going for an overtake that you can make – especially when you're in the running for a championship fight like this – going for an overtake that you know you can make without taking a massive risk, and kind of seeing the tendencies of the car in front of you and where they're struggling and when you're making up time."
Herta's run of recent success comes as more evidence of a driver who appears to be more polished than he was last year. While blisteringly fast – Herta captured seven poles in 2017 – there were also a number of errors that kept him from making a more serious championship challenge.
Though Herta began 2018 with a somewhat ominous crash in Race 2 at St. Pete, the rest of his season has been much cleaner. He finished third in Race 1 at St. Pete and second and third at Barber Motorsports Park before his run of victories at IMS.
Still, despite the appearance of a more polished driver, Herta explained that his approach is no different than it was in 2017.
"Not much has changed," he asserted. "The mindset obviously is still the same because, especially with a (seven car field), you need to win races and you need to win quite a few of them to win the championship. (Staying out of trouble is about) just kind of settling in and knowing that a second or third place, or even a fourth or fifth place, isn't terrible to take every now and then."
And because the field in Indy Lights is small this year – only seven cars are entered at Road America – Herta revealed that maintaining a hard-charging style and going for race wins is paramount, in that the small fields make it harder to gap competitors in the title hunt.
"It's hard to create a gap. On a bad day, you're still going to be closer (to the guys ahead of you). Like Pato O'Ward in Indy (on the road course) had an awful weekend and finished in the back in both races (fourth and seventh), but I'm only at a (six point) lead. It's tough to get ahead, so you want to minimize mistakes. It's tough to make a gap, but it's also tough to fall behind."
As such, Herta is most certainly focused on bringing home an Indy Lights crown in 2018, which would propel him into the Verizon IndyCar Series, but he isn't putting undue pressure on himself to force it to happen.
"In the second year, you have to get it done, and it's tough to move up to IndyCars without that $1 million scholarship. So yeah, it's important, but there's no need to put more pressure on myself for how it is. I just got to keep doing what I'm doing, keep my head down, and if we can replicate what happened in May more and more, we should be in IndyCar next year," he detailed.
And a potential move to IndyCar is certainly on the minds of Herta and Andretti-Steinbrenner Racing, even if the Indy Lights title ends up in the hands of someone else.
"We are thinking about it for sure, and we have some sponsors already committed on this year that I think we could bring up into IndyCar," Herta revealed. "But, if we win the Indy Lights championship, we're going to race (IndyCar), whether it's the four races that we're given or whatever it may be."
Herta will look to improve upon his results from last year at Road America, where he finished 12th in Race 1 and third in Race 2.