It's hard to believe that the French Grand Prix, the oldest grand prix event on the planet, as it dates back to June of 1906, was ever removed from the Formula 1 calendar.
Alas, not since 2008 at Magny-Cours has Formula 1 held a race on French soil. Yet, that all changes this weekend, as Formula 1 visits the Circuit Paul Ricard for its first French race in a decade.
Formula 1 teams are not strangers to Paul Ricard. It has been a popular testing facility for years, as evidenced by the below photo from 2016, featuring Sebastian Vettel and Ferrari in a wet tire test.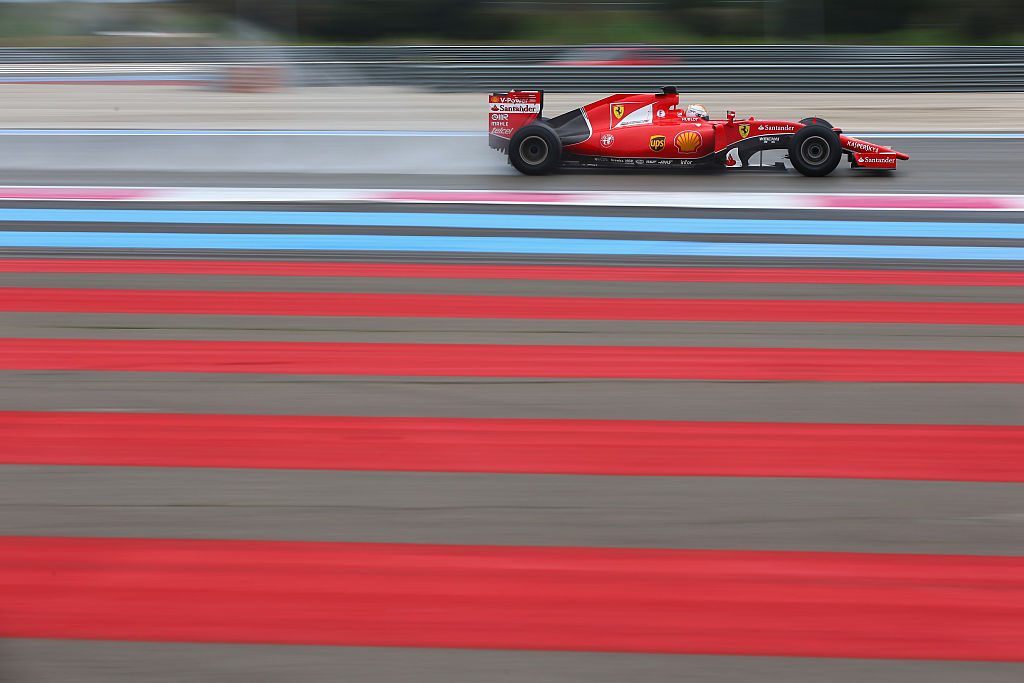 However, in terms of racing, Paul Ricard has also been absent from the calendar for quite a long time – the last time Formula 1 race at Paul Ricard was in 1990. Alain Prost won for Ferrari that day.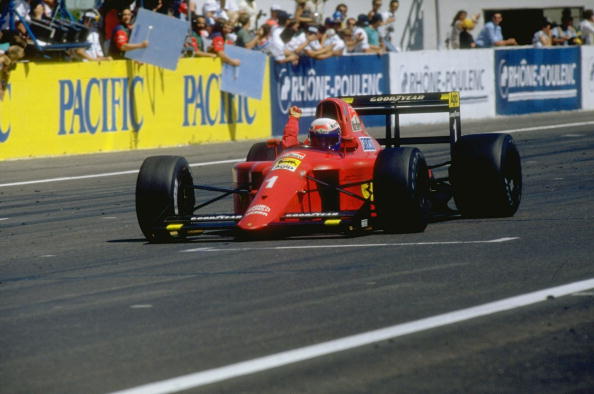 As such, despite being a known quantity as a testing facility, how a race weekend will shake out is anybody's guess.
And what's more, it marks the beginning of three consecutive race weekends – The French Grand Prix, The Austrian Grand Prix, and The British Grand Prix – which F1 teams and drivers are calling "the triple header."
Talking points ahead of the French Grand Prix are below.
A Journey Into the Unknown?
Like all new venues, or resurrected and refurbished ones in this case, the Circuit Paul Ricard represents somewhat of an unknown, as there's no available race data to make predictions off of.
And the 3.61-mile, 15-turn track itself represents a range of challenges. It has fast corners, like Turns 1 and 2 (S de la Verrerie), a technical section between Turns 3 and 7 (Virage de l'Hotel through the Mistral Straight Start), and a 1.1-mile straightaway in the Mistral Straight, though it is separated by a chicane (Turns 8 and 9).
Mercedes team principal Toto Wolff discussed the challenge of the circuit, highlighting the lack of data to build off of as well the tough three-race stretch ahead as especially challenging, in a preview on Formula 1's website.
"France should be an interesting race. We don't often get to race on a track where we have little to no historical data. It makes preparing for the weekend a bit trickier than usual, but that element of the unknown also adds to the challenge. The French Grand Prix marks the first race of the triple header, which will test all F1 teams to their limits, but also offers the chance to score a lot of points over the course of three weeks – which is precisely what we're setting out to do," said Wolff.
That element of the unknown makes Paul Ricard one of the biggest wildcards on the 2018 F1 calendar, and a championship shake up could be in the cards as a result.
Ferrari, Mercedes Continue Their Back and Forth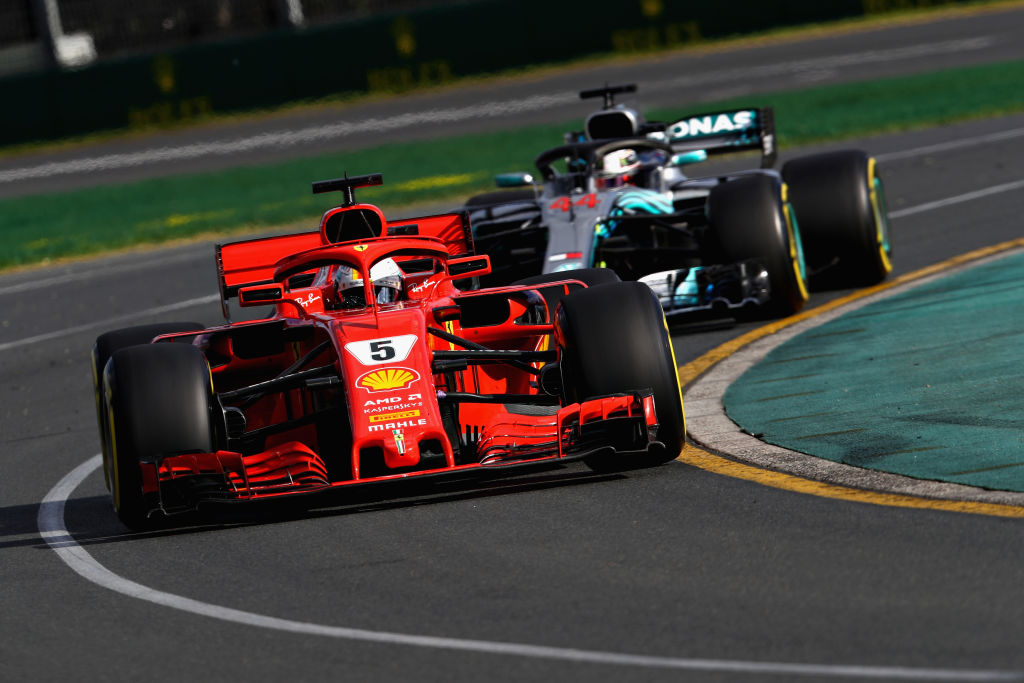 Ferrari and Mercedes have traded jabs throughout the 2018 season, with neither able to pull away from the other so far through seven races.
Sebastian Vettel enters the French Grand Prix with a one-point lead over Lewis Hamilton, and holds a slight edge in victories – three to Hamilton's two – and comes off a thorough domination of the Canadian Grand Prix.
Vettel led every lap at the Circuit Gilles Villeneuve on his way to victory, while Valtteri Bottas had to carry the Mercedes flag in finishing second. Hamilton languished in fifth, a surprising and disappointing result given his previous success there.
The aforementioned Toto Wolff described it as a "wake up call," though Mercedes will roll out a power unit upgrade this weekend – Ferrari and Renault, which also powers Red Bull Racing, rolled out upgrades of their own in Canada.
With four long straightaways present at Paul Ricard, power will certainly be at a premium, so such upgrades will be vital in giving Mercedes a chance to make amends after Canada's disappointment.
Trio of French Drivers Look to Impress on Home Soil
It comes hardly as a surprise that the three French drivers – Romain Grosjean, Pierre Gasly, and Esteban Ocon – are keen to make an impression at their home race.
And all three could certainly use a boost. Gasly has only one finish inside the points (seventh in the Monaco Grand Prix) since his stellar fourth place effort in the Bahrain Grand Prix. Ocon is coming off back-to-back points finishes (sixth in Monaco, ninth in Canada), but he has only one other finish inside the points this year (tenth, in Bahrain). And Grosjean, despite showing the speed to finish in the points, is yet to score any in 2018.
As such, all three are hoping for big things in their home race this weekend.
"I want to get a good weekend, have some luck, get my first points of the season, and get a lot of support from the fans," said Grosjean. "I think we should be in a nice place at Paul Ricard. I'm always looking forward to jumping back in the car. I just love driving an F1 car."
Ocon, who has raced and won at Paul Ricard in the past, expects his prior experience could be a big help.
"I did race at Paul Ricard early in my career – it was actually where I had my first victory in single seaters in 2013 so I have some fantastic memories of the place," Ocon described. "I hope we can add some more success this weekend. Having been there in the junior categories makes getting used to a new track in a Formula One car much easier. I think I will find my rhythm quite quickly."
Gasly's excitement level obviously matches that of his French compatriots, with the added bonus that the return coincides with his rookie F1 effort.
"For me it will be absolutely incredible that my first full season of Formula 1 coincides with the return of a French Grand Prix to the calendar for the first time in 10 years," said Gasly. "That has to be a reason for me to be very happy and I'm really excited to be racing in my home country. I can tell it will be a special feeling going out on track and actually, I have spoken to Jean Alesi and Alain Prost about it and they both told me that it will feel really special and something that you really have to experience as a Frenchman racing in France."
Qualifying for The French Grand Prix begins at 9:55 a.m. ET on Saturday, with Sunday's race at 9:30 a.m. ET.