All three series of the Mazda Road to Indy Presented by Cooper Tires were last in action on the same day – May 25 – though at separate venues. The Indy Lights Presented by Cooper Tires was at the Indianapolis Motor Speedway for the Freedom 100, where Colton Herta emerged victorious.
Meanwhile, the Pro Mazda Championship Presented by Cooper Tires and the Cooper Tires USF2000 Championship Powered by Mazda were at Lucas Oil Raceway for the Freedom 90 (Pro Mazda) and Freedom 75 (USF2000) – Parker Thompson and Kyle Kirkwood dominated their respective races and claimed victories to extend their championship leads.
All three series reunite at Road America for double headers this weekend, with a close title fight developing in Indy Lights, while the championship leaders in Pro Mazda and USF2000 (the aforementioned Thompson and Kirkwood) look to build on already strong leads.
Previews of all three series are below.
Indy Lights
Colton Herta enters Road America as the hottest driver in the Mazda Road to Indy, having swept the month of May at the Indianapolis Motor Speedway – he won both races on the IMS Road Course and outdueled Pato O'Ward, Dalton Kellett, and Santi Urrutia to win the Freedom 100. He leads O'Ward by six points, while Urrutia is 21 out of the lead, but don't think that they're the only ones who may factor into things.
Victor Franzoni had been getting better with every race, and had two podiums on the season entering the Freedom 100, but multiple problems saw him finish eighth and drop him to 50 points out of the lead. Franzoni appears to have the speed to challenge for wins, and he'll need a win soon if he is to get into title contention.
Wisconsin native Aaron Telitz looks to rebound at his home track after a down weekend in the Freedom 100, in which he finished sixth. Teltiz had a run of fourth, third, and second in the three races prior, so the speed is most certainly there to steal a race win, and doing so at his home track would be a massive thrill for him.
Pro Mazda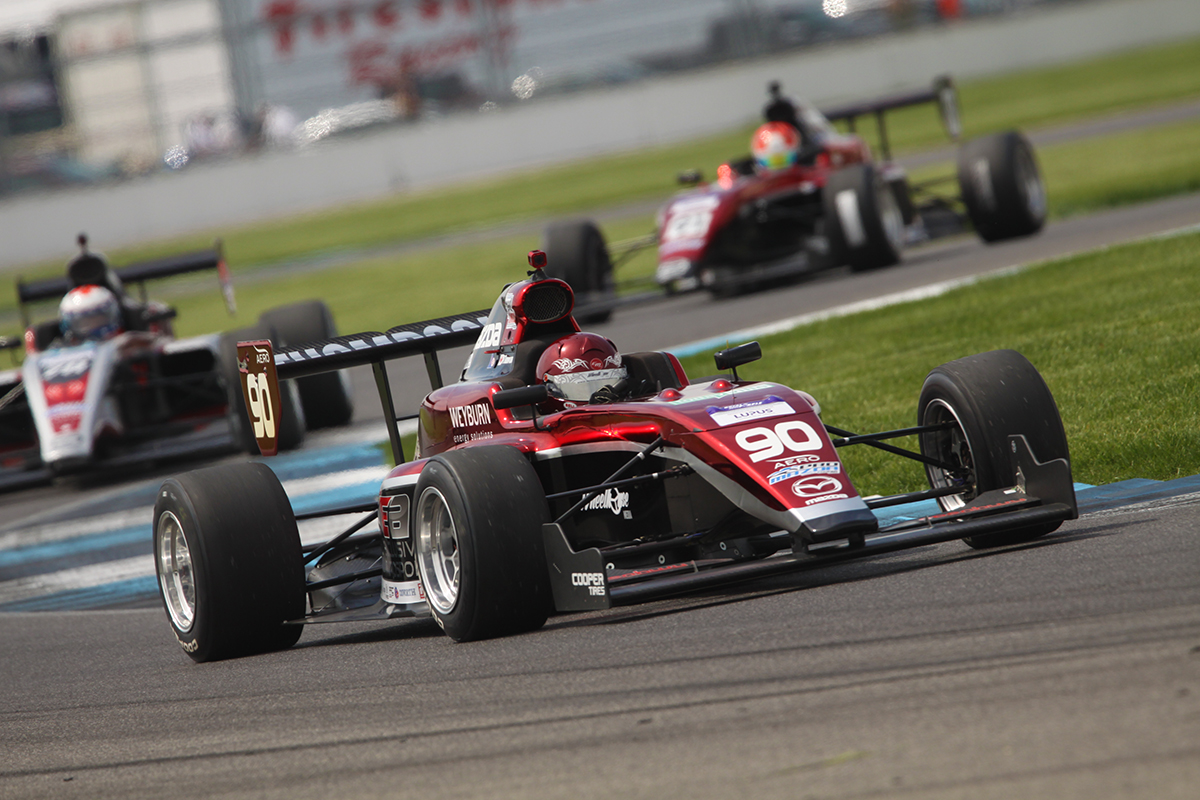 Parker Thompson has been the dominant Pro Mazda driver in the first half of the season, with three wins, five podiums, and a worst finish of fifth through seven races. As a result, Thompson holds a sizeable lead of 40 points over second-place Carlos Cunha. It's way too early for anyone to start playing "prevent," but Thompson is most certainly the man to beat at the moment.
Given that his Juncos Racing teammates, Rinus VeeKay and Robert Megennis, came into the season as perhaps slightly more heralded, it may surprise some that Cunha is the closest rival to Thompson at this point. Though he doesn't yet have a win, he has back-to-back second place finishes, and also has a pair of third-place efforts this year as well. The 18-year-old Brazilian has made a big jump from last year, and a win may be beckoning for him this weekend.
Harrison Scott and David Malukas look to rebound after they crashed in the Freedom 90. It leaves them 68 points (Scott) and 78 points (Malukas) out of the lead. It will be tough for them to get back into title contention, but race wins and/or podiums at Road America would certainly be a big help regardless.
The aforementioned VeeKay looks to get back on championship form at Road America, which he swept last year, while teammate Megennis looks for back-to-back podiums after finishing third in the Freedom 90.
USF2000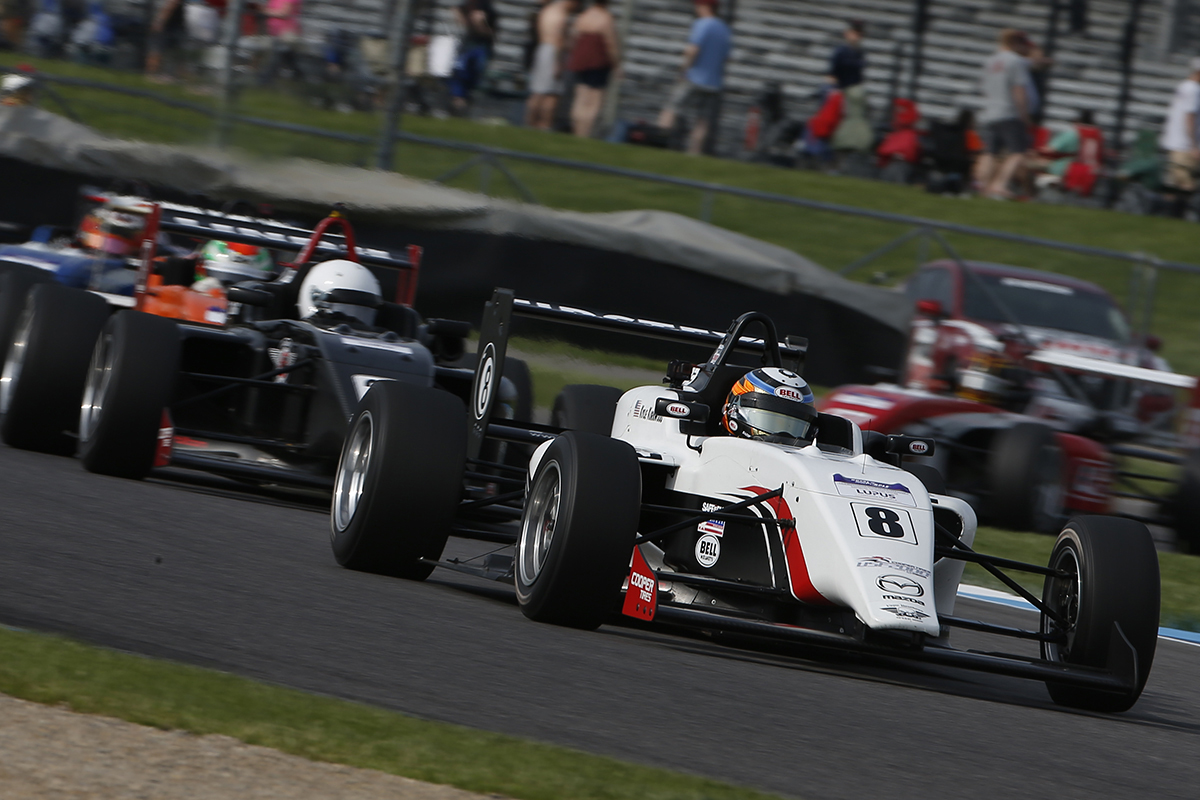 Kyle Kirkwood is starting to run away with the USF2000 championship, with a staggering 59-point lead over second place Alex Baron. The 19-year-old from Florida has things far from wrapped up, but he certainly has a stranglehold of the championship at the moment, and if he can keep things clean, it will become harder and harder for drivers to make up ground.
Interestingly, title rival Baron is perhaps the faster driver of the two, but Baron's season is plagued by a 22nd-place effort in Race 1 on the streets of St. Petersburg, and a 21st at the Freedom 90. He'll need a string of race wins to get back into contention, and Road America would be a good place to start.
Jose Sierra sits third, only five points behind Baron, and looks to add to his two podiums this year (second in St. Pete Race 1, and third in Race 1 on the IMS Road Course). And, if both Kirkwood and Baron falter, he could be primed to steal a win.
Igor Fraga sits fourth and looks to continue a consistent effort from the opening five races, with fifth place drivers Lucas Kohl and Rasmus Lindh (tied on 74 points apiece) looking to do the same.
Kaylen Frederick got his first podium of the year in the Freedom 75, finishing second to Kirkwood. It is only his second finish inside the Top 10 this year (ninth in St. Pete Race 2 is the other), and he'll look to build off that effort moving forward.
Pro Mazda has practice and Race 1 qualifying on Thursday, with Race 1 on Friday and Race 2 on Saturday. Indy Lights and USF2000 practice on Friday, with their races on Saturday (Race 1 for both) and Sunday (Race 2 for both). A full weekend schedule can be viewed here.