Saturday at Road America saw all three series of the Mazda Road to Indy complete in action again, with the Pro Mazda Championship Presented by Cooper Tires concluding its weekend with Race 2, while the Indy Lights Presented by Cooper Tires and the Cooper Tires USF2000 Championship Powered by Mazda completing their opening races of the weekend.
Indy Lights saw its two main title combatants duel for the win, while Pro Mazda saw its Race 1 winner complete a weekend sweep. And in USF2000, the points leader continued a run of dominance on the way to victory.
Reports on all three series are below.
Indy Lights: Herta Outlasts O'Ward, Franzoni for Race 1 Win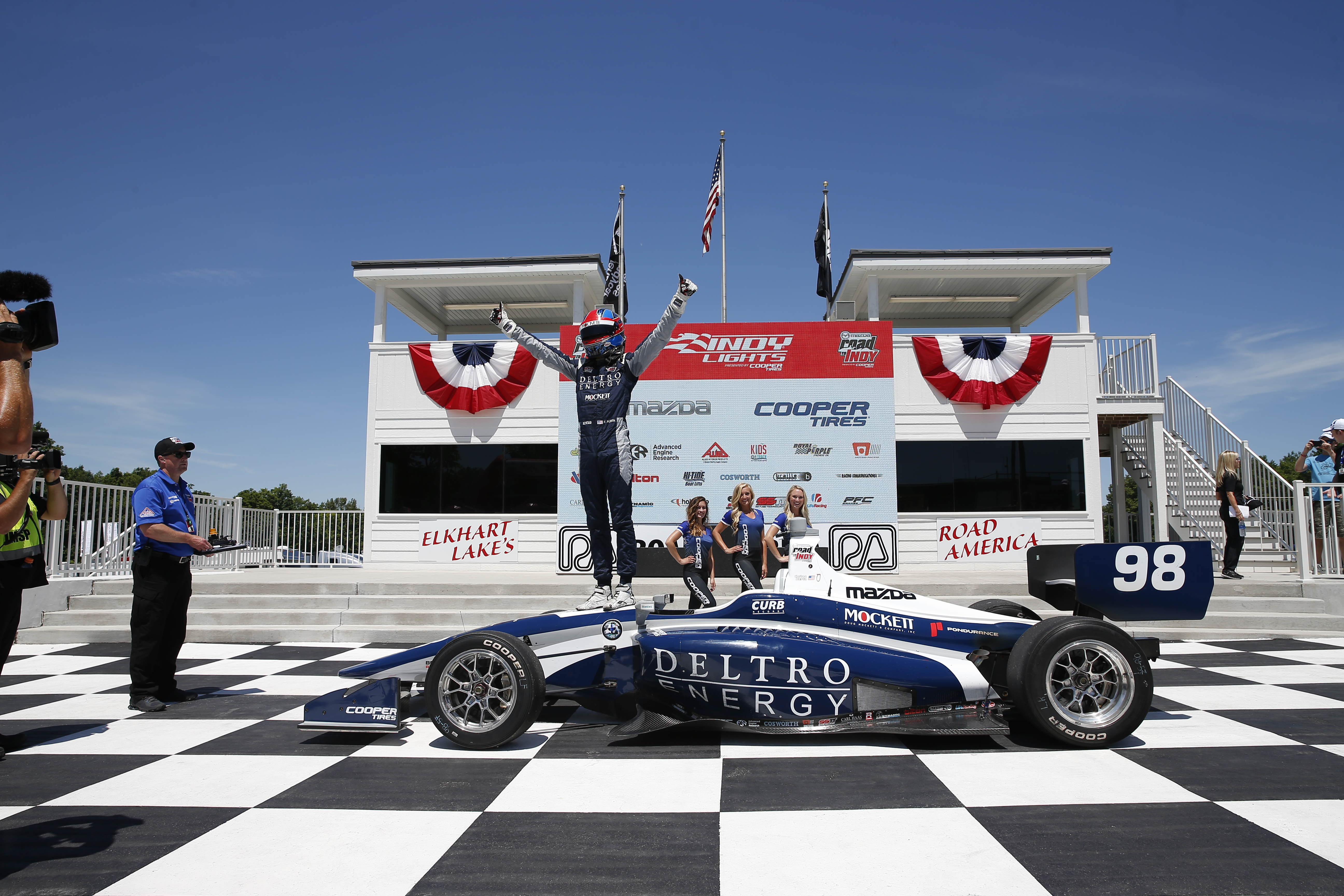 Andretti-Steinbrenner Racing's Colton Herta took his fourth win in a row on Saturday at Road America, winning Race 1 after dueling with his Andretti Autosport stablemate Pato O'Ward and Juncos Racing's Victor Franzoni.
Franzoni held the lead off the initial start, but Herta quickly worked his way up to second after starting third, and immediately mounted a challenge for the lead. After trying to pass Franzoni on the outside entering Turn 5 for two laps in a row, Herta finally was able to get around him on a third attempt, again taking the outside line on corner entry.
O'Ward then quickly moved into second after Franzoni dipped two wheels into the dirt in Turn 7, and O'Ward quickly charged toward Herta to battle for the lead. He, too, tried several times to pass Herta on the outside entering Turn 5, but was ultimately unable to do so and lost ground to Herta after he ran out of push-to-pass.
It left Herta alone up front to cruise to the win, his fourth in a row in 2018.
"Getting the win today is massive. I didn't really expect to win four in a row going into the month of May, but I knew we had the car to win and it was just about maximizing that," said an elated Herta.
He added, "I guess these not-so-great qualifying sessions have really set us up for the race. We seem to do well when we're not on pole. The key was holding onto the tires because there's a lot of degradation here, but we were super quick at the end. The car was amazing, even in the heat. With the hot day and the pressure that's put on me, it's tough. It's so rewarding to be able to relax once it's done."
O'Ward and Franzoni finished second and third, with the Belardi Auto Racing teammates Santi Urrutia and Aaron Telitz finishing fourth and fifth, with Ryan Norman and Dalton Kellett rounding out the field for Andretti Autosport.
Results are below. Race 1 will roll off at 10:50 a.m. on Sunday morning and will air at 10:00 p.m. ET on Sunday night. Pato O'Ward will start on the pole.
Pro Mazda: Malukas Completes Road America Sweep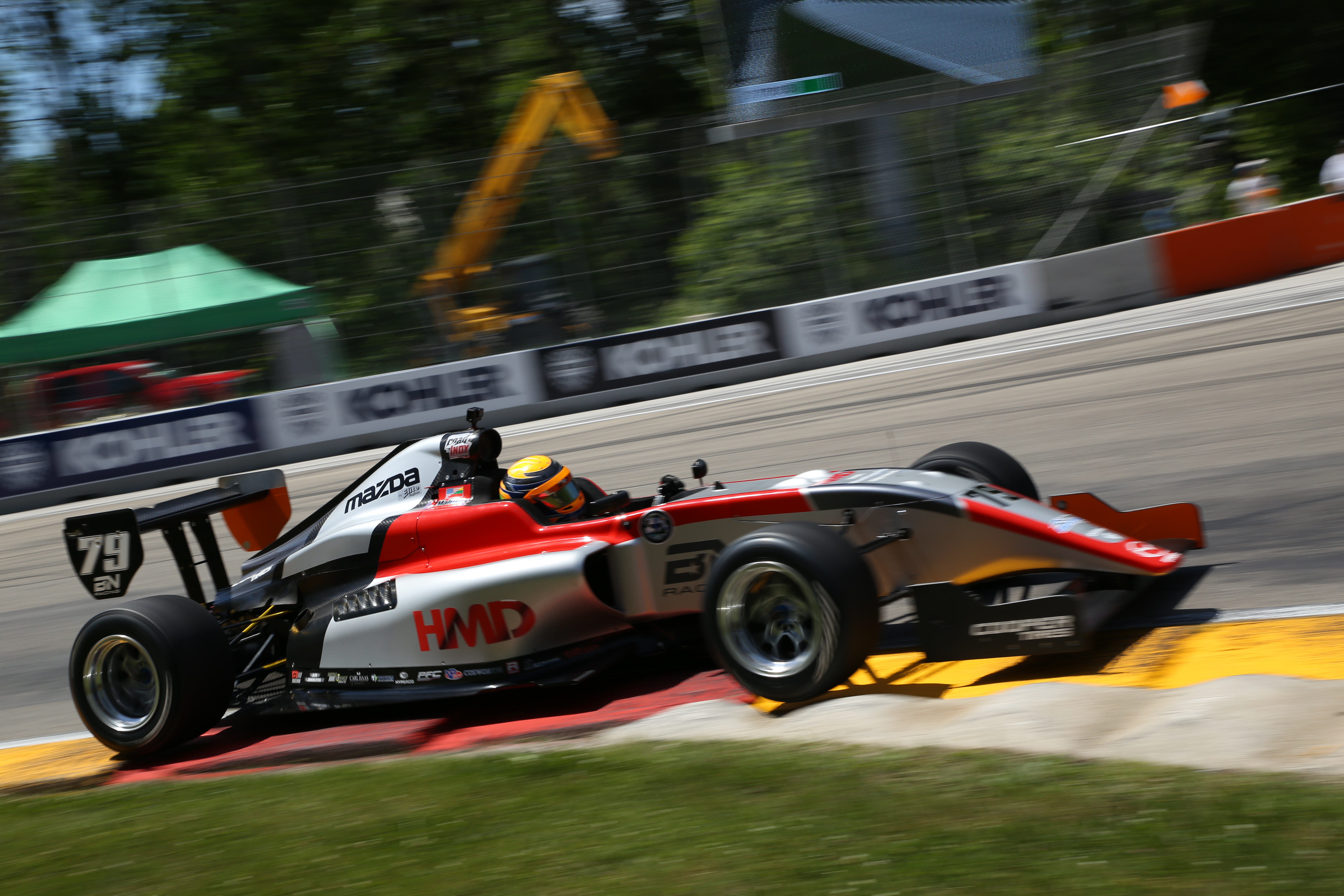 BN Racing's David Malukas capped a perfect weekend at Road America by winning Race 2 from the pole.
Malukas did face a brief challenge from Juncos Racing's Carlos Cunha off the start, with Cunha actually leading briefly into Turn 1. But, Malukas quickly retook the lead entering Turn 3, and was never headed from there.
Behind him, points leader Parker Thompson was involved in contact with Raul Guzman in Turn 5, with Guzman, making his Pro Mazda debut with RP Motorsport Racing, hitting the back of the Exclusive Autosport.
Guzman stalled on course, bringing out a full-course caution, while Thompson fell back as far as 12th when racing resumed on Lap 3. However, he quickly regrouped and put in maybe the best drive of the day, working his way up to fifth in the closing laps – including a pass on title rival Carlos Cunha – and putting him right behind a battle for third involving Rinus VeeKay, Thompson's other title rival, and Harrison Scott.
Scott eventually passed VeeKay for third, which opened the door for Thompson, who got around VeeKay right after to take fourth.
Thompson was unable to get close enough to challenge Scott for third, but his charge to fourth remained mighty impressive.
Up front, though, no one had anything for Malukas, who led teammate Toby Sowery in a second straight 1-2 for BN Racing – Sowery made a slick three-wide pass to get around VeeKay and Cunha on the Lap 3 restart.
Scott was third, followed by Thompson and VeeKay in fourth and fifth, with Cunha finishing sixth.
Results are below. The race also featured a tribute to the late Jeff Green, a former Pro Mazda driver with Juncos. Peter Dempsey, part of the Juncos effort on the engineering side last year, drove Green's No. 60 chassis from 2017, while Victory Franzoni piloted his No. 23 Dallara IL-15 alongside.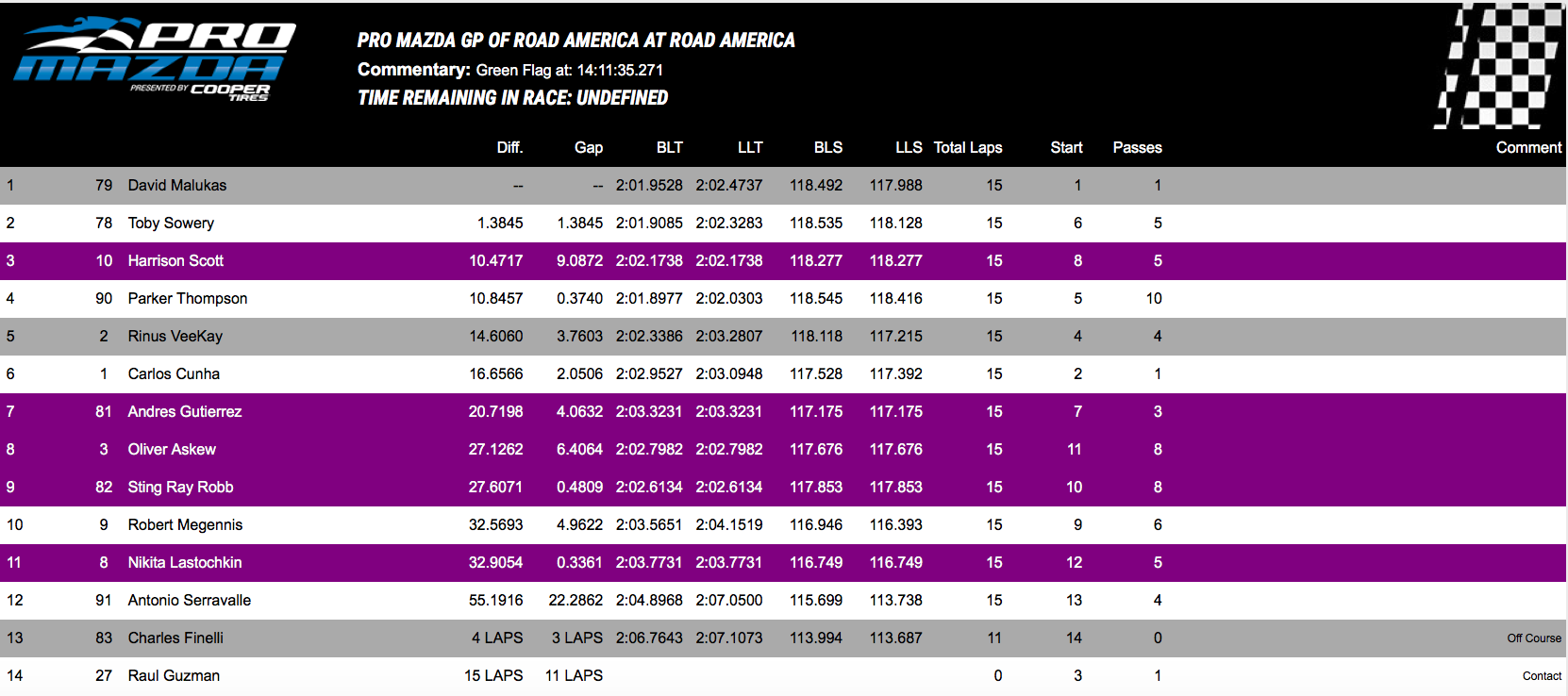 USF2000: Kirkwood Continues to Roll as He Dominates USF2000 Race 1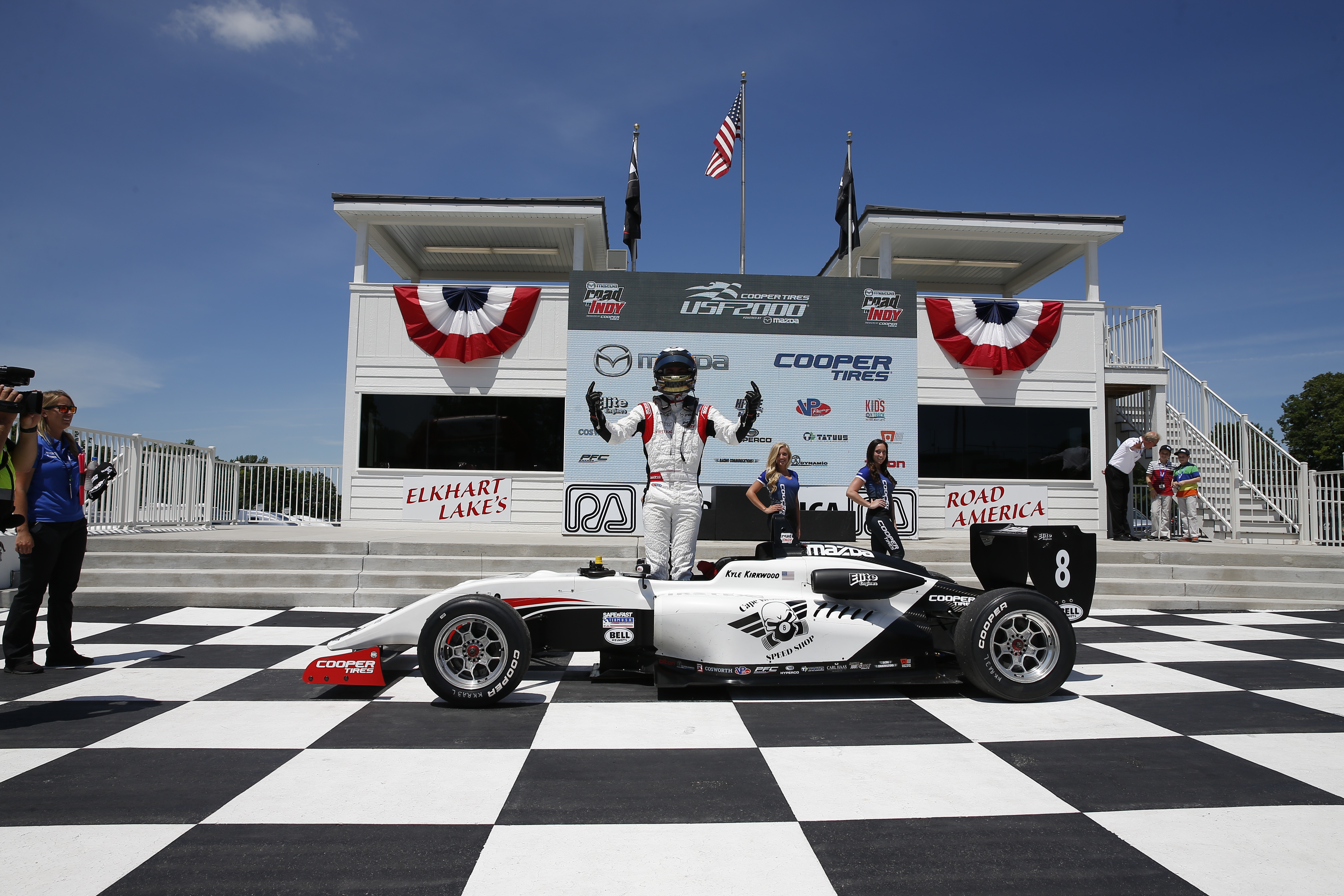 Cape Motorsports' Kyle Kirkwood continued his dominant run in USF2000 by winning Race 1 on Saturday.
Starting on the outside of the front row, Kirkwood got around pole sitter Rasmus Lindh, from Pabst Racing Services, on the outside entering Turn 1 and never looked back, leading all 12 laps on his way to victory.
"It's truly amazing to be here, and to win here, especially given how well the Pabst guys have done here over the past few years. I couldn't be happier with our result at this track and against these competitors," Kirkwood said afterward.
He continued, "I had a really good start, timed it perfectly, fell into Rasmus' draft and got in front of him going into Turn 1. From there, it was just a matter of staying in front. Fortunately, this track has a lot of high speed corners, so aero push comes into effect, especially in Turn 7 and in the Carousel. You lose a lot of time there, so it doesn't allow other drivers to get to me. I was pressured on the restart, but that was it."
Lindh, meanwhile, was involved in a heated battle for second with his Pabst teammate Kaylen Frederick, along with ArmsUp Motorsports' Keith Donegan and DEForce Racing's Kory Enders. Lindh eventually fell back as far as fifth following a bobble, allowing all four to get by, though he did get back around Enders for fourth.
Ultimately, though, Frederick and Donegan emerged to finish second and third – it's the second straight podium for Frederick, and the first for Donegan – with Lindh and Enders rounding out the top five.
The race was slowed twice for incidents involving Sabre Cook. Cook, running with Team Benik, spun into the gravel trap in the Carousel on Lap 3, but was able to rejoin. Later, on Lap 11, she ran wide exiting Turn 7 and spun back across the track as she entered Hurry Downs, making contact with the wall on the outside just before the entrance of Turn 8.
Cook climbed from the car under her own power, though her race did come to a premature end.
Results are below. Race 2 rolls off at 9:00 a.m. ET (8:00 a.m. local time), with Lindh again starting on the pole.