Qualifying for Sunday's KOHLER Grand Prix (12:30 p.m. ET, NBCSN) saw Team Penske's Josef Newgarden continue what has been a perfect weekend as he secured the pole with a quick lap of 1:43.202. Newgarden was also quickest in both of Friday's practices. It is Newgarden's third pole of the 2018 Verizon IndyCar Series season.
What's more, Newgarden's pole lap came on his final run, and it upset a Honda applecart at the front – Honda drivers Alexander Rossi, Ryan Hunter-Reay, and Sebastien Bourdais ran 1-2-3 in the final seconds.
However, Will Power jumped ahead of them to take P1, but it was his teammate Newgarden, who has been fastest in all but one session all weekend (Robert Wickens led Saturday practice) who seized the pole only seconds later.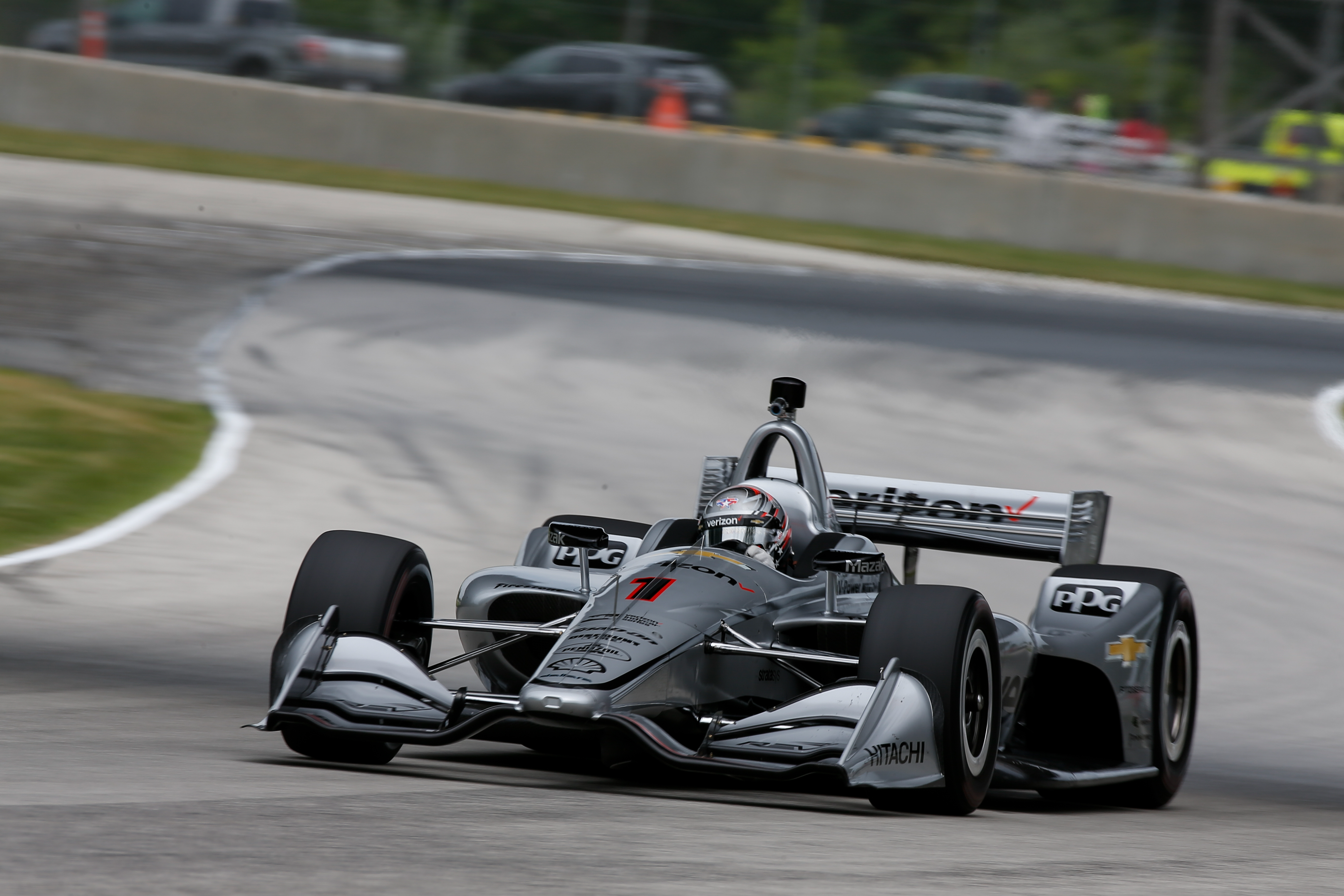 "It's nice when you have the car to do it. We had the speed on Friday, so to finish it off today is nice," Newgarden revealed after his run. "It's only goal one. Two races; one for pole, one for the race. We need to close it out. Verizon has been very good to us, and Team Chevy as well. Engine package has been phenomenal to get the most out of it. You see how well we work together with Team Penske and Team Chevy. We just have to be smart and get through the first couple laps."
Though he missed out on the pole, Will Power made it a Penske 1-2 on the front row, as he qualified second with a quick lap of 1:43.250. Power detailed afterward that he was actually surprised to challenge for the pole, as he didn't think his No. 12 Verizon Chevrolet had enough to challenge his teammates twin No. 1 Verizon Chevy.
"That was close. We were off the whole time. I gave it everything the last lap. A surprise front row," Power explained. "I keep getting front rows every weekend. Not the pole, but yeah, I'm pretty happy. But only five hundredths off, come on. I think I did a really neat lap. Josef (Newgarden) did a great lap. That was all I had."
The Andretti Autosport teammates of Ryan Hunter-Reay and Alexander Rossi will start third and fourth, while Schmidt Peterson Motorsports' Robert Wickens and Dale Coyne Racing with Vasser-Sullivan's Sebastien Bourdais rounded out the Firestone Fast Fix.
While Newgarden and Power are on the front row, teammate Simon Pagenaud failed to advance out of Round 1 and will start 14th.
Scott Dixon, last year's winner at Road America, was another notable driver who was absent from the Firestone Fast Six, as he qualified eighth.
Other notables include Graham Rahal (ninth), Zach Veach (11th), Ed Jones (12th) Marco Andretti (15th), James Hinchcliffe (16th) and Tony Kanaan (18th).
Full results are below:
1. (1) Josef Newgarden, Chevrolet, 1:43.2026 (140.020 mph)
2. (12) Will Power, Chevrolet, 1:43.2508 (139.954)
3. (28) Ryan Hunter-Reay, Honda, 1:43.3811 (139.778)
4. (27) Alexander Rossi, Honda, 1:43.4361 (139.704)
5. (6) Robert Wickens, Honda, 1:43.7121 (139.332)
6. (18) Sebastien Bourdais, Honda, 1:43.7332 (139.304)
7. (30) Takuma Sato, Honda, 1:43.1108 (140.144)
8. (9) Scott Dixon, Honda, 1:43.1769 (140.055)
9. (15) Graham Rahal, Honda, 1:43.1874 (140.040)
10. (21) Spencer Pigot, Chevrolet, 1:43.1995 (140.024)
11. (26) Zach Veach, Honda, 1:43.2265 (139.987)
12. (10) Ed Jones, Honda, 1:43.3544 (139.814)
13. (20) Jordan King, Chevrolet, 1:43.7356 (139.300)
14. (22) Simon Pagenaud, Chevrolet, 1:43.4153 (139.732)
15. (98) Marco Andretti, Honda, 1:43.9843 (138.967)
16. (5) James Hinchcliffe, Honda, 1:43.8591 (139.135)
17. (19) Zachary Claman De Melo, Honda, 1:44.0189 (138.921)
18. (14) Tony Kanaan, Chevrolet, 1:44.1165 (138.791)
19. (23) Charlie Kimball, Chevrolet, 1:45.1161 (137.471)
20. (4) Matheus Leist, Chevrolet, 1:44.3438 (138.488)
21. (32) Alfonso Celis Jr, Chevrolet, 1:45.5584 (136.895)
22. (59) Max Chilton, Chevrolet, 1:44.3442 (138.488)
23. (88) Gabby Chaves, Chevrolet, 1:44.6258 (138.115)