There's a reason why Josef Newgarden calls Road America his favorite racetrack – and he showed why Sunday, dominating to victory in the KOHLER Grand Prix at Road America in Elkhart Lake, Wisc.
Newgarden led all but two laps from the pole and was in a class of his own throughout the 55-lap caution-free race on the 4.048-mile, 14-turn road course in central Wisconsin, defeating runner-up Ryan Hunter-Reay by 3.3759 seconds.
"(I wanted this one) really bad," Newgarden told NBCSN in victory lane. "I wanted to win here since last year. This car has been a rocket all weekend. It wasn't easy. Ryan was very quick and I knew Dixon was right behind him, so we were working for it the entire race.
"I kind of knew what I had to do, but it was a lot of work. Ryan was really pushing me. It's good to get a win. It doesn't matter what car, as long as it's Team Penske."
It was Newgarden's series-leading third win of the season in the first 10 races (also won at ISM Raceway in Phoenix and Barber Motorsports Park in Birmingham, Alabama), pushing him past Team Penske teammate and Indy 500 winner Will Power and Scott Dixon, who both have two wins in the 2018 campaign.
"I was hoping to make it more interesting for the fans here at Road American and on TV," Hunter-Reay said. "The last two stints, when he put on used red and I had blacks, he was really hooked up. … I was pushing 110 percent, that's for sure.
"Unfortunately, I just couldn't catch up to Josef. I was able to close up the gap a little bit here and there, but not like I was early in the race. He found his own way for sure. Definitely, the clean air out front helps, but hats off to him: he had a great race and deserves the win."
Dixon finished third, followed by Takuma Sato, Robert Wickens, Graham Rahal, Simon Pagenaud, Spencer Pigot (his best finish of the season), Ed Jones and James Hinchcliffe.
Dixon (393 points) maintains the Verizon IndyCar Series points lead, Hunter-Reay (348) moved up two spots to second place, Alexander Rossi (tied with Hunter-Reay for second at 348) dropped one spot to third, Newgarden (343) climbed one spot to fourth and Will Power (328) dropped two spots to fifth in the standings.
"It's so tight … so tough," Dixon said. "The Verizon IndyCar Series, right now, the competition is through the roof. To get a podium these days is tough enough, yet to get a win. But we'll keep pushing and see what we get."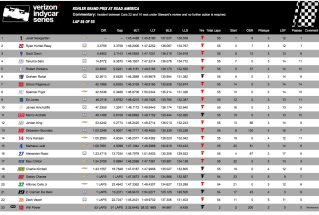 There was action right from the opening lap, including misfortune for Indianapolis 500 winner Will Power, who suffered engine issues that sent him to the pits after the opening lap.
After trying to work on his car in the pits, Power's team pushed it back to the paddock to attempt further repairs, but those efforts failed and the car was retired.
Power was third in the IndyCar points standings coming into the race, 36 points behind series leader Scott Dixon. He finished last (23rd) in Sunday's race and will likely drop to fifth in the standings.
"They replaced the exhaust, and it just blew straight back out," Power told NBCSN's Marty Snider. "So, there's obviously something going on in there that's gone wrong.
"I feel bad for all the guys. It's just one of those things, you know – you'll get that every now and then at some point. No good, but we'll move on to the next one."
Also, 2016 Indy 500 winner Alexander Rossi had an issue with what appeared to be brakes- or suspension-related that resulted in a lengthy pit stop after 38 laps. Rossi finished 16th in the 23-car field.
"Hugely disappointing," Rossi told NBCSN. "It was good enough for fourth … but I guess it just wasn't meant to be."