Sunday at Road America for the Mazda Road to Indy Presented by Cooper Tires saw two series complete their second races of the weekend, with the Indy Lights Presented by Cooper Tires and the Cooper Tires USF2000 Championship Powered by Mazda taking to the track – the Pro Mazda Championship Presented by Cooper Tires completed their weekend on Saturday.
Indy Lights saw a driver take an emotional first career win, while a chaotic USF2000 race saw the championship leader complete a weekend sweep.
Reports on both races are below.
Indy Lights: Franzoni Takes Emotional Maiden Win in Indy Lights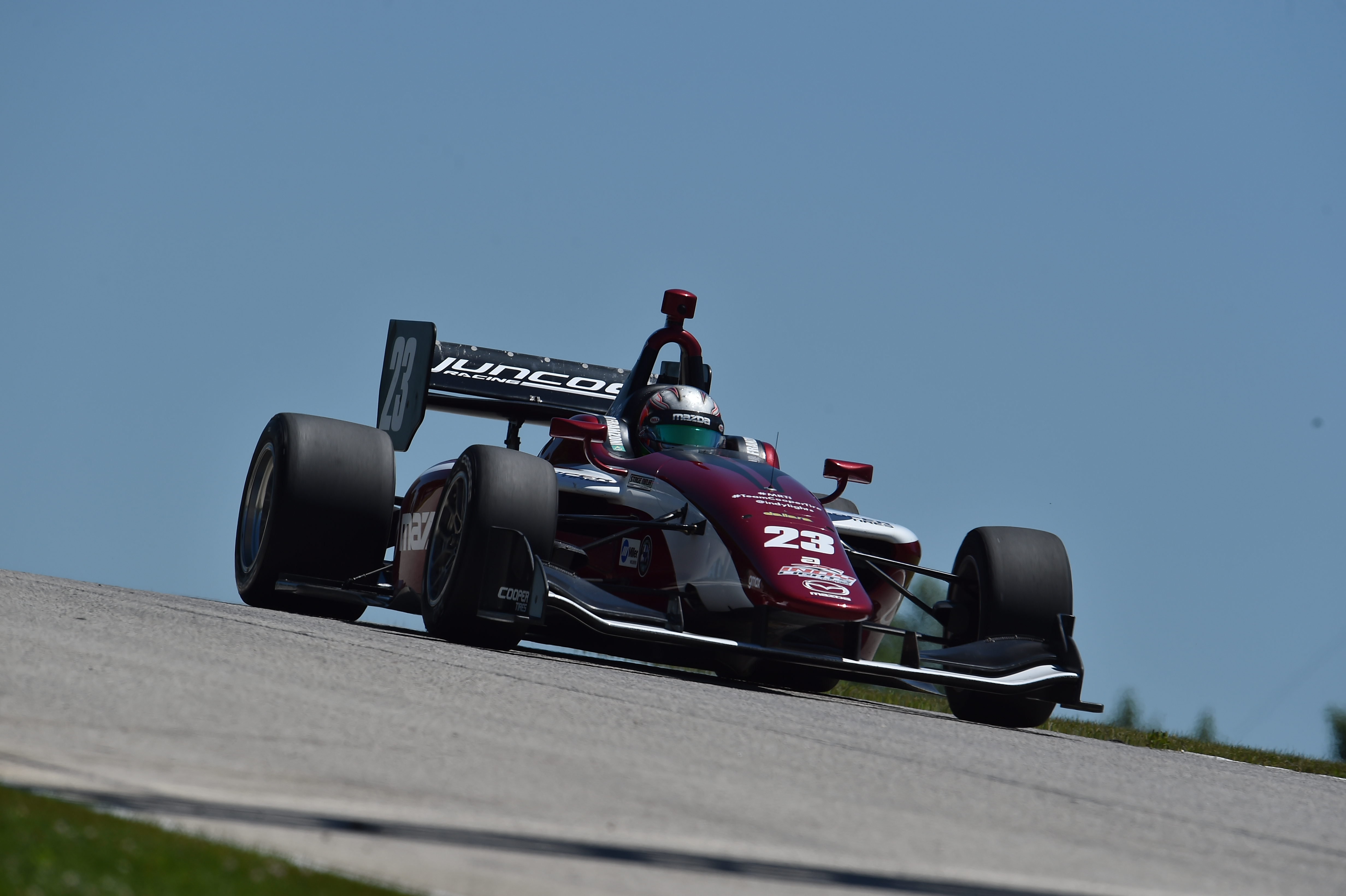 Victor Franzoni finished third in Race 1 on Saturday, but did so despite driving what he described as "the worst of my career" to the Advance Auto Parts INDYCAR Radio Network.
Sunday, however, was the exact opposite for the affable Brazilian driver, who took his maiden Indy Lights win in what has been an emotional weekend for him and his Juncos Racing team as they raced in memory of the late Jeff Green, Franzoni's Pro Mazda teammate last year.
Pato O'Ward started on the pole, but engaged in an intense duel with Santi Urrutia in the opening laps.
Their battle came to a head on Lap 4, when Urrutia tried diving inside of O'Ward entering Turn 5, but they both ran wide on the exit – O'Ward even took to the outside grass – which opened the door for Franzoni to blitz by both of them entering Turn 6.
O'Ward, Urrutia, and Colton Herta then immediately had a hard fight for second, which saw them go three-wide in Turn 8. Ultimately, Urrutia lost out as he was pushed off the track and suffered front wing damage, forcing a pit stop for repairs – he ultimately finished seven laps off the lead in seventh.
Up front, Franzoni pulled away from everyone to win by nearly seven seconds. Herta emerged in second after battling with O'Ward, while Aaron Telitz passed O'Ward in the final laps to take the final spot on the podium. Ryan Norman rounded out the top five, with Dalton Kellett finishing sixth.
Full results are below.

USF2000: Kirkwood Survives Race 2 Carnage to Complete Weekend Sweep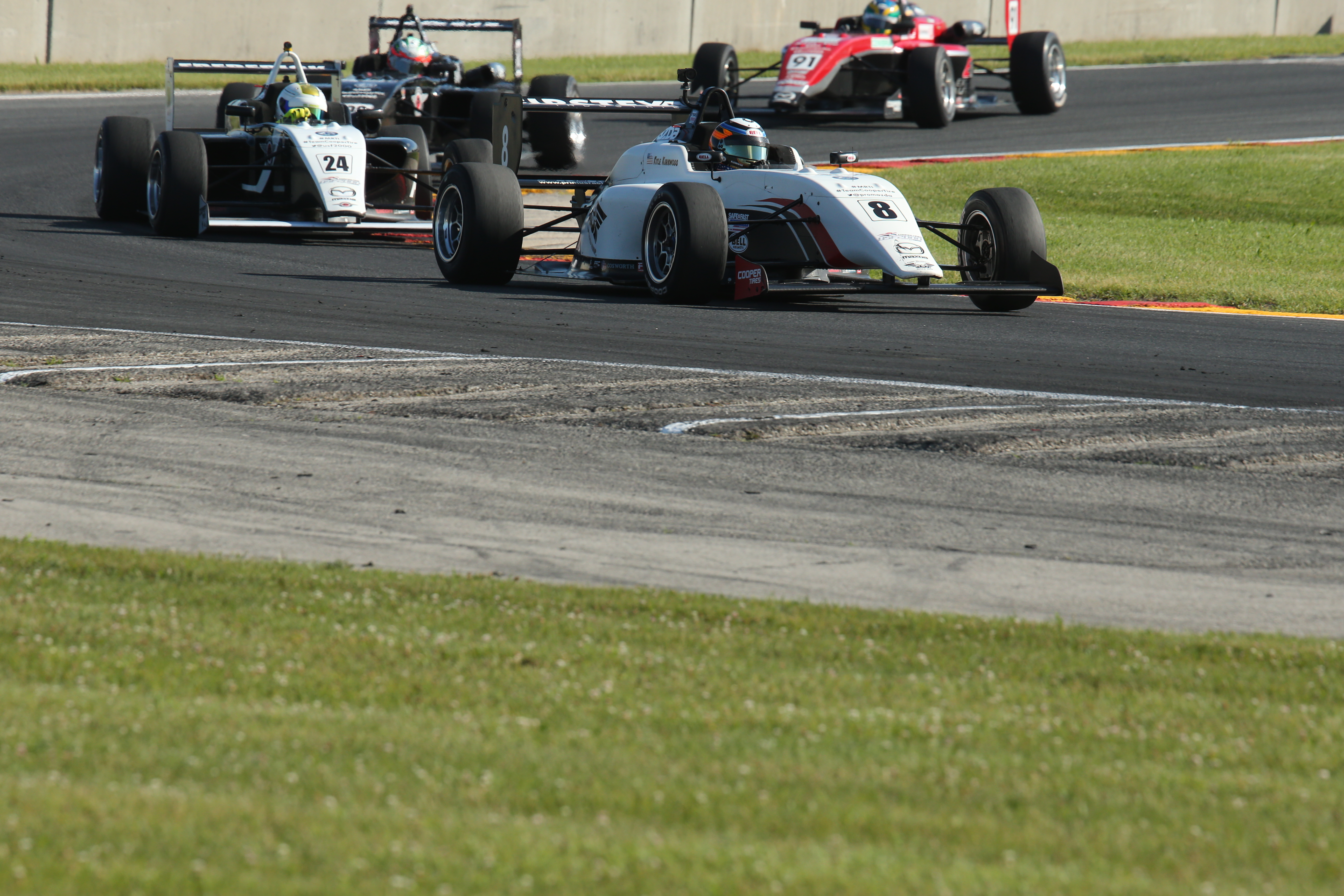 While Race 1 almost appeared easy for Kyle Kirkwood, who passed pole sitter Jose Sierra for the lead in Turn 1 off the start and then led every lap on the way to victory, Race 2 was a completely different story.
Kirkwood needed to outduel Kaylen Frederick and Lucas Kohl and survive a seemingly endless slew of carnage in Race 2 to grab the win, his fifth of the year, to complete a weekend sweep.
Three times the race was slowed by full-course cautions for on-track incidents.
The first came on the opening lap for separate incidents involving Sabre Cook, Russell McDonough, Jose Sierra, and Max Peichel – Cook and McDonough appeared to go off into the Turn 1 gravel, while Sierra and Peichel got together approaching Turn 5 and ended up against the outside wall.
A second caution was flown only a couple laps after racing resumed when Darren Keane and Kyle Dupell got together in Canada Corner, spinning off the track and stalling as a result.
And a third caution was flown in the waning laps when Lindh, who had been running second, went off into the Turn 3 gravel trap, while Kory Enders and Calvin Ming got together and spun in Turn 6.
Up front, Lucas Kohl had worked his way into the lead, passing Lindh in Turn 1 off the start, while Kirkwood had moved up to second, ahead of third-place runner Kaylen Frederick.
A restart with one lap remaining saw Kirkwood jump to the outside of Kohl entering Turn 1, and he completed the pass before they even got to the corner, Frederick then was able to get around Kohl for second, while Colin Kaminsky and Igor Fraga rounded out the top five. Of note: second-place man in the championship Alex Baron finished seventh, allowing Kirkwood to widen an already immense championship lead.
Results are below. Kirkwood now leads Baron by 94 points. Frederick now sits third, jumping ahead of Fraga and Sierra, who sit fourth and fifth.