The weekend at Road America was always going to be an emotional one for the Mazda Road to Indy Presented by Cooper Tires.
The passing of former Juncos Racing driver Jeff Green, a competitor in last year's Pro Mazda Championship Presented by Cooper Tires, had a drastic impact on the entire Road to Indy community, and everyone was sure to be pay their respects during the weekend.
And while circumstances like this are always difficult, all the tributes were very appropriate, heartfelt, and beautifully done.
Of note: teams ran with special decals honoring Jeff, as Juncos and Team Pelfrey illustrated below:
And the pace lap ahead of Saturday's Pro Mazda race was especially touching – former Juncos driver Peter Dempsey, who worked with 2017 Indy Lights champion Kyle Kaiser last year, piloted Green's No. 60 machine, while Victor Franzoni, last year's Pro Mazda champion, was right alongside in his No. 23 Indy Lights IL-15.
Franzoni expressed a great deal of gratitude for the tributes to Green, who became a close friend of his last year. He also highlighted the impact Green had on his career.
"I would like to thank everyone at the Mazda Road to Indy for what they're doing for Jeff, and for me and my team this weekend," Franzoni expressed. "Jeff was an amazing guy and a huge friend. If it wasn't for him, I wouldn't have been in Pro Mazda last year and I wouldn't be in Indy Lights now. I wouldn't have any testing this year, I would just be racing. He helped me so much last year – he wanted to test, but in the end, I ended up driving even more than he did. He gave me his engine at Mid-Ohio when I had problems. He did everything for me to win and it's so sad that we lost him."
All three MRTI series were in action at Road America, completing their fourth (Indy Lights Presented by Cooper Tires and Pro Mazda) and third (Cooper Tires USF2000 Championship Powered by Mazda) double headers of the year.
A look at storylines to emerge from all three series is below.
Indy Lights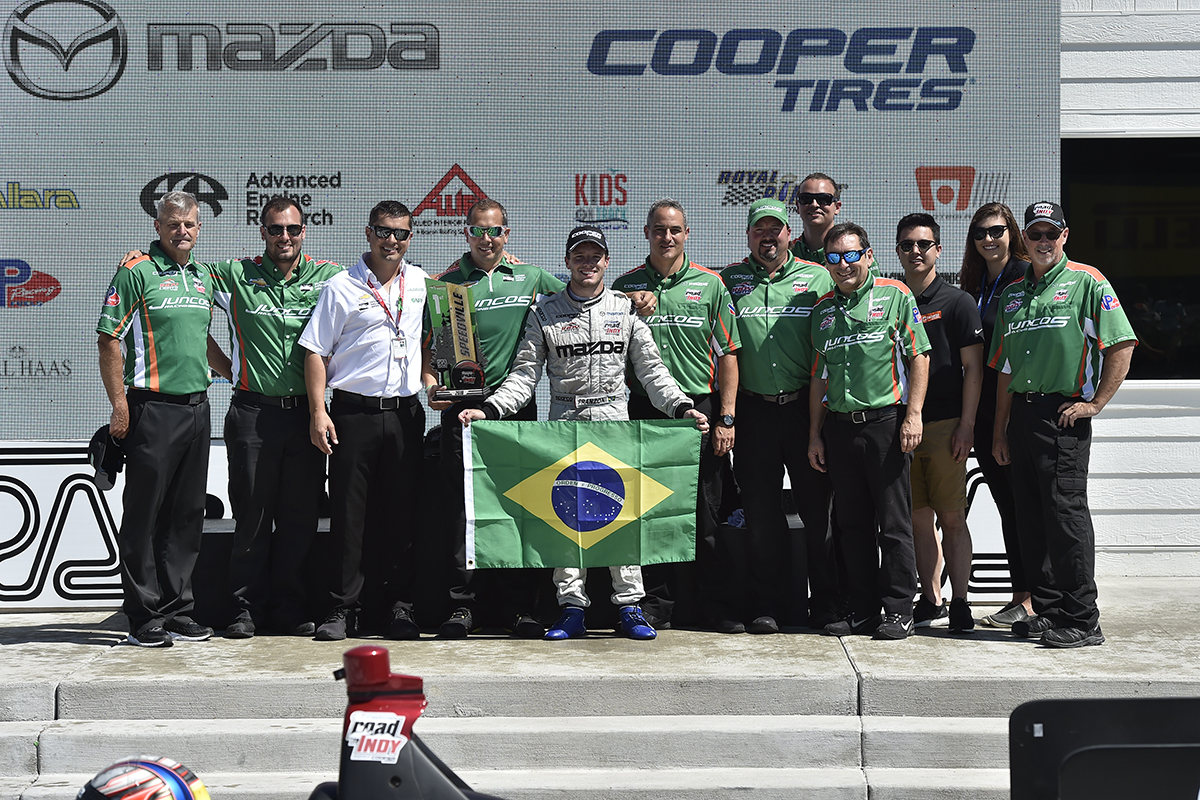 While we're not supposed to "cheer" for anyone, it's hard not to feel good for VIctor Franzoni, who won Race 2 at Road America on Sunday. It's been a very difficult week for Franzoni as he grappled with the passing of Jeff Green, and it was only fitting that, on a weekend when the entire MRTI community honored the late Green, Franzoni picked up his first Indy Lights win.
Colton Herta enjoyed a strong weekend, winning Race 1 on Saturday – it was also his fourth win in a row in 2018 – and finishing second in Race 2 on Sunday. It meant that he increased his points lead over Pato O'Ward to 17 points. It remains anything but comfortable, but Herta continues a very strong and consistent season that has him in great position to challenge for a title.
Santi Urrutia, meanwhile, had a difficult weekend, finishing fourth in Race 1 and falling to seventh in Race 2 after a late dive for the lead inside O'Ward resulted in contact and damage to the front wing and suspension of Urrutia's car. It leaves him 44 points out of the lead in third, but he is now entering the part of the season when he typically picks up steam. Five of Urrutia's seven wins in his Indy Lights career have come in the second half of the season, so he could go on a charge in the coming races. And he'll need one to get back into title contention.
Aaron Telitz enjoyed a strong Race 2, finishing third at his home track. The 2018 season has been a struggle for Telitz, who sits fifth in the standings, 85 points behind Herta. A title seems out of reach at this point, but a podium in his home race could give him some much needed momentum going forward.
Pro Mazda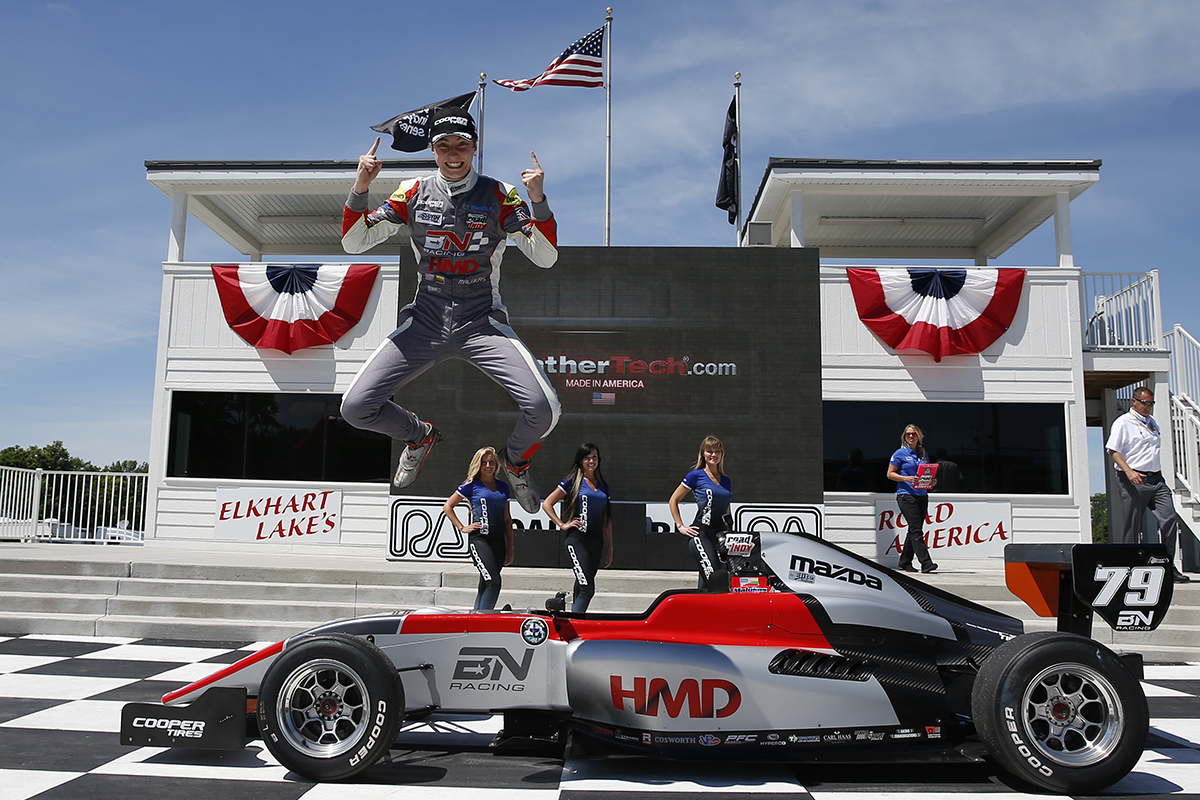 David Malukas has been knocking on the door all year long. A pole winner in USF2000 last year, he has had two podiums in 2018 (second in St. Petersburg Race 2, and third in race 1 at Barber Motorsports park), but has demonstrated much more speed than his results have shown, as he has been up with the leaders in nearly every race this year. A clean sweep of the weekend – he won both poles and both races – is a huge confidence builder for the 16-year-old from Chicago. At 58 points back of leader Parker Thompson, he may be too far back to make a title run, but he could be a big factor in the second half of the year.
Speaking of Thompson, the saying goes that you win championships on your bad weekends. Well, in comparison to previous ones, this was a "bad" weekend for Thompson – he fell back to sixth in Race 1 after starting second, and was as far back as 12th in Race 2 after contact with Raul Guzman, in his Pro Mazda debut with RP Motorsport Racing. Yet, in both races, he charged all the way back to finish fourth in each one. In the end, it means he actually extended his championship lead to 46 points over Rinus VeeKay, who jumped ahead of his Juncos Racing teammate Carlos Cunha. Thompson remains the man to beat in Pro Mazda.
USF2000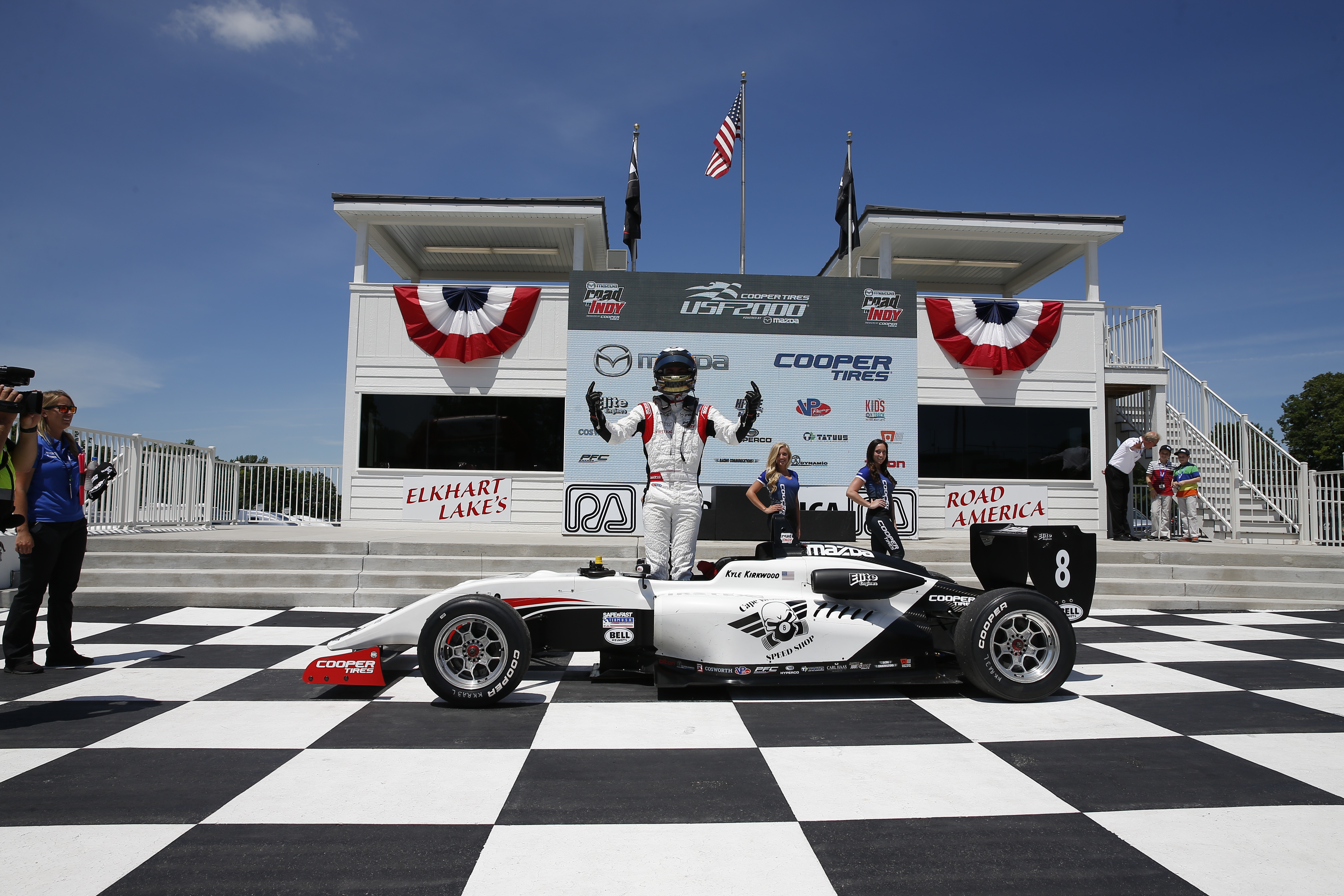 Kyle Kirkwood has gone from the man to beat in USF2000 to, barring unforeseen circumstances, its likely champion at this point. After sweeping both races, bringing his win total to five in 2018, Kirkwood leads Alex Baron by an astounding 94 points. Anything can happen in the second half of the year, but it would take something truly monumental for anyone to catch Kirkwood at this point.
Meanwhile, Baron's hold on second place is now in jeopardy, as Kaylen Frederick has three straight second place finishes and is within 11 points of Baron. And Igor Fraga and Jose Sierra sit fourth and fifth, 17 and 20 points behind Baron. They may not catch Kirkwood, but their battle for second could get intense in the second half of the year.
Indy Lights is next in action at Iowa Speedway (July 7-8), while Pro Mazda and USF2000 are off until Toronto (July 13-15).